With less than a month to the release of the long-awaited FIFA 20, some huge names have been confirmed on the list. For many enthusiasts, there's a complete list of football favorites included in the FIFA 20 icons line up. Here are some of the FIFA 20 Icons that have been confirmed by EA adding to the icons from the previous FIFA 19. Read on to learn about all the newcomers including those that have been the subject of controversy in their ratings such as the Brazilian football legend and Ballon d'Or winner Kaka.
FIFA 20 New Icons List
Zinedine Zidane
The most exciting ICON to join the FUT 20 ICONS roster this year is Zinedine Zidane. The Frenchman is known for the world-class skill and technique on the ball and his undeniable elegance on the pitch. As an elite playmaker he managed to win over 15 trophies with his clubs and national team and score close to 100 goals.
For his impressive career, "Zizou" gets a 91-rated card in FIFA 20 Ultimate Team representing his period at Bordeaux, a 96-rating card for his prime days at Juventus, the World Cup trophy with France and his Ballon d'Or. Towards the end of his career he is rewarded with a 94-rated card for the Real Madrid period where he won his first UEFA Champions League trophy by scoring the most iconic volley of all time in the 2002 UEFA Champions League Final.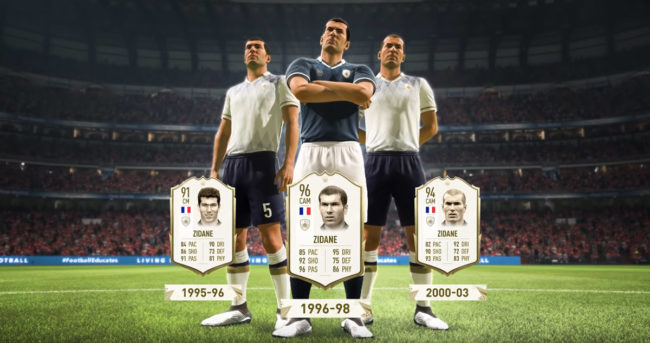 Ronald Koeman
A defender that boasts an enviable goalscoring record, Ronald Koeman launched his career with Groningen and Ajax in the Eredivisie before joining PSV. Koeman led PSV to three league titles consecutively, also bagging the European cup. In Barcelona, he made his record more impressive by leading them to four LaLiga trophies.
He also claimed another European cup while with the Spanish squad, reaching double figures in the number of goals claimed in all his six seasons with the club. Koeman has an 85 rated card to reflect his early days in Groningen and Ajax, with a 91-rated card reflecting a prime-time in career thanks to his achievements in Barcelona and PSV. The legend also claims a fair 88-rated card for the late years of his career.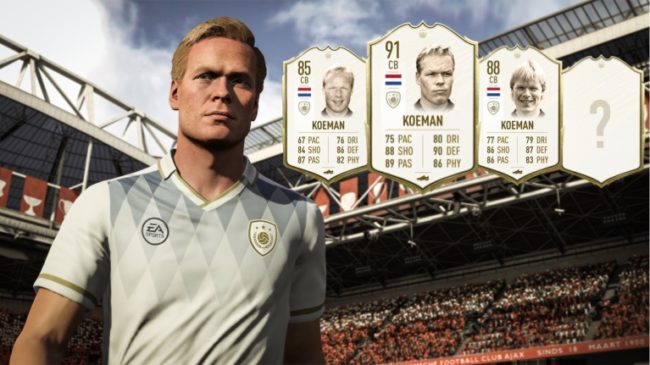 Pep Guardiola
Being an ICON as a player, Pep Guardiola is now the latest addition to the manager icons. Guardiola is seen as the embodiment of the famed Barcelona's La Masia philosophy, transitioning rapidly from the academy to the first team where his talent continued to grow. He cemented his position in the first team before he was 20, making him part of the "dream team" that won the 1991/1992 La Liga and the European Cup double under Icon Johan Cruyff.
The former Barcelona legend gets an 85-rated card at the beginning of his career, with 87 being the number of the card representing his later years. However, Guardiola claims a solid 90-rated card for the prime of his career.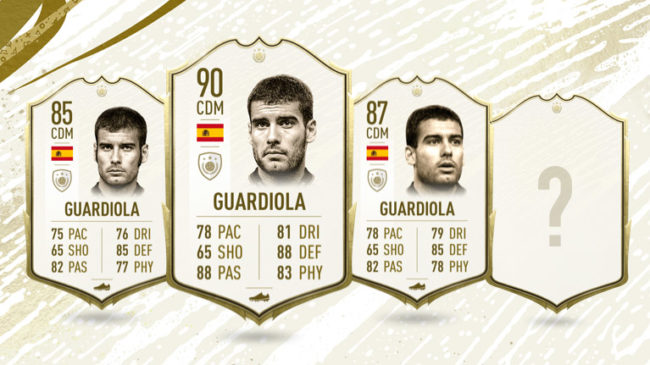 Carlos Alberto
A technically-gifted defender, known for his ball skills as well as his defensive capabilities, Carlos Alberto came to prominence at Fluminense as a center-back. This early part of his career is reflected in his 87-rated card in FIFA 20. After three years at Fluminense he joined Pelé at Santos, during which time his leadership got Brazil the World Cup Trophy in 1970 and scored one of the greatest goals in the history of the tournament in the Final against Italy. This part of his career is reflected in his prime 93-rated card.
Last years of his career are spent at New York Cosmos, helping them to four league championships in his four years at the club for which he gets a 90-rated card.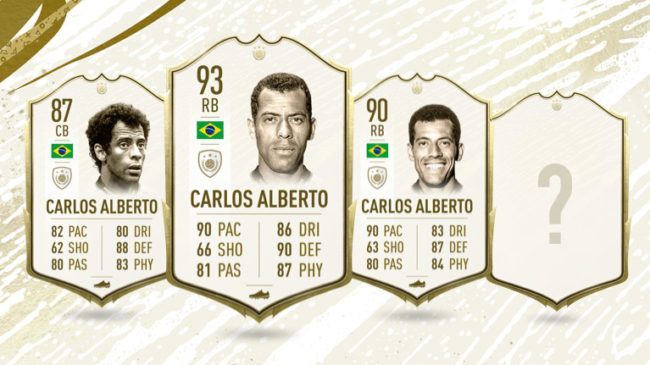 Ian Rush
Liverpool's all-time goal scorer with 346 goals in 660 appearances is awarded with an 87-rated for his early days at Anfield. After winning 3 Divison One titles, his prime was reached in the 1983/84 season where he has won the Division One, European Golden Boot and a Champions League trophy for which he gets a 91-rated card in FUT 20.
After a disappointing spell at Juventus he returned to Liverpool to help them win another Division One and two FA Cups for which he received a 89-rated item.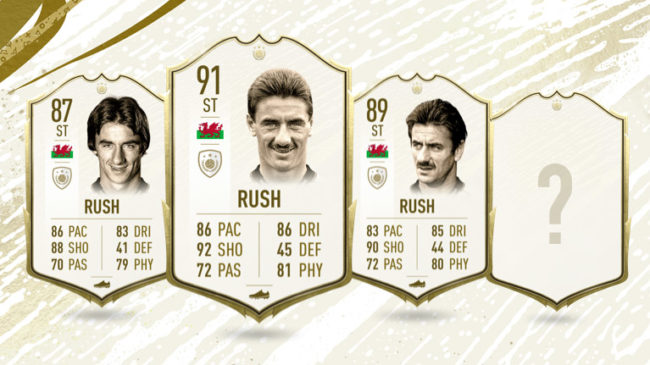 Kenny Dalglish
With various legends in the FIFA 19 inspiring many to enjoy the Betway88 FIFA betting, the upcoming release is even better with names like Kenny Dalglish. The legend is widely known for being among the best player in Celtic and Liverpool's history. He was part of Liverpool's squad that enjoyed an impressive level of dominance in Europe and domestically.
During his 13-year career with the reds, Kenny took three European cups and eight league titles alongside a wide collection of domestic cups. His achievements made him an Anfield legend and the newest addition to FIFA 20's list of Icons with an impressive rating. His earlier days in football are well represented with an 87-rated card, while a 90-rated card represents his later years. Additionally, he gets a generous and well-deserved 92-rated card for his prime.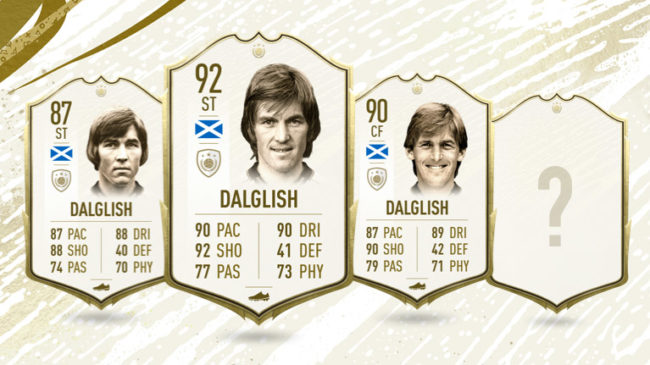 Didier Drogba
Known for his impressive physicality and powerful and accurate strikes, Didier Drogba made his breakthrough in 2003/04 with Olympique Marseille, where he netted 32 goals in 55 matches and win the Ligue 1 Player of the Year award, this achievement gets Drogba an 87-rated item in the game. The Ivorian moved to Chelsea in 2004, where his goals helped the club to four Premier League titles, four FA Cups, three League Cups and one UEFA Champions League title after scoring the deciding penalty. For this prime period of his career he gets a 91-rated card.
For his later career, Ivory Coast's all-time goal scorer, receives an 89-rated item in FIFA 20.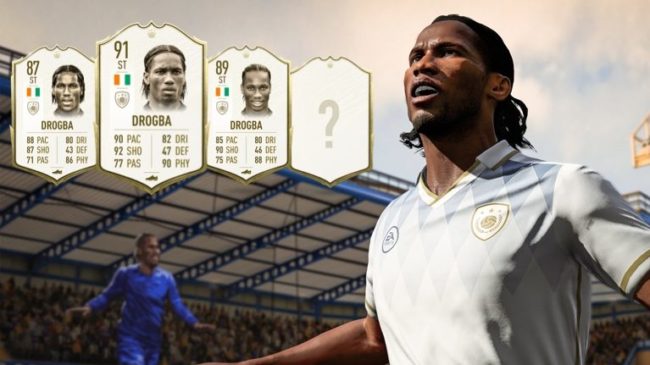 Gianluca Zambrotta
The Italian football legend, Gianluca Zambrotta was a key part in Italy's formidable defense that conceded only two goals before winning the FIFA World Cup in 2006. Zambrotta's performance in the tournament was so influential that it earned him a place in the all-star squad during the 2006 FIFA World Cup.
Zambrotta got an 86-rated card for his performance in Como and Bari where he launched his career before moving to Juventus in 1999. He won two consecutive Super Coppa Italiana and Serie A titles during his seven seasons with the club, which explains his 89-rated card for his prime. However, his later career saw him spend two unsuccessful seasons with Barcelona before returning to Italy playing for Inter-Milan. It's no wonder he gets an 87-rating card at the end.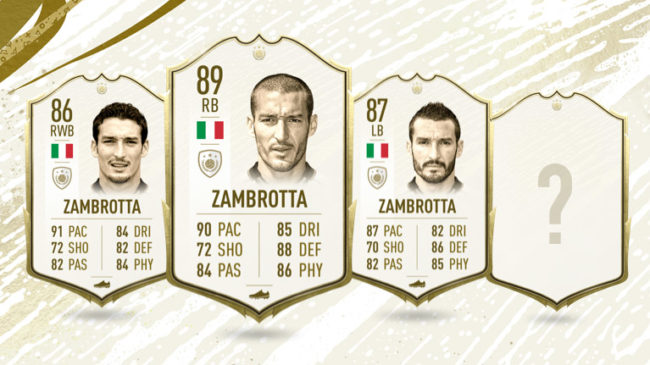 Ian Wright
A late bloomer to professional football, Ian Wright started racking up goals at the age of 22 for Crystal Palace for which he gets an 85-rated item. Six years later he joins Arsenal, where he picked up the Golden Boot with 29 goals in his debut season and helping the Gunners in the following years to a league and cup double for which he received an 89-rated card in FUT 20.
His 87-rated card reflects his last days at Arsenal before joining West Ham.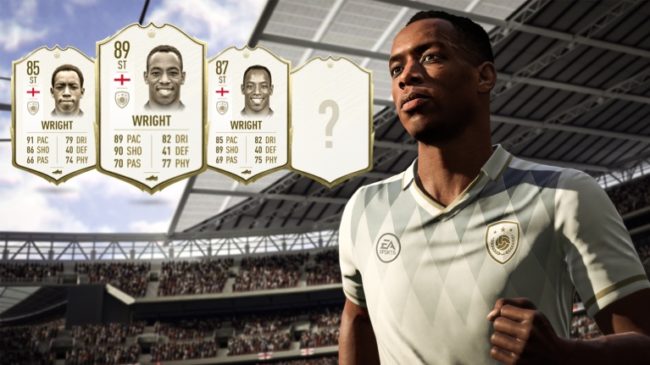 Michael Essien
Michael Essien began his career in Ligue 1 playing for Bastia and Olympique Lyon and winning two league titles for which he gets an 85-rated card. After joining Chelsea in 2005, he spent over nine seasons at Stamford Bridge, "The Bison" helped his team secure two Premier League titles, six domestic cups, and the UEFA Champions League, for this period he gets awarded with a 90-rated item in FIFA 20 Ultimate Team. For his later years, after enjoying spells at European giants Real Madrid and AC Milan, he gets an 87-rated card.
One note on this specific ICON is that the player is still currently active and not retired like the other players from this list. He currently plays for Sabail FK in Azerbaijan Premier League.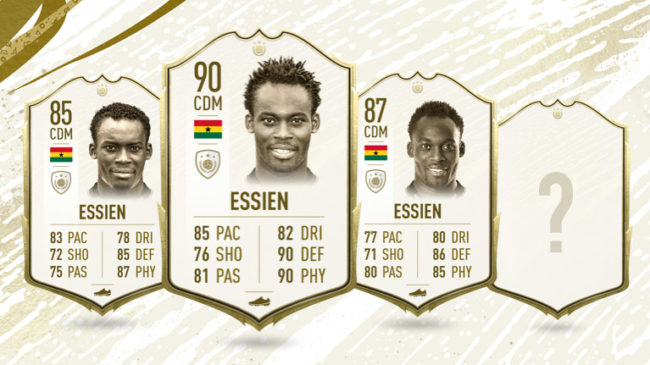 Adrea Pirlo
The elegant, deep-lying playmaker is known for his amazing passes and vision. Pirlo was a significant part of AC Milan's midfield that took the UEFA Champions League trophy in 2003 and 2007. His domestic performances took him to the international stage, which saw him help Italy to win the FIFA World Cup in 2006. He also took the title for Man of the Match during the final game.
Pirlo's career in Italy came to an end with four consecutive title wins in Serie A, right before moving to MLS. The card for Pirlo latter years gets a 90-rating in the upcoming FIFA 20 game, with an 88-rated card representing the launch of his career in Brescia before moving to inter Milan. Additionally, his prime card is rated at 92, making him one of the best players added in FIFA's icon list.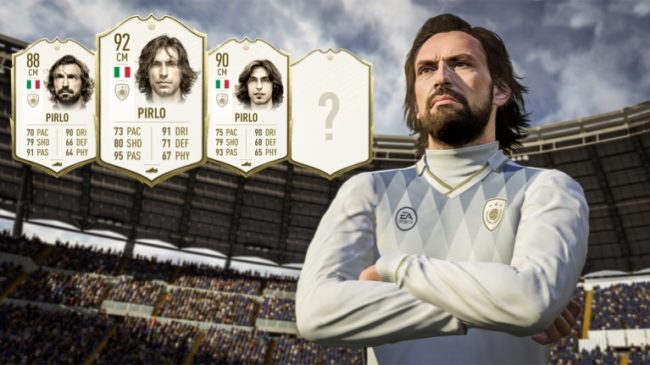 Hugo Sanchez
Hugo Sanchez is known as the greatest Mexican footballer of all time for his spectacular career. Starting at UNAM, Hugo Sanchez won his first league title in 1977 at the age of 19, his 89-rated card shows just how good he was in his early days. After five seasons in Mexico, Sanchez moved to Atlético Madrid for four seasons before joining city rivals Real Madrid. With Los Blancos, the Mexican striker amassed over 200 goals, along with five consecutive LaLiga titles, three domestic cups, and a UEFA Cup for which he gets a rating of 92 for his prime ICON item.
His 87-rated card is dedicated to the last years of activity after he returned in Mexico and played for Club América and Atlante.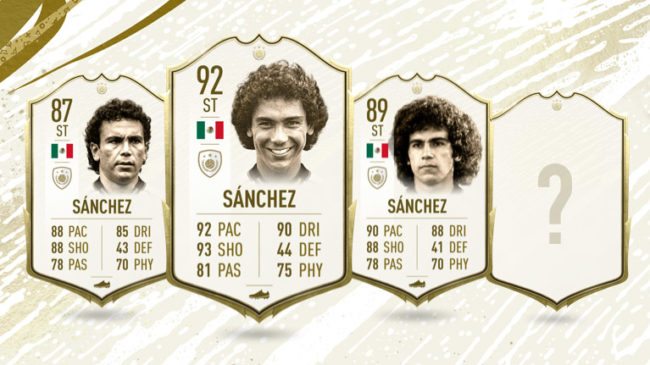 John Barnes
Former Liverpool and Watford winger John Barnes is one of the latest additions to the FUT 20 ICONS roster. Blessed with pace and trickery, John Barnes played a key role for a Watford team that finished second in the league and FA Cup runners-up for which gets an 87-rated card in this year's game.
At Liverpool Barnes terrorized opposition defenders and helped his team to two league titles and two FA Cups, with his performances in 1988-89 seeing him named as both PFA Players' Player of the Year and Football Writers' Footballer of the Year for which he rewarded with an 89-rated prime card. The later years of his career gets him an 86-rating in FIFA 20 Ultimate Team.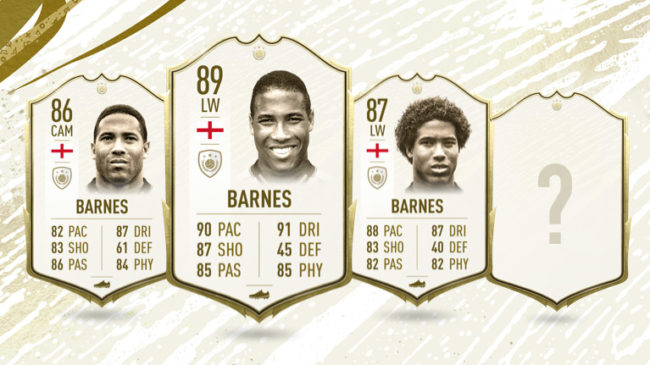 Garrincha
Known as one of the greatest dribblers of all time, Garrincha started his professional career at Botafogo in 1953 for which he will play 13 seasons. He also played a starring role for the Brazilian national team that won back-to-back FIFA World Cups in 1958 and 1962. Brazil never lost a match with Garrincha and fellow ICON Pele on the pitch.
His in-game ratings are a proof of his immense talent and contribution to the sport as you can see below: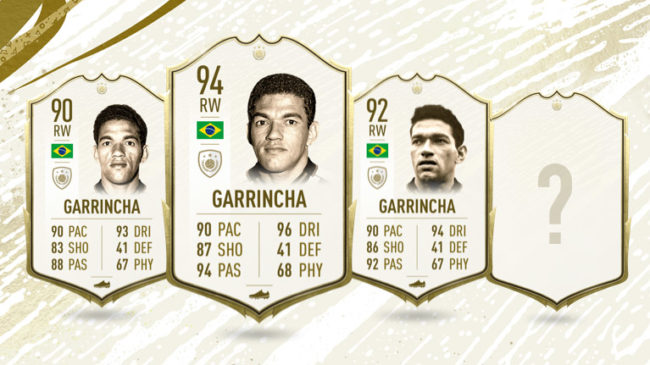 Kaká
Kaká has been one of the most anticipated icons in FIFA 20's lineup, with fans eager to see his performance. The elegant attacking midfielder is popular for his superb passing and dribbling abilities which saw Milan fight strong competition to bring him to Europe from Brazil. The Brazilian legend was subject to much debate during his career, and the debate is continuing afresh now that he'll be getting an icon for the first time in FIFA.
Earlier last week, photos of Kaká's rating card surfaced online after news of his inclusion in the ultimate team was out. EA Sports confirmed the ratings yesterday, sparking a vociferous debate among his fans. Kaká got an 87-rated card for the early days of his career, a 91-rated card for his prime time in Milan and an 89-rated card for the latter years of his career.
On both Twitter and over at the FIFA subreddit, many football fans feel that the 2007 Ballon d'Or Winner needs to have his prime card bumped to a better value like 93. The fans are calling for FIFA to also reconsider increasing stats to reflect a 90 shooting, 94-dribbling and 94-pace.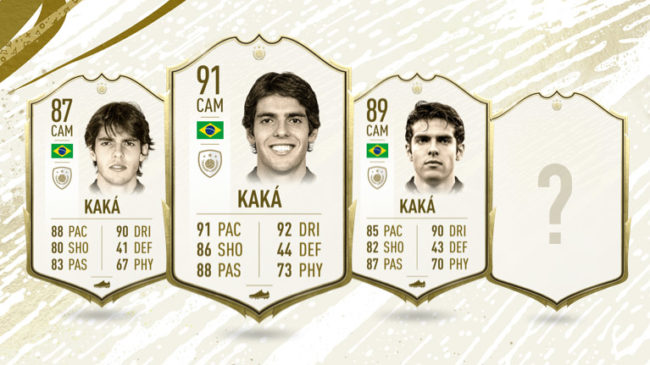 The Prime versions will not be available in packs at launch! They will be made available at a later date together with the Prime Moments versions.