It's now September, which to fans of FIFA means one thing – the month during which the latest edition of the game is released worldwide. The official release date is September 27th, but as usual, there are ways to begin playing the game quite a bit earlier, such as being an EA Access member or simply pre-ordering the game before September 24th.
Most of us will already be aware of the new features and improvements that are to be expected in FIFA 20 as well as the ever expanding list of Icons that will feature in the latest edition of the game.
There have also been a few announcements regarding various stadiums that will (and will not) be available in FIFA 20 along with some interesting new features related to this part of the game.
Here are 5 things you ought to know about stadiums in FIFA 20:
No Nou Camp
The Nou Camp will yet again not be featured in the game – even though it was initially thought that FIFA 20 would see the return of this iconic stadium. The deal between Barcelona and Konami allowing the Nou Camp to be officially represented in PES has been extended. The original 3-year deal was set to expire this year, potentially allowing for the home of Barcelona to officially appear once again in FIFA.
Instead, the Spanish giants will continue to play at 'El Libertador', the fictional stadium resembling the Nou Camp, that is automatically selected when playing as Barca in the game.
Customisable Tifos
FUT 20 will see numerous new ways to customise your team and one of the new features is the ability to select various Tifos. Tifos, for those who aren't aware of the name, are the large visual banners that are displayed in stadiums.
You will most likely have seen Tifos before in FIFA 19, such as the huge CR7 or Neymar banners often present in the crowd before a game featuring one of those players kicks off. However, FUT 20 will allow Tifos to be selected for the first time, adding another level of customisation to your team.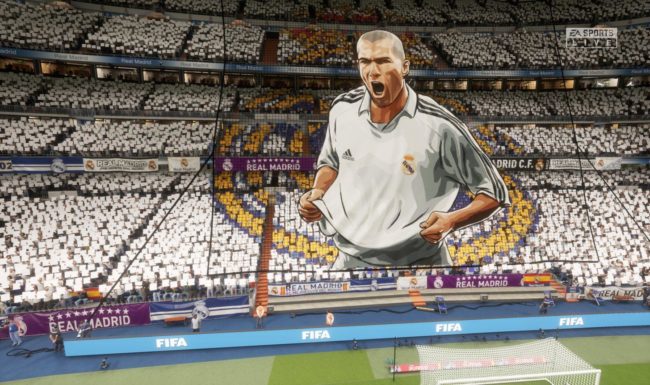 Stadium Themes
Another new stadium-related feature that will be present in FUT 20 are stadium themes. According to the EA Sports website, key elements from each stadium theme will be present in the crowds and on the side lines during each game. Tifos, as mentioned above, won't be visible during a match in FUT but will be displayed in the pre-match scenes and also in some goal replays.
Show off your unique style in #FUT 20 with new customization options, including Stadium Themes, Tifos, Custom Celebrations, unique Custom Balls and new Crests. #FIFA20

See all the new customization options in the Pitch Notes: https://t.co/nSrxm2kcNY pic.twitter.com/UAhsnLsg53

— EA SPORTS FIFA (@EASPORTSFIFA) July 31, 2019
The introduction of stadium themes is another way to really make your Ultimate Team stand out and it will be interesting to see what all the different themes look like once FIFA 20 is released later in the month.
Brand new Premier League stadium
Premier League newcomers Sheffield United will have their stadium featured in FIFA for the very first time this year. The Blades achieved promotion to the Premier League at the end of last season, alongside Aston Villa and Norwich.
Villa Park and Carrow Road already feature in the game, so Sheffield's Bramall Lane remains the only new addition to the Premier League stadium list in FIFA 20.
World's biggest stadium not featured
You may be surprised to know that the current biggest football stadium in the world doesn't feature in FIFA and never has done. It probably never will do either. This fact probably seems less surprising when you discover which stadium is actually the biggest in the world of football – North Korea's 'Rungrado 1st of May Stadium', or 'May Day Stadium' for short.
This monster venue holds 114,000 spectators and was opened for the first time in 1989. If you're looking to select the biggest ground for your FUT20 team, it looks like you will have to settle once again for the Estadio Azteca, with its capacity of 105,000.
Not long to go
With just a matter of weeks to go now until the official release of FIFA 20 it's clear that many avid fans are more keen than ever to try out the new features of the game in Ultimate Team and all the other playing modes.
Whilst some of the stadium-related changes may seem quite insignificant, the ability to make extra customisations to your Ultimate Team using stadium themes and Tifos is sure to be a nice added touch.