Time to celebrate!
The 11th FUT Birthday party kicks off this weekend in FIFA 20 and will continue for the next two weeks. The birthday promo will feature special FUT Birthday squads, themed Flashbacks, Objectives, daily engagement objectives, SBCs, and more!
FUT Birthday Squads
Two special teams will be released during this event, each featuring selected players that will receive a boost in their ratings and for the first time in FUT history a 5 star upgrade to either their skill move or their weak foot rating.
The first FUT Birthday team features:
Mbappé (94) | WF (L) 5*
Hazard (94) | SM 5*
Griezmann (92) | WF (R) 5*
Rashford (90) | WF (L) 5*
Haverts (90) | WF (R) 5*
Muniain (89) | WF (L) 5*
Sissoko (88) | WF (L) 5*
Saint-Maximin (88) | WF (L) 5*
Hernandez (88) | SM 5*
João Cancelo (87) | WF (L) 4*
Guerreiro (87) | WF (R) 5*
Lozano (87) | SM 5* – WF (L) 4*
Djené (87) | SM 5*

Joaquín

Correa (86) | SM 5*
Gaitán (85) | WF (R) 5*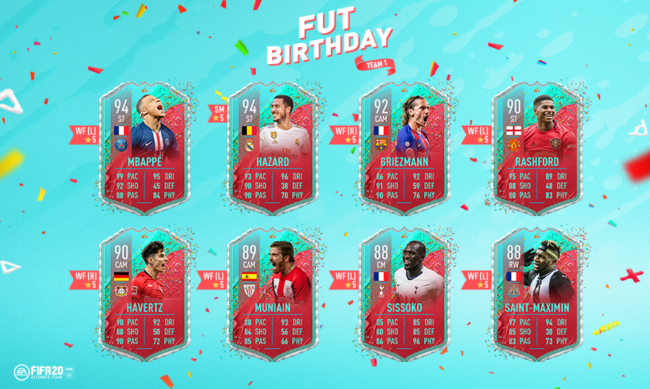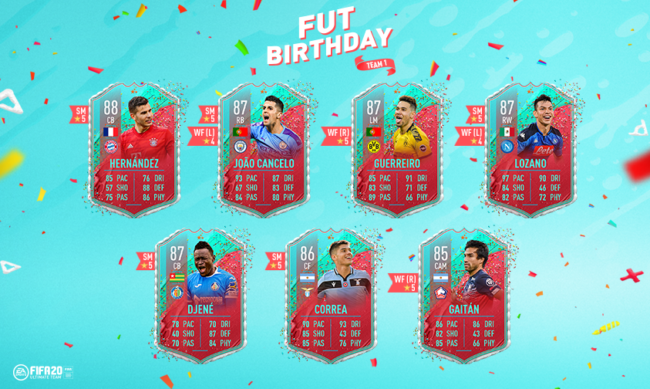 These items will be available in packs until April 3rd when the second team will be released.
Birthday SBCs & Objectives
Of course the themed SBCs and Objectives couldn't miss from this promo with FUT Birthday Bellarabi and Lucas Paqueta available as objectives and FUT Birthday Özil unlockable via SBC.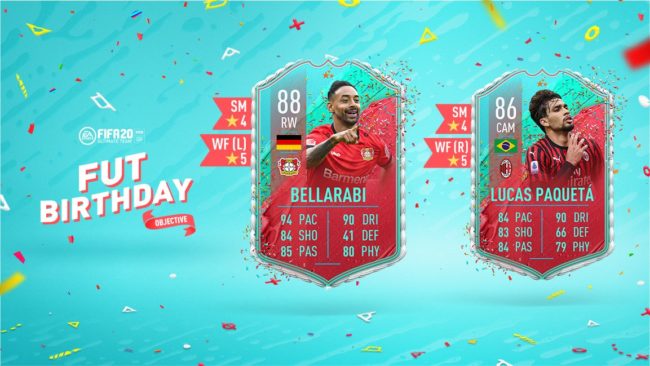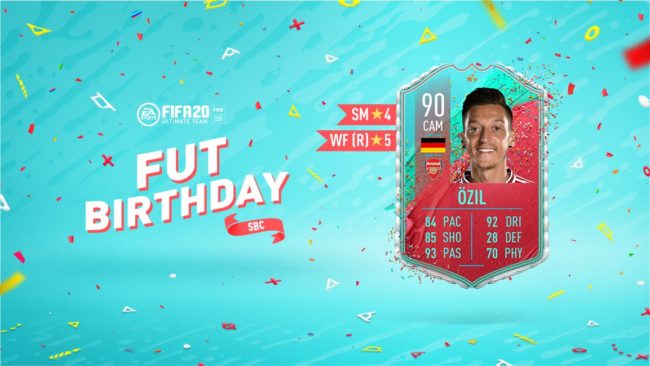 More dedicated objectives and SBCs are planned for the following weeks including Flashback SBCs featuring a group of "FUT Favourites" players that made history in this game mode.
Engagement Rewards & Weekend League Bonus
Throughout FUT Birthday there will be themed Daily Objectives that will allow you to unlock the FUT Birthday Daily Completionist group to earn additional rewards. Moreover, Weekend League players will get a special bonus objective in the second week of the event offering additional player picks.
To keep updated with all the releases of this promo please follow us on twitter.