With the recent unveiling of FIFA 20 player database, it's evident that we are getting closer to the official release of FIFA 20 as it goes live within 3 days for EA Access users.
One simply cannot afford all the top players at the start and hence most of the player-base look to build starter squads with cheap, overpowered players. In this article I'll try my best to cover some of the strong links, triangles & other hidden gems of the game beyond the top 5 leagues in Europe.
1) The Russian League Triangle: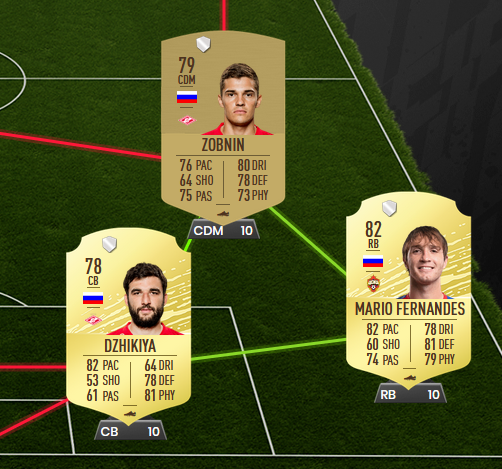 A triangle of Zobnin, Mario Fernandes and Dzhikiya may be available for pennies at the start of the game as they're not from a popular league and their stats are very good for their ratings. Dzhikiya is one of the fastest defenders in the game with decent defending attributes and a height of 188 cm.
You can further expand the links by adding Akinfeev as your GK. They can be mixed up with other hybrids and various formations like 4-2-2-2, 4-2-3-1 etc. For display I've used 4-3-3(3).
2) The CSL Quartet: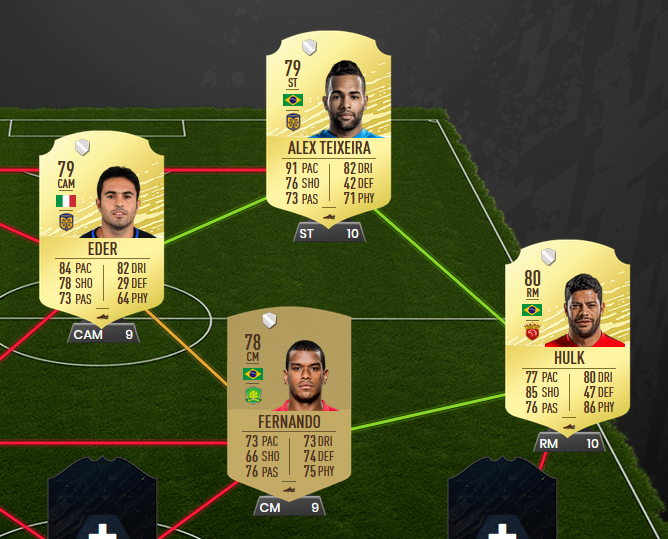 Since their introduction in FIFA 19 Ultimate Team we've learned that CSL players are some of the best choices for our starter squads. For FIFA 20 we can go for Alex Teixeira and Eder as our primary strikers since they share a strong link as they play for the same club.
In the right midfield, Hulk is by far our best option since he can be linked with Teixeira due to their nationalities – he may not be the fastest but with chemistry styles like Hunter, Hawk or Catalyst he'll be a good, cheap option at RM/RW. Lastly, Fernando will be our box to box CM who can also be played at CDM position with an Anchor or Engine chem style.
3) The Eredivisie Defence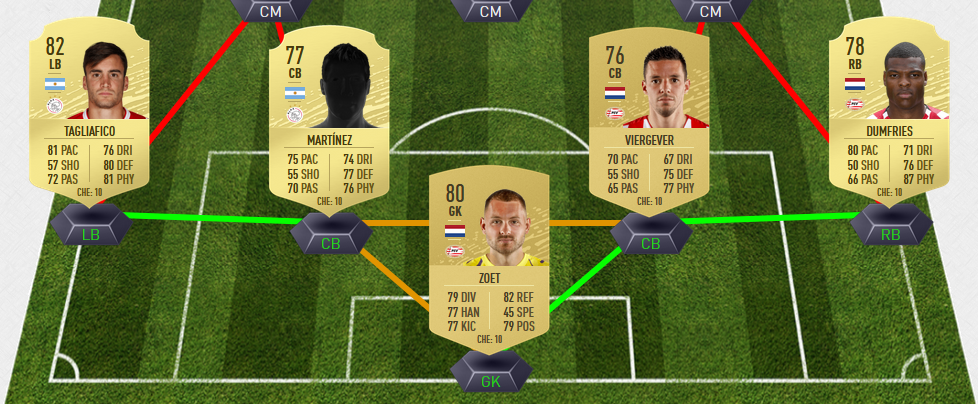 No De Ligt? No problems! Eredivisie has always produced cheap OP players for our starter squads every year and this year is no exception.
The links between Zoet, Viergever and Dumfries from PSV Eindhoven will allow you to build some insane hybrid squads in FUT 20. All three players have decent stats for their respective positions and you can pair them up with other Dutch players like Wijnaldum in midfield position and then continue with a Premier League team up front.
Moreover, the perfect links between Tagliafico and Martinez from Ajax creates room for even more hybrid possibilities. Since they share a very good nation for hybrids, you can link them up with Lo Celso from Spurs in order to start a hybrid squad with Premier League players or with Rodrigo Battaglia from Sporting CP for an interesting cross with Liga NOS players, speaking of which…

4) The Liga NOS Front Three

This front three from FC Porto can be deadly for your opponents. The striker position is reserved to Marega which displays some amazing stats like 88 pace, 92 stamina, 89 aggression and 90 strength, he will be an OP player this season and everyone will be eager to try him.
In the left wing we have Nakajima which recently joined Porto from Al-Duhail and exhibits good attributes like pace and dribbling, 4 ⭐ weak foot & skill moves and decent finishing, overall he is the ideal cheap winger for starter squads. Lastly, Corona can be played on the right and I would recommend increasing his pace and shooting with a Hunter or Hawk chem style.
This wraps up my recommendations for your starter squads. Will you be using any of these combinations? Or do you have anything else in mind? Do let us know in comments below!