The World Cup in Russia is now just around the corner, with anticipation already growing amongst football fans around the world. For those who play FIFA, the excitement has grown recently after EA Sports announced a World Cup update for FIFA 18 which is set to drop at the end of the month. You could be forgiven for thinking that this is the only World Cup set to take place this year, but you'd be wrong.
Paris, or more specifically the AMP Studios in Paris, will play host to the eClub World Cup on the 19th and 20th of May. The tournament will see a total of 16 professional eSports teams go head to head in what is a key component of the FIFA 18 Global Series on the road to the eWorld Cup, which is the gaming version of the actual World Cup. So, as you can probably imagine, success in Paris is crucial for what is yet to come.
In total there will be 32 players competing at the AMP Studios, with a prize pool of $50,000 up for grabs. More importantly though there are four seats available for the Global Series Playoffs and securing these places will be the aim of every player taking part. The playoffs see 64 PlayStation 4 players and 64 Xbox one players battle it out to secure their place that the grand final of the FIFA eWorld Cup 2018, one of eSport's biggest events.
At the eClub World Cup there are some great teams and players set to take part, with many representing professional football teams. The likes of PSG, Brondby, Schalke 04, Vfl Bochum and FC Basel will all be represented at the tournament. Joining them are respected eSports outfits such as Unilad, Hashtag, Lightening Pandas, Mkers and Method. All these teams have a great chance, with many of them boasting some of the finest FIFA players on the planet. Make no mistake, this tournament is extremely competitive and this is underlined by the amount of sports betting brands offering several betting markets. Anyone interested in this aspect of the sport, can visit Betting.com with its vast directory of online betting sites, it is the perfect place to keep abreast of all the latest news and betting on the eClub World Cup.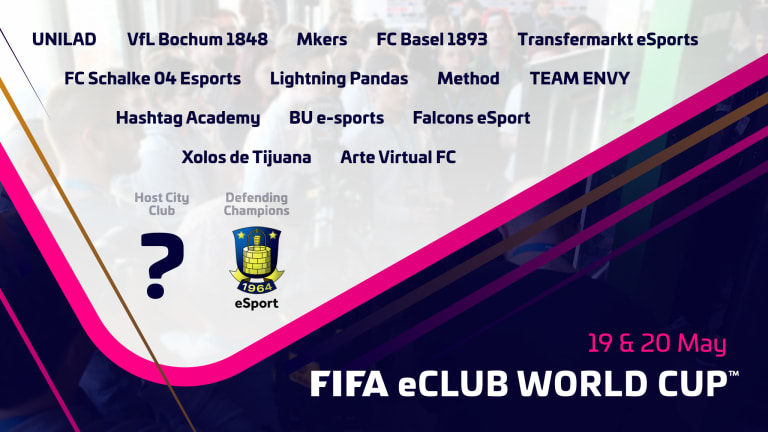 Unilad for example have Spencer Ealing playing for them, aka Gorilla. He's the defending FIWC Champions and is comfortably one of the best FIFA players on the planet. Mkers have the self-declared greatest FIFA player of all time representing them in Kurt0411. He's so far failed to live up to expectations at events, but there's no denying his talent as a player and he will be hoping to have a successful eClub World Cup; as he looks to qualify for the eWorld Cup Grand Final.
With so many great teams, so many good players, and so much at stake, it's a tournament that everyone in the FIFA community are already looking forward to. It's not a bad way to kick off what should be a great summer of football action too, both virtual and real life. EA Sports have really pulled it out of the bag with their events so far this year, and with plenty more to come, plus the new World Cup mode that is only a couple of weeks away, there's a real buzz around FIFA once again.