Today, the most popular game mode in the history of FIFA turns 7 years.
To celebrate, EA Sports have prepared a full week of surprises for us which includes FREE daily packs, promo pack lightning rounds, the FUT Birthday Cup tournament and a set of new player cards.
If you login right now your console, the web or companion app you can claim your daily free gold pack! There will be a free pack waiting for you each day until March 28th. Please note that the pack items will be untradable.
Also, there will be a special pack offer every day of this week with lightning rounds through the course of the day.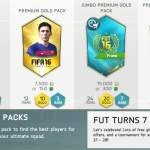 To participate in the FUT Birthday Cup you will need a squad of 18 players with different nationalities. Winning the tournament up to seven times will get you ever-increasing rewards with the first prize being an exclusive EA-branded kit for online mode while the offline mode will get you a Premium Gold Pack as the first reward. For the complete list of rewards please check bellow:
Online:
First Win – Special EA-branded Kit
Second Win – 7,000 coins
Third Win – 25k Rare Gold Pack
Fourth Win – 8,500 coins
Fifth Win – 35k Mega Pack
Sixth Win – 10,000 coins
Seventh Win – 100k Jumbo Rare Players Pack
Offline:
First Win – 7.5k Premium Gold Pack
Second Win – 3,000 coins
Third Win – 25k Rare Gold Pack
Fourth Win – 5,000 coins
Fifth Win – 25k Premium Gold Players Pack
Sixth Win – 7,000 coins
Seventh Win – 50k Rare Players Pack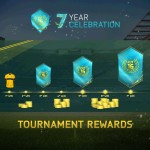 Finally, for the next 7 days the base versions of the following players will have their in-game positions changed to the positions that they play for their national teams: