We have an amazing TOTW this week with the likes of Ibrahimovic, Neymar and Hero Wijnaldum featuring in it! TOTW 6 will be available on FIFA 16 UT Mobile for the first time this year as well:
FIRST XI
GK: Ron-Robert Zieler, Hannover 96 – 80>81
LB: Marcelo, Real Madrid – 83>84
CB: Aurélien Chedjou, Galatasaray – 81>82
RB: Héctor Bellerín, Arsenal – 74>74
CDM(CM): Miralem Pjanić, Roma – 84>85
CAM: Simon Gustafson, Feyenoord – 71>73
LM(CAM): Georginio Wijnaldum, Newcastle United – 80>81
CAM(LM): Raheem Sterling, Manchester City – 82>83
CF: Max Kruse, VfL Wolfsburg – 81>82
ST: Zlatan Ibrahimović, Paris Saint-Germain – 89>91
LW: Neymar, FC Barcelona – 88>89
SUBS
GK: Jesse Joronen, Stevenage – 59>64
RB: Oleg Kuzmin, Rubin Kazan – 75>78
CDM: Mahmoud Dahoud, Borussia M'gladbach – 60>64
CAM: Marco Asensio, RCD Espanyol – 75>78
ST(RM): Alejandro Gagliardi, Nueva Chicago – 61>64
ST: Roman Buess, FC Thun – 66>70
ST: Nemanja Nikolics, Legia Warszawa – 72>73
RESERVES
CB: Mathieu Bodmer, OGC Nice – 75>78
RB: Serge Aurier, Paris Saint-Germain – 80>81
CAM: Alex Teixeira, Shakhtar Donetsk – 82>83
CAM(CM): Ander Herrera, Manchester United – 81>82
ST: Omar Al Soma, Al Ahli (Jeddah) – 75>78
These IFs will be available in packs from 21st October 6:00PM – 5:45PM 28th October. You can view the team more detailed at FUTHead or FUTWiz.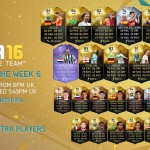 EA Sports released a new player item type in FIFA 16 UT Mobile with the occasion of Halloween this month. The new items are called "Most Feared" and the first to feature are the defenders with more than 90 in-game strength rating: J.Boateng, Mathieu, Vidic, Samba, O.Gonzalez and Olave.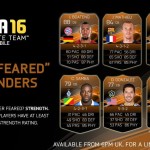 There have been some updates on the price ranges earlier this week in FIFA 16 Ultimate Team.
If you play Ultimate Team this weekend and win a division or clinch promotion you'll have the chance to 1 million coins or 50.000 coins: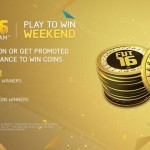 The best FIFA 16 articles and guides of the week will now feature our articles and guides as well:
– FIFA 16 Ultimate Team Hidden Gems #1
– FUT 16: Cheap Portuguese Starter Squad
– A 5-2-2-1 Guide
– Formation guide: 433-3
– 4-3-1-2 Formation Guide
– Guide: 4-2-2-2
– FUT 16 – Promotion or Profiteering?
– Serie A Squad Guide for FIFA 16 Ultimate Team
– 8 FIFA 16 4.5* Teams To Use Online
– 5 Things EA Fixed from FIFA 15
– How EA Has Set The Benchmark For Football Games With FIFA 16
– FIFA 16: 15 Criminally Underrated Players
– FIFA 16: 12 Most Overrated Players
– FIFA 16: Sheffield United Career Mode
– Commentators we wish were in FIFA and PES
– [Guide] How to Defend and Attack in Fifa16
– Chemistry Guide for FIFA 16 Ultimate Team
The goals from Round 5 of best GOTW are a pleasure for the eyes:
Cheers for checking this week's news and we'll see you again next week as usual with more FIFA 16 news.