With the announcement of the new FUT features in FIFA 23, fans are now wondering which legendary football player will join the Icons roster in the final instalment of the FIFA series.
Lots of names have been rumored to join the game in the past year but the ones we will present in this article are nearly confirmed due to the various leaks made on social media. Let's discover the 5 iconic players that are set to make their debut in FUT 23, shall we?
Rudolf 'Rudi' Völler
The first name on our list is none other than the former German forward, Rudi Völler. Nicknamed "Tante Käthe" ("Aunt Käthe"), the notorious striker was a true nightmare for defenders back in the day thanks to his pace, agility and lethal finishing.
Winner of the 1992/93 Champions League with Olympique Marseille, the German striker also wear the jerseys of clubs such as Werder Bremen, AS Roma and Bayer Leverkusen for which he is now their sporting director. During his entire career he managed to score 318 goals in 673 appearances.
At international level, Völler managed to win the 1990 World Cup with "Die Mannschaft" for which he scored 47 goals in 90 games.
🎉 𝙃𝘼𝙋𝙋𝙔 𝘽𝙄𝙍𝙏𝙃𝘿𝘼𝙔 to our club icon Rudi #Völler! 🎊@EASPORTSFIFA – this is the icon we all need! 😉⚫️🔴@bayer04fussball I @bayer04_en I @EAFussball I #FIFA22 I #UltimateTeam I #B04eSports pic.twitter.com/ZTOieYyVSv

— #B04eSports (@b04esports) April 13, 2022
Jairzinho
FUT players will have a blast playing with Jairzinho in FIFA 23 Ultimate Team. The former Brazilian winger was very fast, skillful, a great finisher and had a physicality that would put many of the modern footballers to shame.
He spent most of his professional years in Brazil playing for Botafogo with a small stint in Europe in the 70's where he played for Olympique Marseille for one season.
His highest achievement was winning the 1970 World Cup with a Brazil team that featured other legendary players such as Pelé, Rivellino or Carlos Alberto. During his career he scored 282 goals in 570 matches making him one of the most prolific wingers in the football history.
🚨Jairzinho 🇧🇷 is coming as ICON in FIFA 23✅

Terms agreed for the 1970s brazilian legend 🔥

Stats are prediction 🫡

Make sure to follow @FutSheriff and @Criminal__x 🔥#FIFA23 pic.twitter.com/TqYdQAK9cv

— Fut Sheriff (@FutSheriff) August 5, 2022
Xabi Alonso
Football fans around the world can't forget the legendary Xabi Alonso. Considered by many one of the best midfielders of his generation thanks to his versatility, consistency and vision on the pitch. Xabi Alonso was arguably the complete midfielder, a rare occurrence in today's football.
The Spanish player was regarded as the backbone of each team he player for. He won the Champions League two times, once with Liverpool (2004/05) and once with Real Madrid (2013/14). 701 professional games later, Alonso retired in the summer of 2017 at the age of 35 after winning his third Bundesliga title with Bayern Munich.
For Spain he capped 114 appearances and managed to lift the World Cup trophy in 2010 and two Euro cups in 2008 and 2012 respectively.
🚨Xabi Alonso is coming as an icon card in #FIFA23

Deserved?👇🏼

Collab with @fifa_romania & @Criminal__x 🔥#FIFA23 #FIFA22 pic.twitter.com/yQkX0pT7En

— Fut Sheriff (@FutSheriff) August 1, 2022
Zbigniew Boniek
Boniek is widely regarded as one of the best Polish players of all time. He was versatile and could play as either a midfielder, a forward or winger thanks to his blistering pace, acceleration, and quick reactions.
The Polish footballer made a name for himself in Italy at Juventus, where he was instrumental in winning several trophies, including the Serie A title, Coppa Italia, European Super Cup, and the European Cup. After the successful spell at Juventus, he moved to AS Roma, where he won another Coppa Italia before retiring in 1988.
Boniek was also a regular in the Polish national team and participated in the 1978, 1982, and 1986 FIFA World Cup achieving 3rd place at the 1982 edition.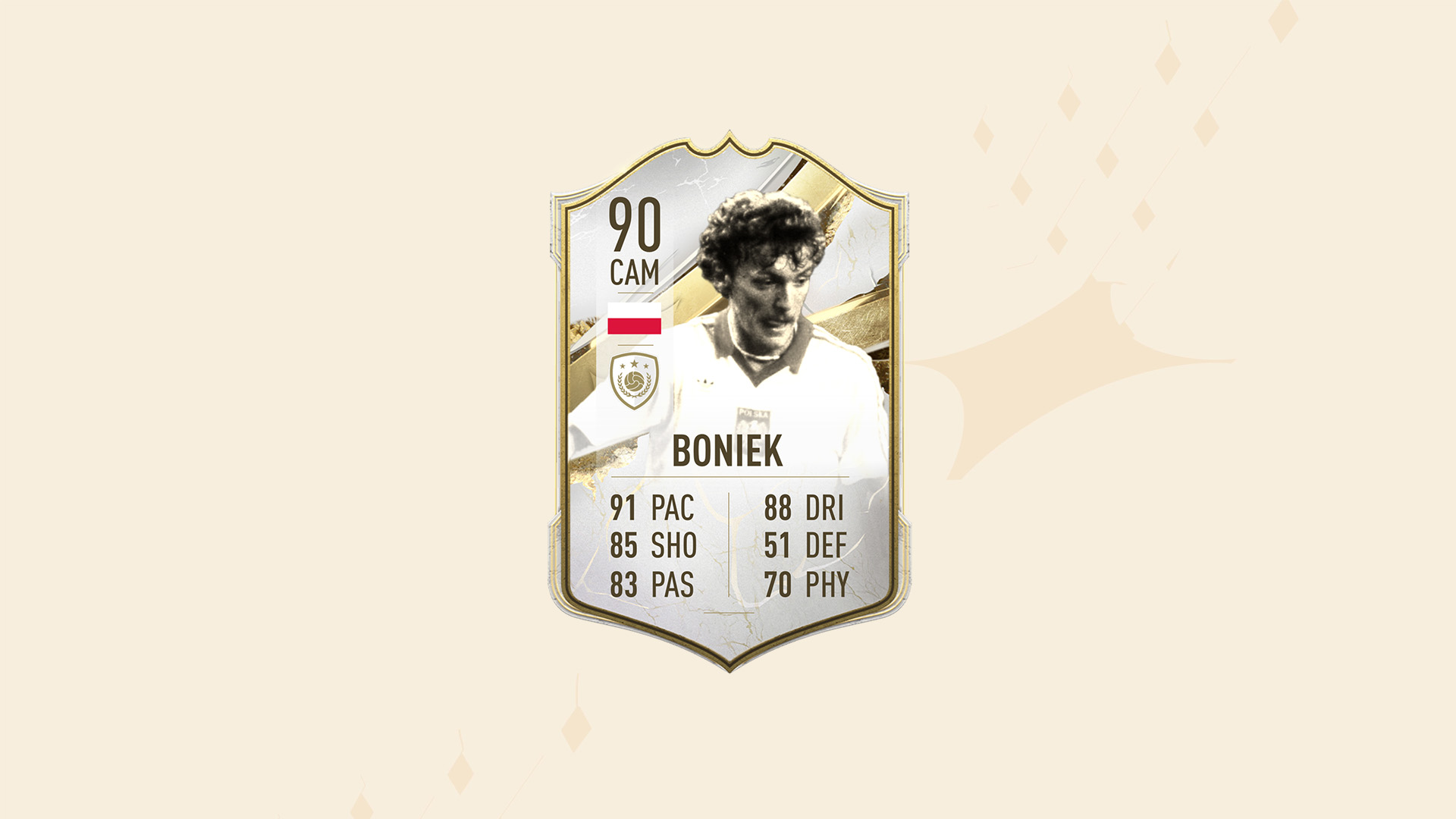 Francesco Totti
The King of Rome may return in FIFA this year! Players like Totti make you fall in love with the game of football. His elegant style of play and world-class technique turned him into Roma's greatest ever player.
Totti is also part of the very exclusive club of "one-club man" having played his entire professional career for AS Roma. For the 'I Giallorossi', he scored 307 goals in 786 games and helped them win Serie A in 2000/01 season and two back to back Coppa Italia's in 2007 and 2008.
For Italy, Er Bimbo de Oro scored 9 goal in 58 caps culminating his international career with a World Cup title in 2006.
Francesco Totti is one of the greatest players in the history of AS Roma 🐺

Does he deserve an Icon card in FIFA 23? #teambundled #Totti #Icon #ASRoma #Roma #FUT #FIFA #FUT22 #FIFA22 #FIFA23 pic.twitter.com/x5L6Wq8DYJ

— Bundled (@teamBundled) May 30, 2022
Other rumored Icons to feature in FIFA 23 are Gerd Muller, Zico, Gabriel Batistuta. Diego Armando Maradona is also rumored to return after his removal earlier this year from FIFA 22 due to image rights.
FIFA 23 will be available worldwide on PlayStation 5, Xbox Series X|S, PC, Stadia, PS4, and Xbox One on September 30. Early access for FIFA 23 Ultimate Edition begins on September 27, 2022.