Since FIFA 22's release in October 2021, the dust has settled and familiarity has set in. FIFA fans around the world have become used to this latest iteration of the sporting behemoth. As a result, plenty of players have spent countless hours in the various modes to reach the limits of their ability and become the best.
FIFA 22's career mode offers managers the opportunity to take the helm at their favourite club or struggling clubs in the football world and lead them to fame and success both on and off the pitch. If you're new to the Road to Glory series, the concept "Road to Glory" in Career Mode means taking a fallen giant, sleeping giant or even new kids in the block from rags to riches or simply guiding them to the top, i.e. achieving all major trophies before hand.
Today, we take a look at teams you should definitely consider leading to Glory in FIFA 22 Career Mode.
1. Schalke 04
The 2020-21 season was a disaster for Schalke 04: 5 different coaches, 41 players fielded, 3 wins, the entire club leadership gone and fan unhappiness to the point that Schalke supporters chased and attacked the squad after relegation was confirmed in late April. Germany's second-biggest club, after Bayern Munich with their 155,000 members, has spectacularly collapsed and this sees them playing outside German First Division in 2021-22 season, something they haven't done since 1991.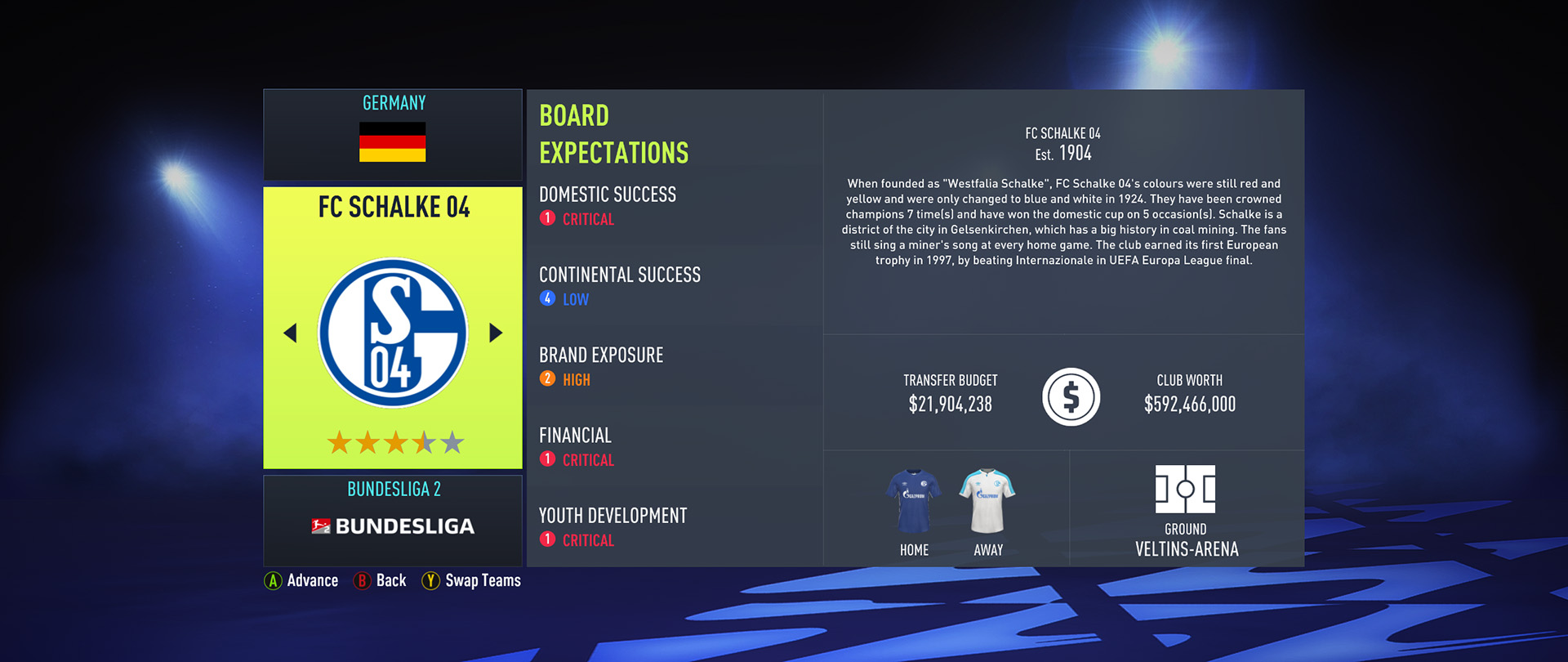 Schalke is desperate for leadership that can lead them back to the top again, can you be the manager to start the rebuild? They have been crowned league champions 7 times and won the domestic competition 5 times. Schalke's current team won't however, exactly be bursting with quality when you begin your managerial reign, but getting them out of 2. Bundesliga is the first crucial step.
After that, it's time to persuade quality talent to join this journey of revival. Using the youth academy system is important, as Schalke have developed much world class talent such as Manuel Neuer and Mesut Ozil in the past. Despite being relegated, Schalke's Veltins Arena is still in the game and the fans will also want to see their team match up to their local rivals Borussia Dortmund. Try your best to not lose in the derby matches.
2. Sutton United
Sutton United also known as "The Amber and Chocolates" and "The Us", secured promotion to the football league for the first time in their 123-year history after winning the National League title during the 2020/21 season, earning themselves a ticket into the FIFA series. This is the first time, they have ever been included in EA Sports FIFA. Therefore, taking them further up the English leagues ladder would be an ultimate rags to riches tale.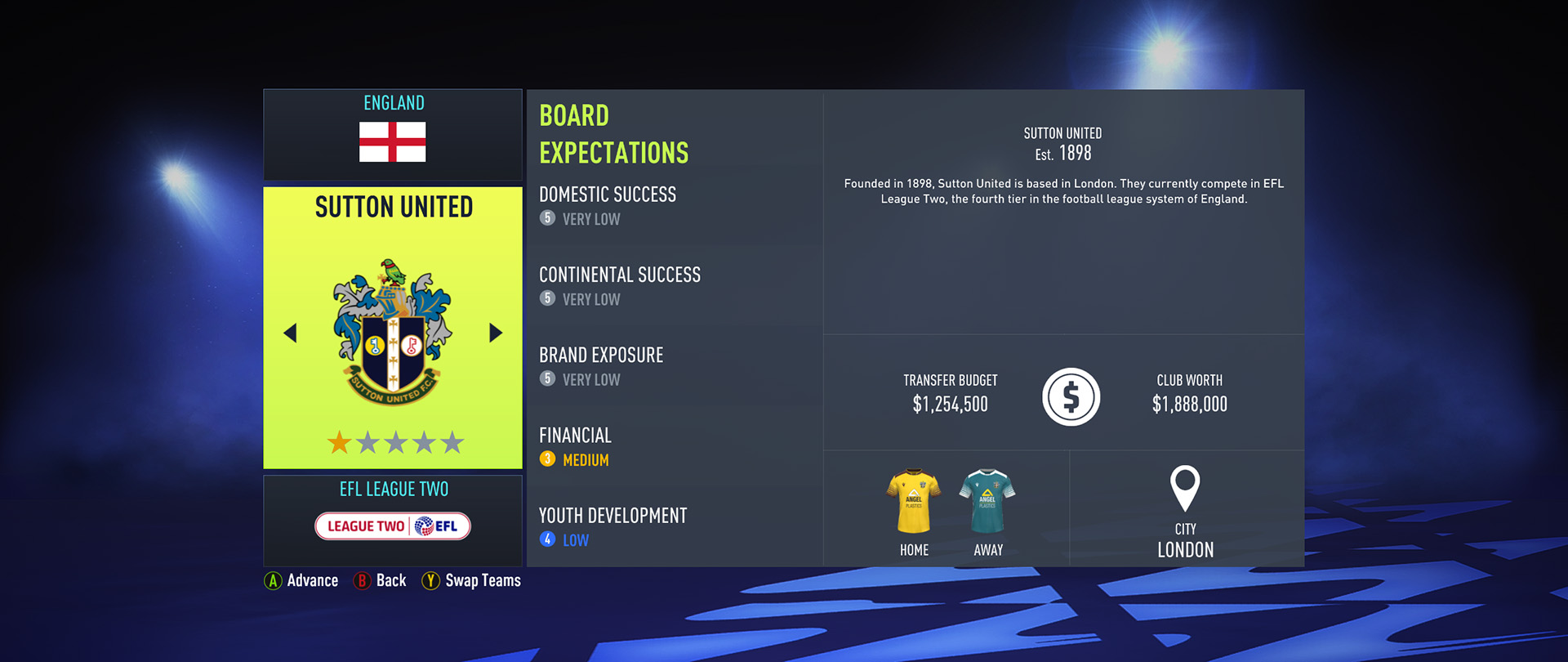 Luckily and it's no surprise, expectations are low at Sutton United. With no European competition, the Board primarily aims to avoid finishing in the bottom of the league in the first season. Finances are even lower. That means two things: you'll have to get creative with the resources at your disposal, including focusing on the youth team and you'll also have plenty of time to get things right.
3. Wrexham
EA SPORTS announced a multi-year partnership with Wrexham AFC ahead of the launch of FIFA 22. The agreement sees the club become playable in FIFA 22, 14 years after their last appearance in the series. The club can be found within FIFA's Career and Kick Off modes in Rest of World league. If you are looking to give yourself a unique challenge in FIFA 22 Career Mode, then taking new kids on the block, Wrexham FC from the bottom to the top can be just as fulfilling and satisfying.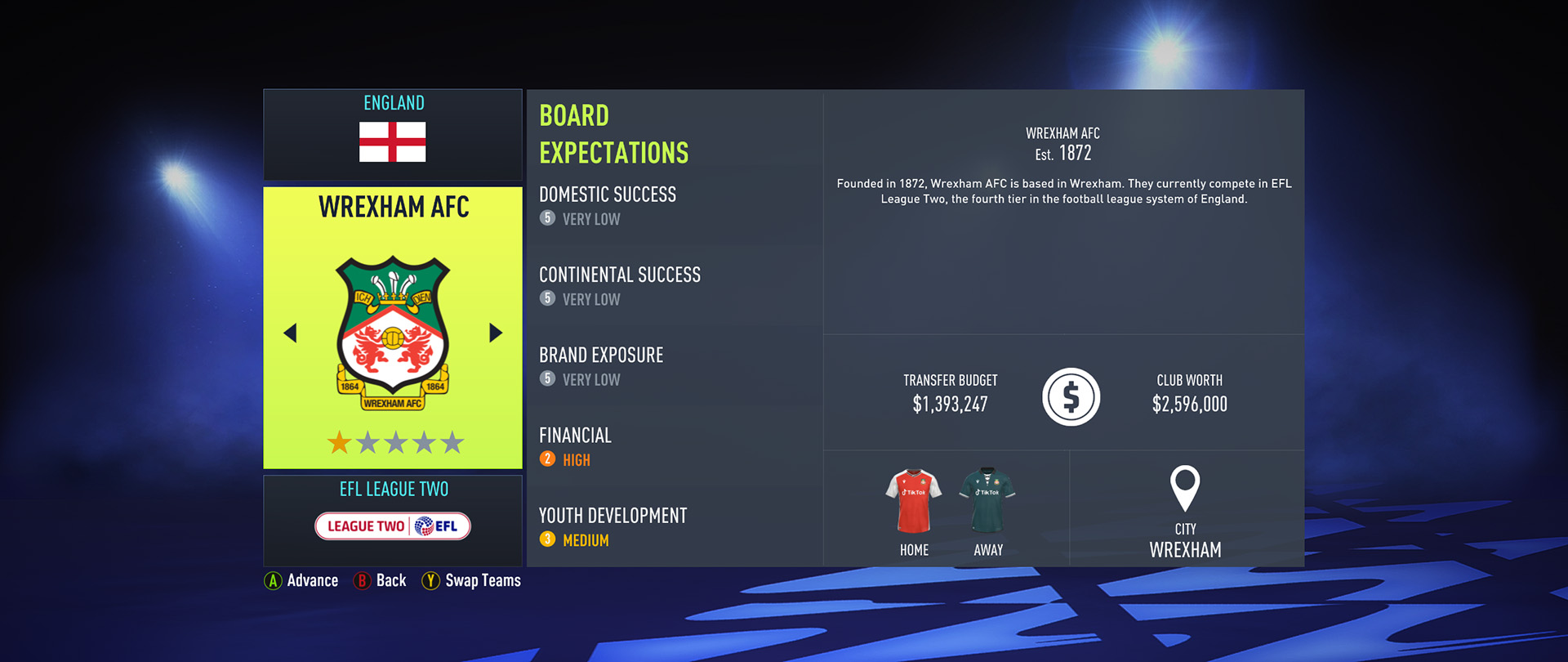 As they are in the Rest of the World league, you will need to swap them with a team presently in English League Two, from there you can strive to take them up the divisions and into Europe. Wrexham is a good option, if you particularly like long careers, where you can gradually develop your squad especially through youth academy.
With a very limited budget and one of the worst rated squads in FIFA 22, there is plenty of work to be done. And if you are open to making things interesting, inject £1M or £10M into your budget via financial takeover at the beginning of your career as Wrexham is owned by popular millionaire actors Ryan Reynolds and Rob McElhenney.
Today, "Rest of World". Tomorrow… the world? @Wrexham_AFC @EASPORTSFIFA pic.twitter.com/4NTE2WHGeM

— Ryan Reynolds (@VancityReynolds) September 12, 2021
4. Paris FC
Paris Football Club was founded in 1969 and merged with Stade Saint-Germain to form Paris Saint-Germain in 1970. The current Paris FC exists as a result of the club splitting from Paris Saint-Germain in 1972. Unlike its counterpart, which has gone on to establish a solid foundation, Paris FC has struggled to establish itself, having spent the majority of its existence playing in the amateur divisions. The club's highest honour to date was winning its group in the Championnat de France amateur in 2006. Paris FC last played in Ligue 1 in the 1978–79 season.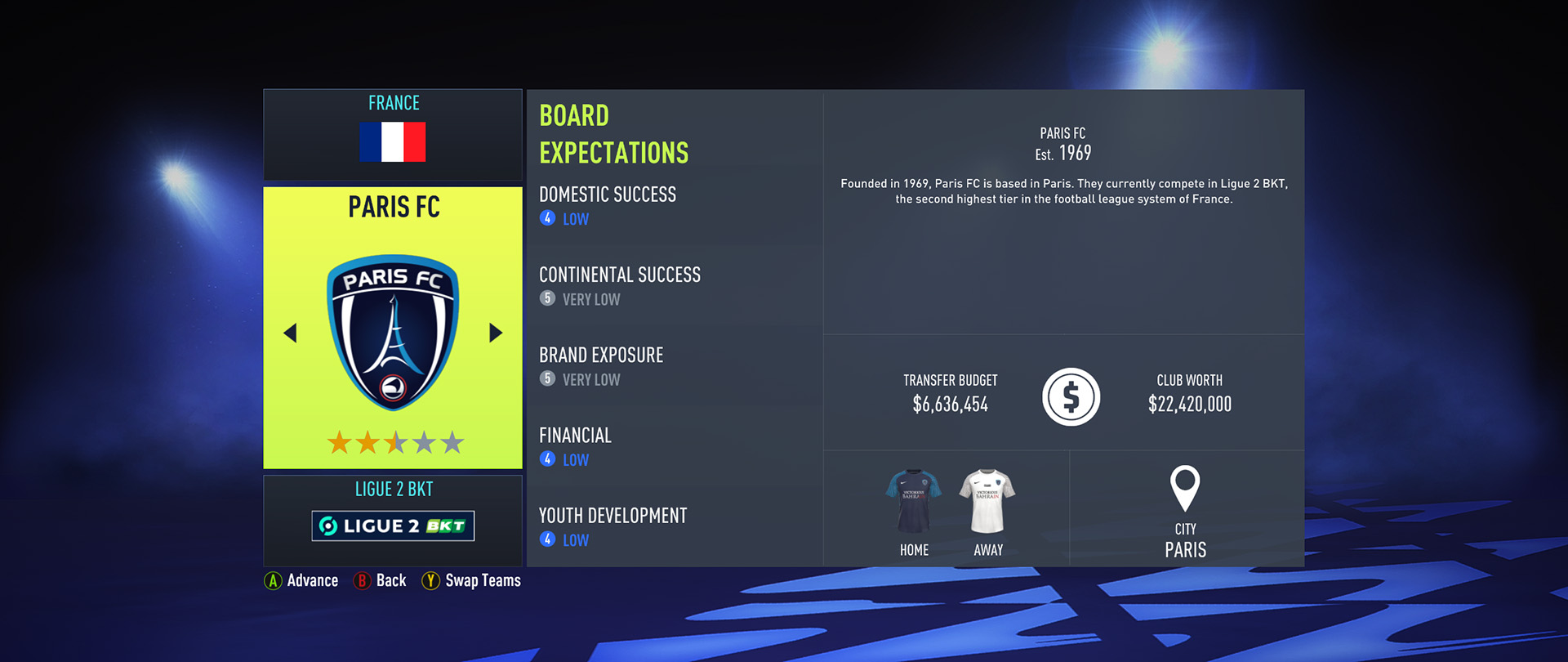 Now what makes Paris FC, a good option for Road to Glory in FIFA 22 Career Mode? Paris FC is a popular team to utilize in FIFA 22 career mode, due to the storyline of overtaking PSG and becoming the best team in Paris. Overtaking the mighty PSG is easier said than done considering Paris FC are an average Ligue 2 side on paper. Therefore, patience and creativity will be the cornerstone for your success. French football is hungry for a top flight Paris derby. The power is in your hands to make it happen.
5. TSV 1860 München
A founding Bundesliga member, 1860 Munich were regulars in Germany's top flight up until 2003-04 season. They even shared Allianz Arena with Bayern Munich at one point. Now, 1860 München, the first Munich side to win the Bundesliga in 1966 and 1965 European Cup Winners' Cup runners-up find themselves in the third division, having dropped as low as the fourth tier due to on and off field issues.
They have been crowned German champions, won domestic and European trophies, but things haven't been great and they are far from once again tasting top flight silverware.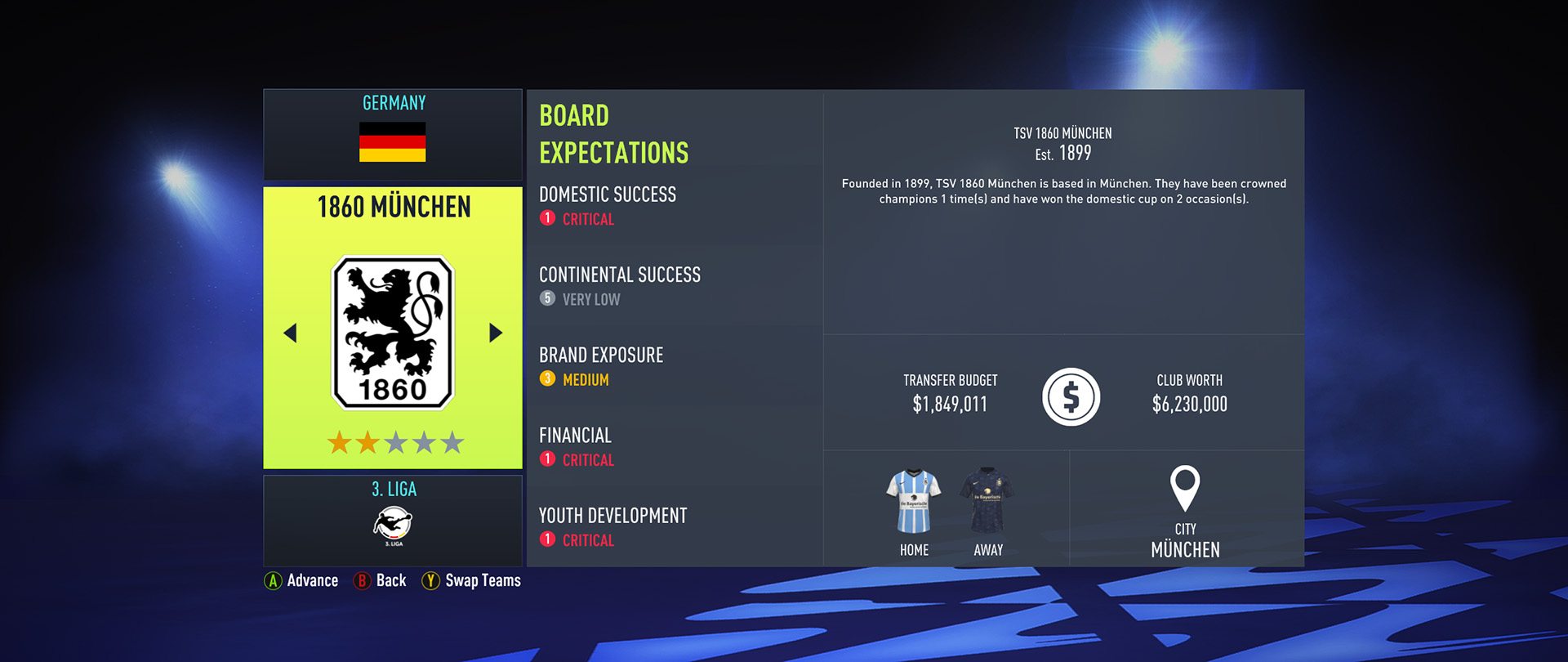 The club is now entirety overshadowed by city rivals Bayern, haven't been in German's top flight, Bundesliga since 2004 and were shortly in Germany's fourth tier recently. They are now back in tier three, but can you take them back to the top and dethrone the mighty and untouchable Bayern Munich along the way?
6. Inter Miami
Managing outside of Europe is something plenty of players never do when playing Career Mode. One league that is often overlooked in EA Sports FIFA is the Major League Soccer (MLS).
Inter Miami is an appealing Road to Glory prospect in FIFA 22 Career Mode as they have never tasted any major silverware and they also have a few high profile veteran players such as Gonzalo Higuain, Blaise Matuidi and Kieran Gibbs to build your squad around. But the million dollar question is how do you bring a first MLS Cup to David Beckham's franchise? Do you decide to sign more older veteran players with European experience or try to invest in youth and try for long-term success?
Board expectations are Low or Medium across the board, meaning you can take your time honing your strategy without the worry of facing the sack if results do not go your way immediately.
7. Valencia CF
Valencia is the third-most supported football club and one of the most successful sides in Spain, behind Real Madrid and Barcelona. Valencia have won six La Liga titles, eight Copa del Rey titles, one Supercopa de España, and one Copa Eva Duarte. In European competitions, they have won two Inter-Cities Fairs Cups, one UEFA Cup, one UEFA Cup Winners' Cup, two UEFA Super Cups, and one UEFA Intertoto Cup.
They also reached two UEFA Champions League finals in a row, losing to La Liga rivals Real Madrid in 2000 and German club Bayern Munich on penalties after a 1–1 draw in 2001. In total, Valencia have reached seven major European finals, winning four of them.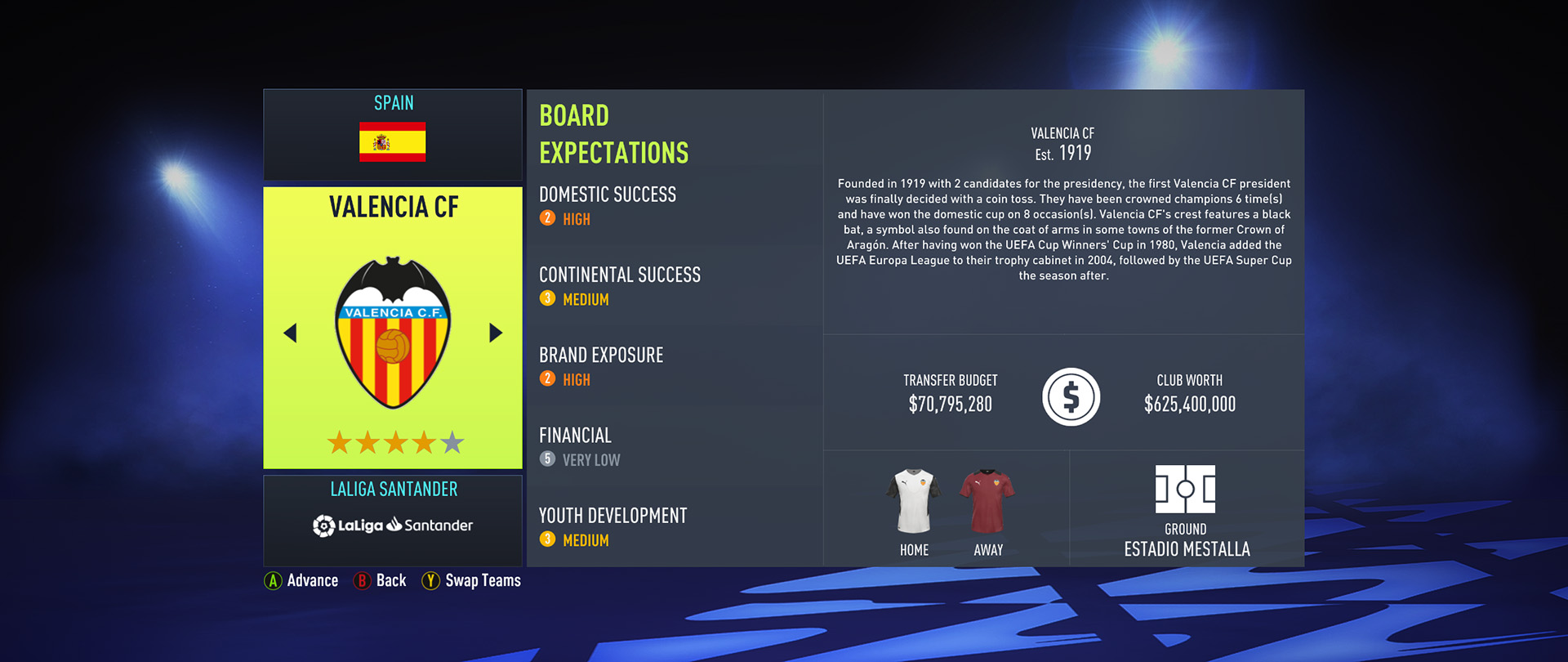 Valencia features as the only club competing in the first division on this list. Why? Because despite their successful history, Valencia hasn't won the league since 2003/04 season and are yet to win UEFA Champions League in their history.
The club has been struggling this season which currently sees them sitting 8th in LaLiga. Other reasons which makes Valencia an appealing Career Mode team is their elegant authentic stadium, head scanned squad and the mixture of talent and experience in their team. Lead them back to glory and make history along the way.
So, which of the above teams will you go and lead to glory first? Where could you see yourself building a meaningful career? FIFA 22 is available now on Playstation 5, Playstation 4, Xbox Series X|S, Xbox One, Google Stadia and PC.