Major League Soccer has recently announced an update to the competitive schedule and released details for the 2022 season of eMLS: the Major League Soccer's Esports competition.
eMLS is a great competition not just for pro FIFA players, but also for fans who like to try their luck from time to time. For example if you don't want to play casino games online at National casino lobby , you'd could try Esports betting on this year's eMLS edition. Now let's take a closer look at how the tournament will unfold this year.
Refreshed Format and Structure
eMLS has received an overhaul with changes to its competition structure and a record breaking prize pool all culminating in the final presented by Coca Cola at SXSW. With such heavy names involved, this is set to be the biggest competition in the history of eMLS. The league is set to take place in a 2-part series with League 1 and League 2 both being an online format. However, the eMLS cup final for the 2022 season will be hosted physically in Austin, Texas on March 13th, 2022, as an official event of SXSW.
The 2022 tournament will see 27 MLS clubs represented by 27 pro FIFA Esports players and will be played on FIFA 22 exclusively as a next-gen competition. The console chosen for this season is the PlayStation 5. League 1 is set to kick off with Qualifiers that have been scheduled for the 11th and 12th January, 2022.
All these matches will be broadcasted on each individual club's websites. The Qualifiers are followed by the Quarter Finals, scheduled for January 15th. This is quickly followed by the Semifinals and the main Final on January 16th, 2022. This action can be followed live through the official MLS channels.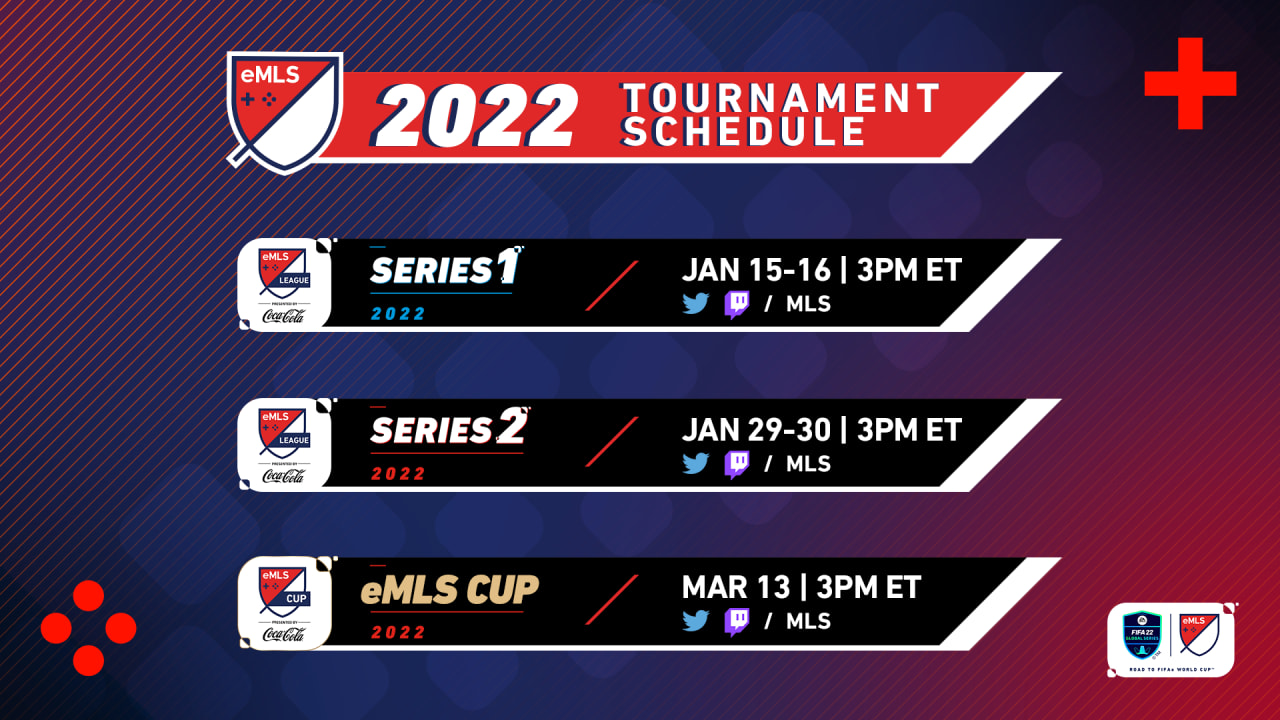 League 2 follows a similar timeline as League 1 with Qualifiers on January 25th and 26th, 2022. Quarterfinals for League 2 take place on January 29th while the Semifinals and Final will be held on January 30th, 2021. The knockout stages will be broadcast on the official MLS handles for League 2 as well. Last but not least, the eMLS Cup presented by Coca-Cola will be the final stage of all the action.
The Qualifier has been designed to accommodate the last spot in the knockout roster with all players 12 and below in the overall league standings eligible for the qualifier. The top 11 rated players automatically qualify!
eMLS Cup and Prize Pool
The eMLS Cup is recognized as a Tier 1 league by EA SPORTS and as such, the top three eMLS Cup finishers will receive direct seats to the EA SPORTS Global Series Playoffs on the Road to the FIFAe World Cup. Moreover, the eMLS Cup will take place at ACL Live in downtown Austin in partnership with Austin FC with numerous activities for fans to enjoy. The event will be open to SXSW badge holders as well as the general public for free. Registration will open at a later date so keep an eye out for those tickets!
As for the prize pool, eMLS 2022 blows things out of the park with a combined prize pool of 75,000 USD. League 1 has a prize pool of 20,000 USD with League 2 receiving 20,000 USD too. The biggest prize pool has been kept aside for the eMLS Cup with a total pool of 35,000 USD. The competition is top tier and the stakes have never been higher!
With a guaranteed spectacle that is over 300 hours of live competitive football, eMLS is already shaping up to be a massive hit. Follow your favorite MLS clubs as they prepare to take on their rivals, with the newest entrant being Charlotte FC, as well as the official MLS Twitch, Twitter and website channels. Stay tuned as the fun begins!