The next stop on our journey is Europe's favourite landlocked nation of chocolates and neutrality Switzerland. Following on from Romania, Norway, Poland, and Denmark, it's time to dive deep into a little country that produces big talent in the Swiss Super League.
While countries like Norway and Denmark often fly under the radar when it comes to recognising countries that consistently produce talented footballers, Switzerland has developed a solid reputation for almost always managing to punch above their weight. For such a small country, it manages to produce several big-name stars in every generation. Players like Granit Xhaka and Xherdan Shaqiri have been tearing up the Premier League for Arsenal and Liverpool respectively. The latter has earned Champions League and Premier League winners medals.
Our scouts have scoured through the Swiss Super League to identify the next generation of the top talent coming out of Switzerland for you to find and try out on FIFA 21 career mode. So, here we go!
Afimico Pululu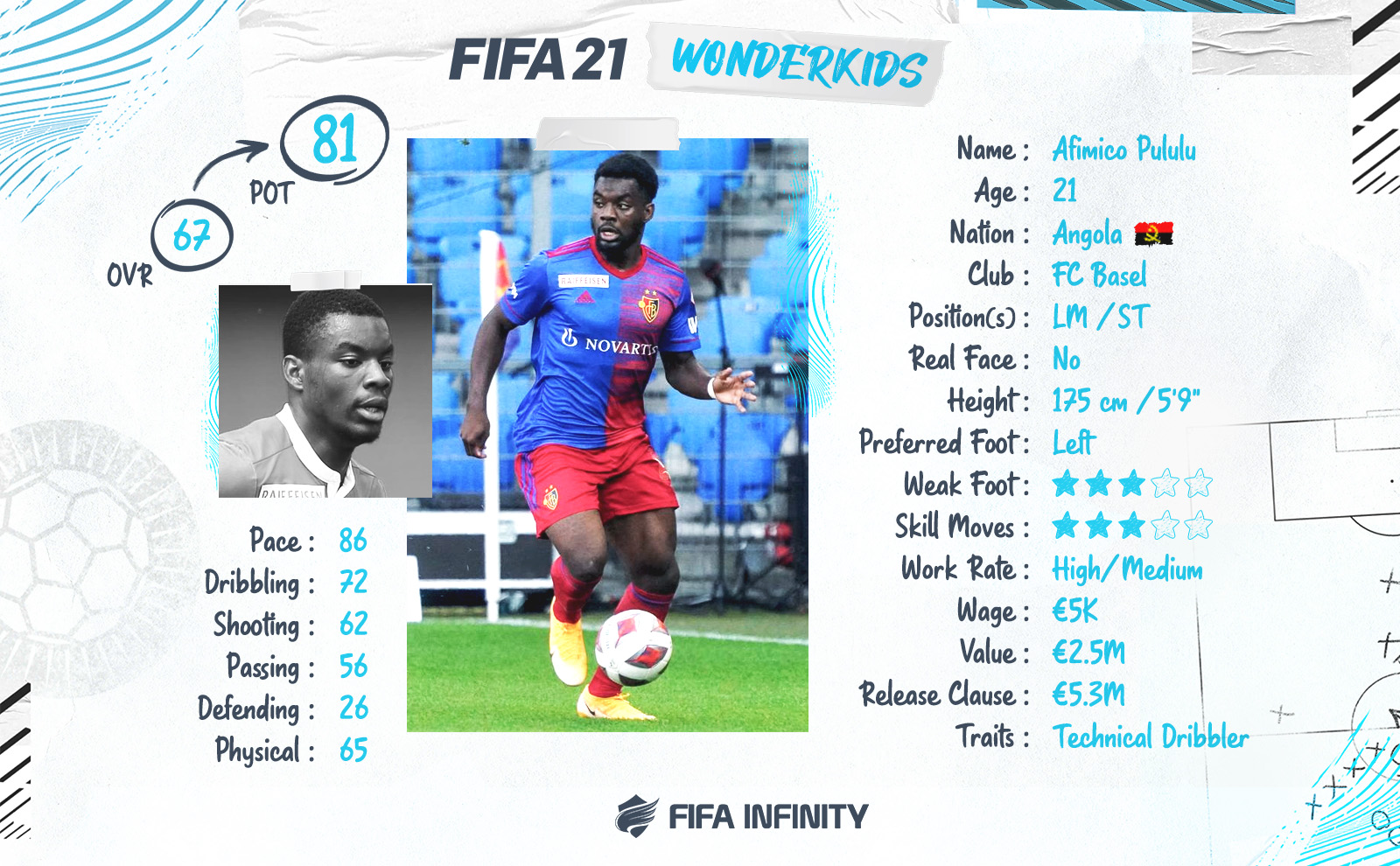 The first player on the list isn't from Switzerland but the fact that he has been with his club FC Basel since 2014 means he has already earned Swiss citizenship. As a footballer, Afimico Pululu possesses immense talent with potential in spades represented in his overall rating of 67 and room to grow into a potential rating of 81. He is also relatively cheap, valued at €2.5-million.
As a winger and forward, his technical attributes do require some improvement with only 50 for crossing, 65 for finishing, and 64 for short passing. However, he will earn a spot in your team and a chance to develop those technical attributes based on his physical stats alone. With 85 acceleration and 86 sprint speed, Pululu will be able to sprint away from most defenders in the game with ease.
Basel has just about managed to stay in the title hunt this season and is still priced at 101.00 to win the Swiss top tier on Bet365, which is one of the best betting sites in Australia and all around the world in markets like the UK, despite being 19 points behind with 11 games left. That's largely thanks to the efforts of Pululu and another player mentioned later on in this list.
Wilfried Gnonto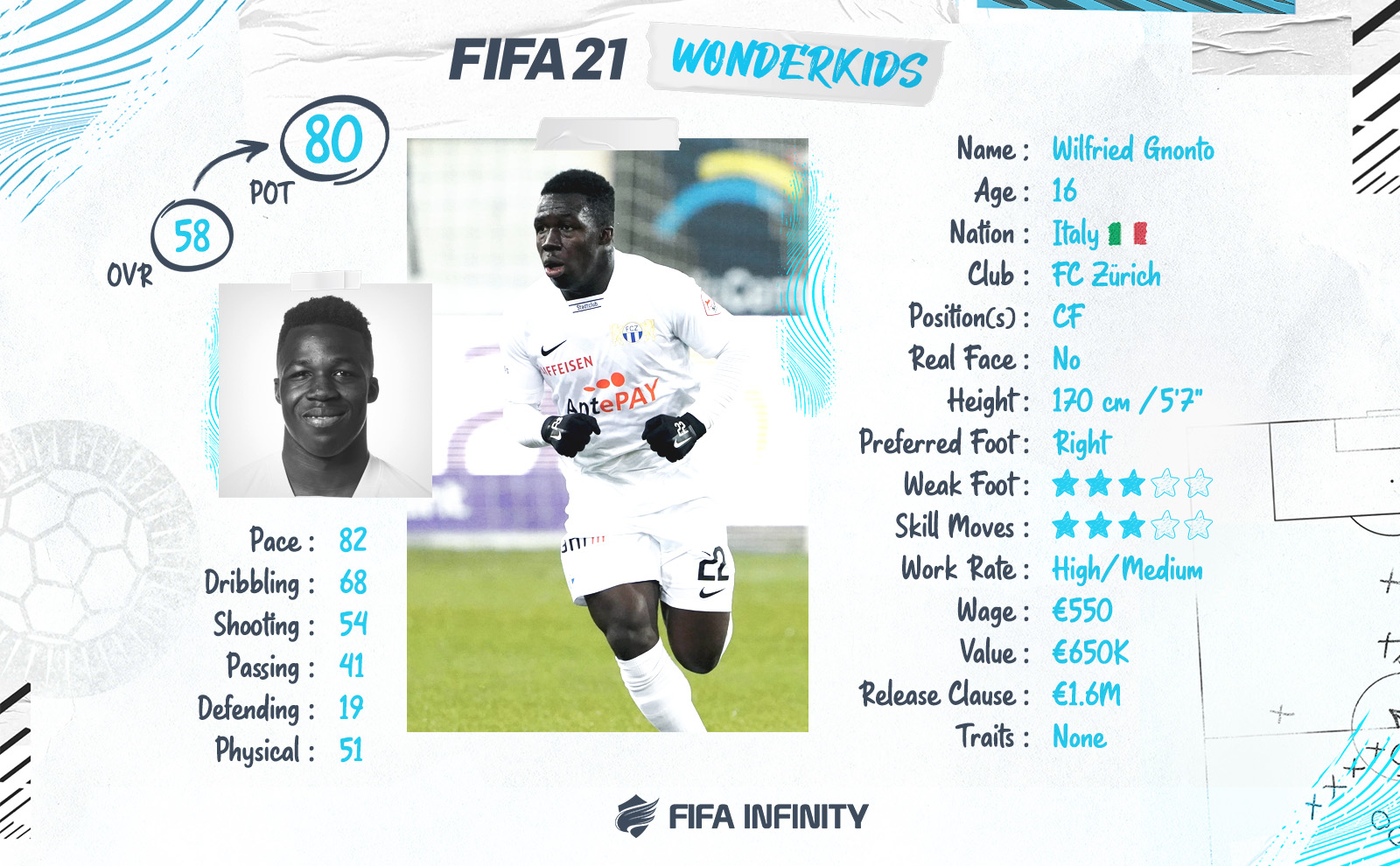 Wilfried Gnonto, as he has become more commonly known, began his footballing career in the youth ranks of Inter Milan before making the switch to FC Zurich in 2020. In the 2020-21 season, the striker has played 19 times for Zurich, netting four goals in the process. You might be wondering why this makes him special. Well, it's because he is still only 16 years old. It doesn't matter who you are or what you are doing, if you are being trusted to kick it with the best in the top tier of professional competition, you are probably going places.
Obviously, at that age, the technical attributes are still going to need a lot of work, but he is fast (83 sprint speed, 81 acceleration) with high agility (80), with decent dribbling (68), and ball control (65) that should allow his other attributes to grow rapidly. With an overall rating of just 58, there is clearly a lot of work to do, but his potential of 80 shows an upside that makes it all worth it. Especially because he is valued at just €650 000.
Bećir Omeragić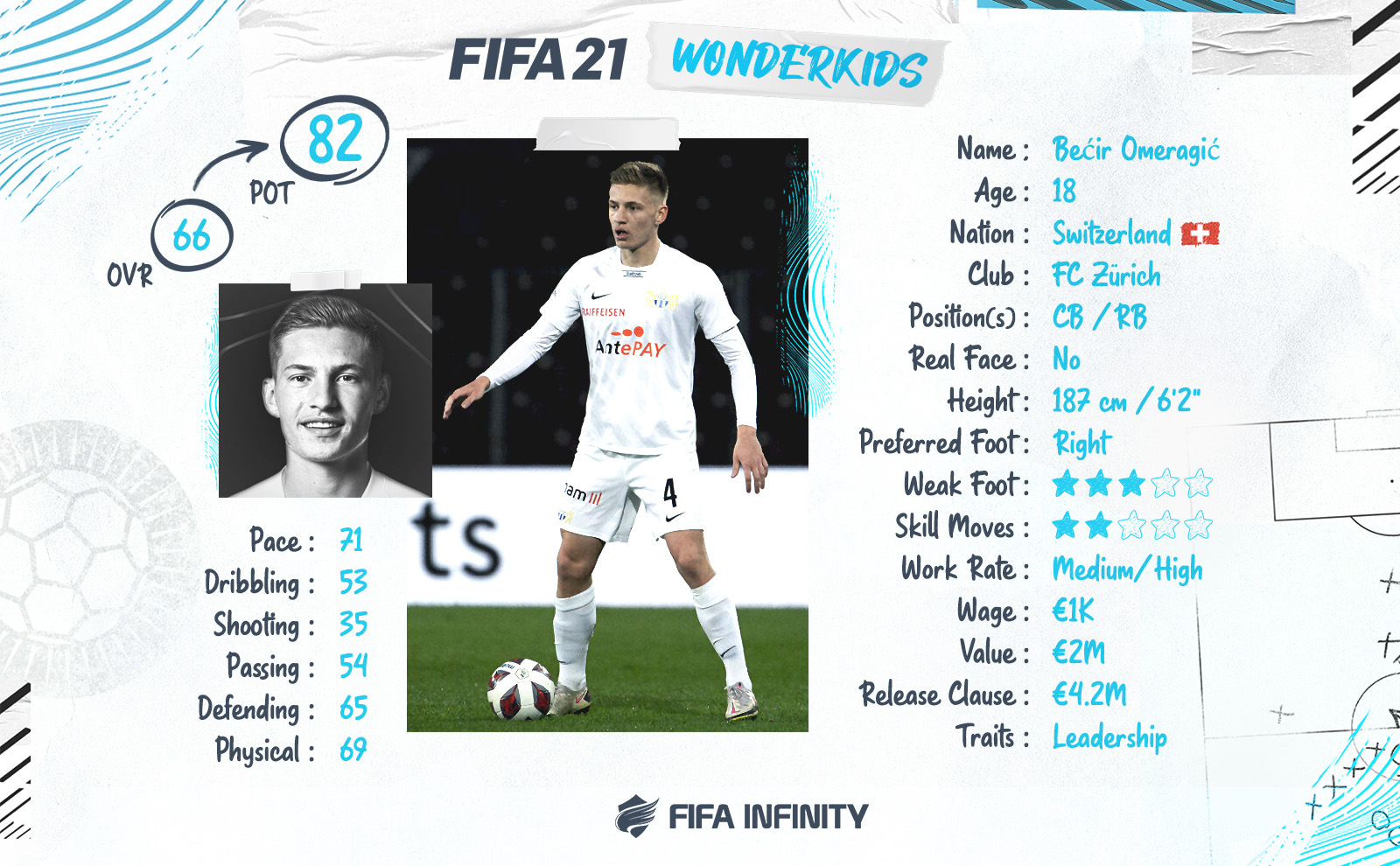 The first true Swiss player on the list, Bećir Omeragić is a strong and tall, 19-year-old defender for FC Zurich. He plays mainly as a center-back but can fill in as a right full back in a pinch. However, he is unlikely to make it as a full-time outside back option due to his general lack of agility (60) and balance (56).
At 6ft2 and with a strength rating of 71, he will bully many a striker off the ball and breakdown dangerous attacks with ease. He also excels in the air with a jumping rating of 76, so expect him to pick up a hat full of goals at corner time. His overall rating is just 66, which is a bit low for someone zeroing in on their 20th birthday, but the high upside potential of 82 means it might be worth taking a shot on him. Especially if you can get him at around his stated value of €2-million.
Matías Palacios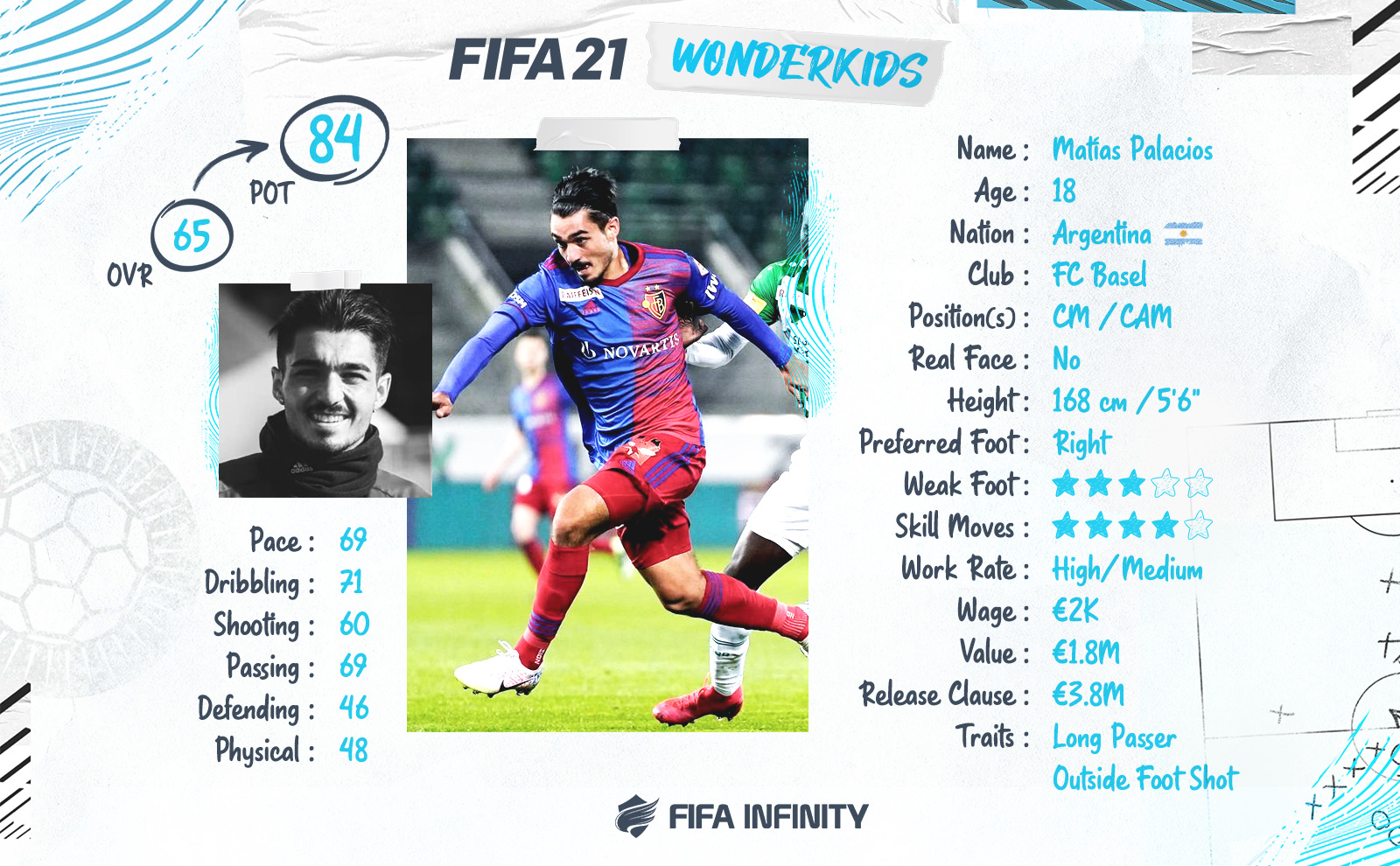 18-year-old Argentinian Matías Damián Palacios is the other half of the dynamic duo mentioned earlier tearing it up for Basel and helping them to a decent league position this season. The attacking midfielder is the creative spark behind the attackers and thrives on creating opportunities for those ahead of him.
He is already a strong dribbler with a rating of 71, can hit accurate long passes (71) at will, while also possessing decent acceleration (74) and pace (74) to help him get away from defenders. He needs some work on his positioning because a rating of 63 means he is often found out of position. With a current rating of 65 and a potential rating of 84, his €1.8-million value is a steal.
Leonidas Stergiou
The second natural Switzerland player on our list is also the one with the highest potential (86). Leonidas Stergiou is a beast of a central defender already and he is only 18 years old.
At 5ft11, he is not quite as tall as Omeragić but makes up for it with an out-of-this-world jumping ability of 85. He can also sprint a bunch and last well into games with a stamina rating of 71, which will help him stay on the pitch where he can develop his other skills more. He is also very strong (74) but a heading accuracy rating of just 64 does need some work if he is to consistently clean up set pieces. His movement attributes are all ok without being outstanding ranging between 63 and 70 and if he can get some gains in this area, he will be a truly unstoppable center back.
A current rating of 67 means you can probably just about justify sticking him in the first team to aid his development. The €2.4-million valuation placed on him is a bargain for that much upside potential.
Let us know which wonderkid is your favorite and share it the comments!