EA Sports officially revealed all the new Career Mode features that we will see in FIFA 18, most of them achieved with the power of Frostbite and its technology.
The new features include interactive transfer negotiations, dynamic cinematic news clips in the menu, custom training presets, and new broadcast overlays, making the Career Mode experience deeper and more realistic.
INTERACTIVE TRANSFER NEGOTIATIONS
The transfer negotiation process has been completely overhauled to create immersive, real-time transfer and contract negotiations. The new transfer hub in the Career Main Menu lets you keep track of all your transfer targets and listed players, and utilize the interactive transfer negotiation system.
With interactive decision wheels, you can now negotiate in-person with opposing club and player representatives , including managers and agents to strike a deal for that must-have addition to your squad. You can also delegate the negotiations to your assistant from the new Transfers Hub if you don't wish to be present in the talks.
To begin negotiations for a player, enter the transfer hub, select a player from your shortlist, and make an approach. Once you enter those negotiations, there are two steps to concluding a transfer.
Meet in-person in your office with the manager or a representative of the selling club to arrange a fee for the player. Using the new decision wheel, you'll be able to submit an offer fee, and even include optional conditions such as a sell-on clause. Submit the offer and you'll begin the dialogue with the opposing manager, who will either accept, reject or counter your offer. New AI negotiations mean opposition managers will engage with dynamic and varied responses to get the best deal for their club.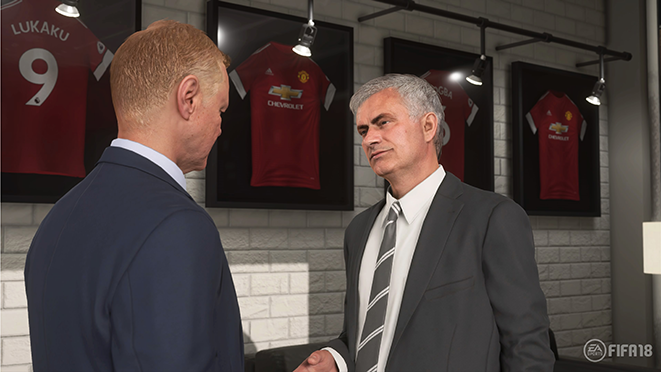 Once an agreement is made on the transfer price, you can negotiate directly with the player and his agent. You will determine not just the player's wage and contract length, but also his role in the squad, release clauses, and newly-added bonuses (appearances, goal and clean sheets bonuses) as you offer and counter-offer to strike a deal with the player.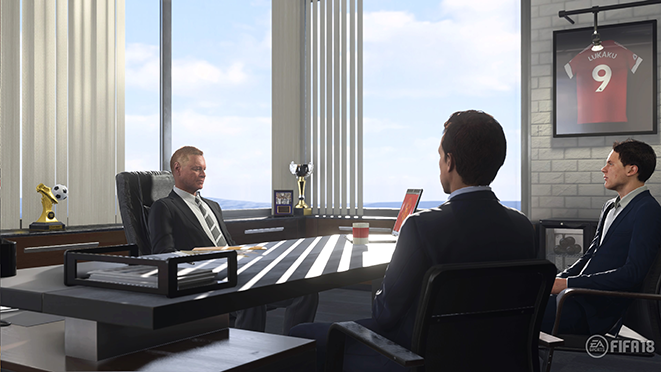 DYNAMIC NEWS CLIPS POWERED BY FROSTBITE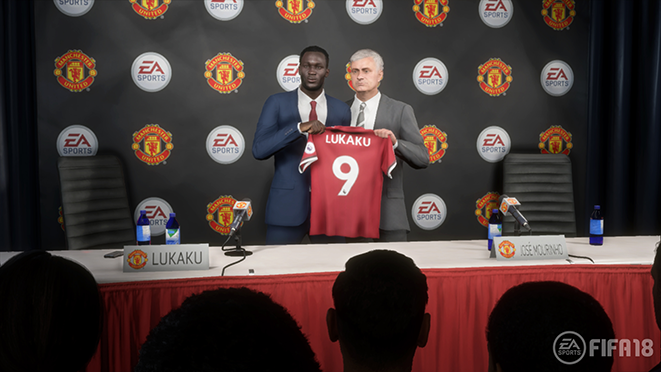 Once a deal has been completed with both the club and player, they'll be transferred to your team. In FIFA 18 Career Mode, all club and player dealings, as well as important news throughout the football world, will be featured using a new technology that generates news clips that are catalogued in in the Career Mode main menu.
For example, when players move clubs you'll now see dynamic representations of their announcement and unveiling, including billboards, line-up shots with their new teammates and press conference presentations with their new manager.
In addition to transfer dealings, you'll also see new visuals when players win their league's Player of the Month award, and when your team wins a title or cup.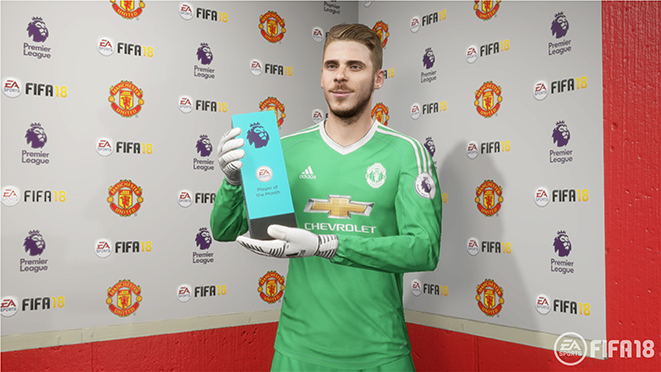 TRAINING
With 15+ new skill games in FIFA 18, there's more variety when you come to squad training and player development. Create preset drills and assign them to certain players or specific groups, allowing you to model your development strategy of young players to enhance player attributes or manage a player's return from injury.
QUICK SUBS
For the first time, you can easily make changes in-game without having to pause the match with new context-based subs. Manage using pre-set substitutions before a game in Team Management or take advantage of contextual substitutions with in-game prompts. Respond to conceding a goal or missing a chance with a quick sub to get back on the front foot without having to leave the match.
TEAM STYLES
New Team Styles come to life in FIFA 18 Career Mode, as you'll immediately recognize some of the world's best-known tactics on the pitch. You'll see clubs' authentic playing styles recreated and feel a change in defensive and attacking approaches when you choose a new team or take on a new opponent throughout your career. and hear adaptive commentary which references teams' styles of play.
ATMOSPHERES, AUTHENTICITY AND REGIONALIZATION
With Immersive Atmospheres in FIFA 18, you'll see true regional differences based on which league you choose to manage in. Region-specific atmospheres, pitch-side fixtures, stadium-specific banners, high-def dynamic crowds and more come together to differentiate matches around the world.
Hear crowd chants building up to free kicks in Spain, Germany and Portugal, the booming voice of a North American PA announcer, new chants for MLS and LaLiga Santander teams, shrill whistling as goalkeepers run up to take goal kicks in Latin American regions. Experience the more intense atmospheres of big matches, including derbies, the latter rounds of cup competitions and minnows against giants matches as the fans roar you on.
New broadcast overlays in La Liga Santander and the MLS along with new presentation graphics in the Premier League add more depth to your experience.
Finally, make sure to check out ChesnoidGaming's review of FIFA 18 Career Mode: