We had to skip last week's news roundup due to internal issues so this week's post will cover news for the past two weeks. So let's get going:
If you followed us on twitter you would already know that the FUTMas event kicked off in FIFA 16 with new pack promos, tournaments and gifts every day since December 18th and it will continue to do so until January 4th, 2016.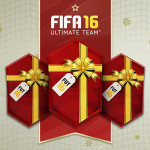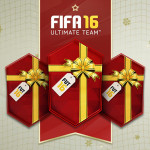 TOTW 14 and TOTW 15  in-forms are out on the market as we speak with the later one still available in packs:
Spoiler
TOTW 14
STARTING XI
GK: Jack Butland, Stoke City – 74>74
RB(CDM): Philipp Lahm, Bayern München – 87>88
CB: Kalidou Koulibaly, Napoli – 78>80
CB: Mats Hummels, Borussia Dortmund – 86>87
LM(LW): Yevgen Konoplyanka, Sevilla FC – 82>84
CM: Jordan Henderson, Liverpool – 79>80
CM: Yassin Ayoub, FC Utrecht – 73>74
RM (CDM): Saúl, Atlético de Madrid – 76>78
ST: Mauro Icardi, Inter – 79>80
RW(CAM): Ángel Di María, Paris Saint-Germain – 85>87
ST: Javier Hernández, Bayer 04 Leverkusen(Manchester United) – 80>81
SUBS
GK: Charles Itandje, Çaykur Rizespor – 70>74
LB: Jerome Okimo, Stevenage – 60>64
LM(CM): Iain Vigurs, Inverness Caledonian Thistle – 66>72
CM: Aaron Mooy, Melbourne City – 70>73
CM: Liam Noble, Notts County – 57>64
LW(LM): Eric Bauthéac, LOSC Lille – 75>78
ST: Massimo Maccarone, Empoli – 73>74
RESERVES
GK: Timo Horn, 1. FC Köln – 70>74
CB: Mateo Musacchio, Villarreal CF – 60>64
CM: Harry Arter, Bournemouth – 66>72
ST(CAM): Lucas Pérez, RC Deportivo – 70>73
ST: Aleksandar Mitrović, Newcastle United – 57>64
These IFs were available in packs from 16th December – 23rd December. You can view the team more detailed at FUTHead or FUTWiz.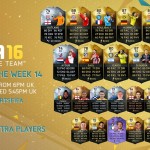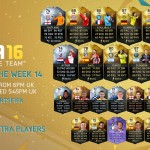 Spoiler
TOTW 15
Starting XI
GK: Stéphane Ruffier – AS Saint-Etienne (France)
CB: Daniel Ayala – Middlesborough (England)
CB: Tom Beugelsdijk – ADO Den Haag (The Netherlands)
RB: Adam Smith – Bournemouth (England)
LM: Dennis Praet – Anderlecht (Belgium)
CM: Marco Verratti – Paris Saint-Germain (France)
CAM: Mesut Özil – Arsenal (England)
RW: Gareth Bale – Real Madrid (Spain)
ST: Karim Benzema – Real Madrid (Spain)
ST: Mario Mandžukić – Juventus (Italy)
ST: Jonas – SL Benfica (Portugal)
Substitutes & Reserves
GK: Franco Armani – Atlético Nacional (Colombia)
CB: Jérémie Bréchet – GFC Ajaccio (France)
CB: Frederik Sørensen – 1. FC Köln (Germany)
CAM: Daniel Didavi – VfB Stuttgart (Germany)
CAM: Thomas Ince – Derby County (England)
ST: Odion Ighalo – Watford (England)
ST: Kane Hemmings – Dundee FC (Scotland)
CB: Arribas – RC Deportivo (Spain)
CB: Adil Rami – Sevila FC (Spain)
CM: Lucas Biglia – Lazio (Italy)
LM: Denis Suarez – Villarreal CF (Spain)
ST: Lars Stindl – Borussia Monchengladbach (Germany)
These IFs are available in packs from 23rd December – 30th December. You can view the team more detailed at FUTHead or FUTWiz.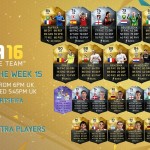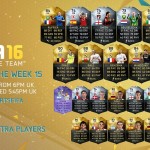 The TOTW squads are also available on the mobile version of the game but remember that the rating system is a bit different on mobiles and the in-forms are higher rated than usual.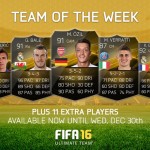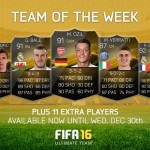 FIFA 16 UT and FIFA 15 UTNS users can now get their hands on these Special Holiday Edition Items of players from Lazio, Inter, Chelsea and Manchester United:
EA Sports recently released a new batch of transfers in FIFA 16 Ultimate Team and you can view the transfers list right here.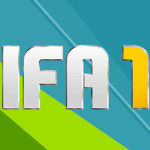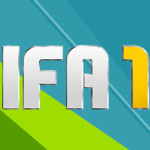 Luis Suarez is available in FIFA 16 as a 94-rated MOTM thanks to his performances in the 2015 FIFA Club World Cup.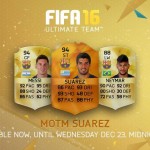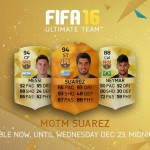 Ajax and Poland NT striker, Arek Milik, received his Pro Player item in FIFA 16 this week and bellow you can see the card and its stats: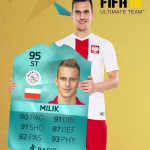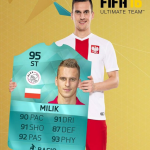 More FIFA 16 price range adjustments went live in the past two weeks and we invite you to check them at this page.
Our search for the best FIFA 16 articles and guides of the week narrowed down to the following list:
– Things That Still Need To Be Fixed Or Improved In FIFA 16
– 10 players who play on FIFA 16 the same as they do in real life
– The Best Post-Patch Formation: 433(4) Guide
– Guide for beating World Class
– My short guide to nailing a free-kick
– FUT16: my guide for a fun football simulation, to avoid fifa frustration and relegation
– Tip for defending the "wait for a peno" technique
– Gorilla's 4-1-2-1-2 (2) Guide
– Crush high pressure opponents – A 4-3-3(2) guide
This week we have three pro player tournaments lined up for you featuring Real Madrid, Athletic Club Bilbao and Germany Women's National Team:

Last thing we got for you folks is Round #11 of GOTW from EA Sports that features some insane goals from Lukaku and Luis Suarez:
Thanks for checking the post and stay tuned because a new Sunday Web Roundup post is coming up!