Discover how FC 24 Evolutions transforms your game experience. Explore the top evolutions and players to upgrade to maximize your Ultimate Evolutions team.
Hold onto your game controllers because the FC 24 Evolutions have arrived to revolutionize your Ultimate Team experience. This has created a whole new premier experience for soccer lovers. With the best Evolutions and player upgrades, you can ace your FC 24 game life.
This article will guide you through the most exhilarating Evolution pathways in FC 24. It also introduces you to the choicest superstar players to upgrade to redefine your team's destiny.
How FC 24 Ultimate Team Evolutions Works
The FC 24 Evolutions have arrived to offer you a lifeline in your quest for soccer glory. These innovative upgrades let you transform your team's players into unstoppable forces in the Ultimate FC 24 team. The newly introduced Evolutions allow you to increase players' ratings by meeting the necessary objectives. Some of these objectives might include:
Score two goals with your player (0/2)
Play 2 games with your player in Squad Battle or Rivals (0/2)
FC 24 Ultimate Evolutions is a new premier FUT feature that lets you increase your player's rank after meeting some objectives. Each Evolution path has its maximum requirements that eligible players must reach to join the Ultimate Evolutions team. One good news is that female players can now play alongside males in the ultimate squad. So, no matter who you want to upgrade, you have an option.
Once you choose an evolution, you can select a player for an upgrade. You get to boost both low-rated and top players to their prime state. You can even customize them to suit your unique preference. Simply add your favorite player to an Evolution slot to get started. Then, pass the different available challenges to strengthen your player for the ultimate team.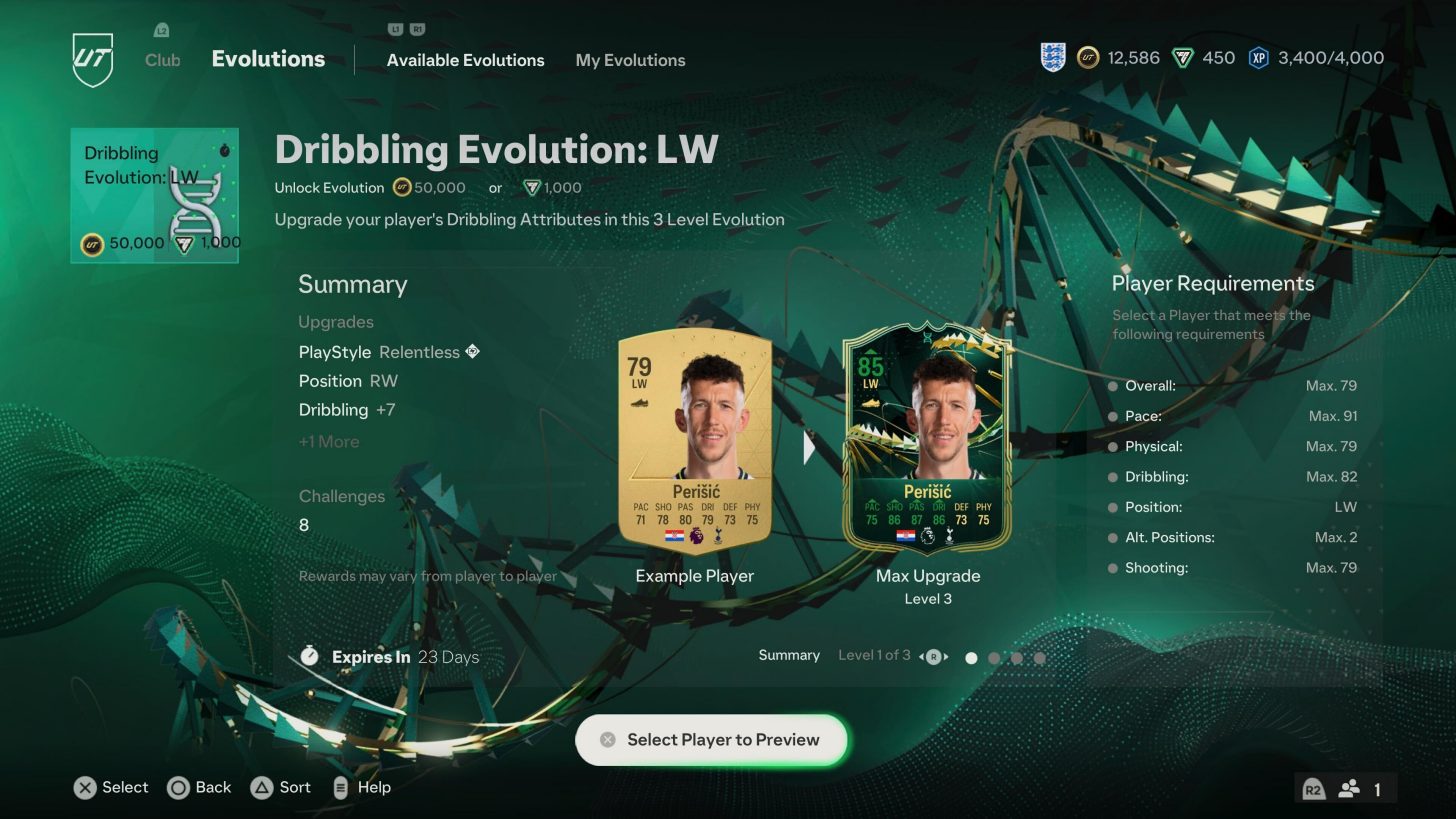 The Best FC24 Evolution and Players To Upgrade
Have you ever wondered what the best cards in Evolutions are? No worries! We will provide adequate information about the best evolutions and the players to use.
Relentless Wingers
When it comes to FC 24 Evolutions, the Relentless Winger path reigns supreme. It's no secret; sometimes, you must pay to play, and this path is worth every penny. With FC 24's propensity for emphasizing swift wingers, you can turn a decent player into an unstoppable force on the field.
We recommend Ansu Fati for the Relentless Winger Evolution upgrade. He boasts tremendous speed and dribbling stats, two crucial elements for breaking through any defense in FC 24.
Other top players to upgrade are:
Lina Hurtig
Lee Kang-in
Steven Bergwijn
Naomie Feller
Janine Beckie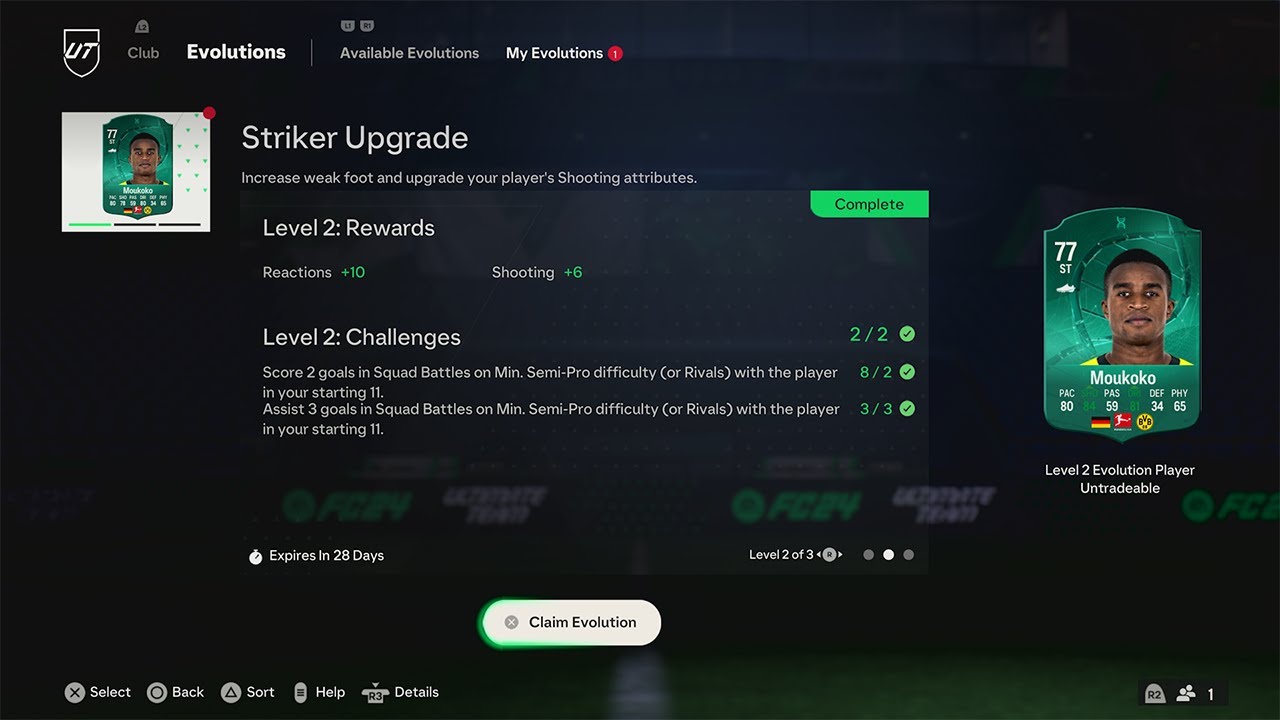 Welcome to Evolutions
Here's an excellent free Evolution! Welcome to Evolutions is the first evolution, with several top players to populate your squad. You can select any player of your choice to upgrade. However, eligible players must have a maximum stats of 80 Overall, 90 pace, and 80 defense.
The best player to upgrade in Welcome to Evolutions is Marcus Thuram, a striker for Inter Milan in Serie A. He's the son of the notable and envied French striker Liliam Thuram. See more about Lilian Thuram's sons, Marcus and Khephren: career info and achievements. This is the best evolution path you can choose with all the released evolutions in EA FC 24 to maximize Marcus Thuram's improvements.
Other notable players to upgrade are:
Gonçalo Ramos
T. Kubo
Leon Bailey
Golden Glow Up
Golden Glow Up one and two are some of the best cards in Evolutions. They allow you to transform bronze players into gold-rated players, making it all the more fun. It's like a high-quality makeover for your players, transforming them into highly valuable cards.
This two-part evolution offers three levels of exciting challenges for unmatched gaming. Our recommended players for an upgrade in the Golden Glow Up series are:
Kobbie Mainoo
Edmond Akichi
Ryan Gravenberch
Mustafa Amini
Bruno Jordao
Requirements of every evolution currently available in FC24
byu/FIGJAM17 inEASportsFC
Final Thoughts
Now you have learned about the best FC 24 evolutions and how to upgrade some of your favourite players! It's time to kickstart your soccer gaming experience using phenomenal players that help you stay ahead of the game. Keep gaming, and rest assured, we'll be here with updates on all the exciting developments.