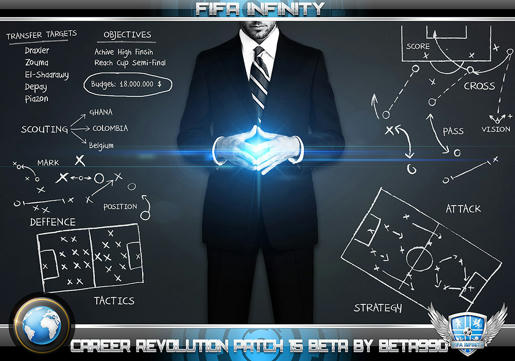 Notes:
- Some virus scanners give a false positive, please see
report here
that the files are clean.
- I recommended to play this mod with Origin in Offline Mode (because it's know to cause sync/corrupt issues otherwise)
Download Latest Career Revolution Patch 15
---
If you prefer
previous versions
:
Mirror 1
(Mega)
Mirror 2
(MediaFire)
Vanilla Files
This are the original/unmodified files from the game itself.
Since the (PC) encryption haven't been cracked, files from the FIFA 15 Xbox 360 are included that have been decrypted.
Remember the Xbox 360 are not the 100% compatible with PC!
Mirror 1
(Mega)
Mirror 2
(Zippyshare)
Mirror 3
(MediaFire)
Credits & Thanks
EA
FIFA-Infinity
jenkey1002
Rinaldo [CM15]
fifaCCitiu.com
dalb2k
Damien