Your opinion is sought after !
In our FIFA 11 Survey, which has been drafted by
FIFA 4 LIFE Forum
, we are interested in your opinion about FIFA 11 and the FIFA series in general. Besides questions concerning the new features in FIFA 11 such as Personality+, Pro Passing and Be a Goalkeeper, it concerns also the online mode, bugs and the difficulty levels. Furthermore we would like to have your rating concerning the new functions announced for FIFA 12 such as Impact Engine, Tactical Defending and Pro Player Intelligence. At the end of the survey you have the opportunity to name your wishes as to new features and your ideas to improve future FIFA series.
We would be pleased if you find time (about 10 to 15 minutes) to participate in the survey. The survey results will be sent directly to EA. Therefore it is an unique opportunity to let EA have your opinion as to FIFA 11 and the FIFA series in general and thus influence the evolution of the FIFA series.
Among all participants with an address in Germany, Austria or Switzerland we cast attractive lots consisting of EA merchandising articles, such as T-shirts, scarves, mugs and inflatable balls bearing the logo of FIFA 11, which EA kindly put at our disposal.
On the picture below you may have a look at the prizes: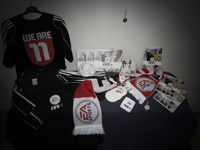 The deadline for entries is 9 September 2011 at 23:59 o'clock.
Please follow this link to participate in the survey :
http://surveys.fifacentral.net/index...=58893&lang=en
Thank you for participating in the survey !