After the reveal of Career Mode and Pro Clubs features, EA Sports dropped another trailer today presenting all the new changes in FIFA 22 Ultimate Team. EA made substantial updates to Division Rivals and FUT Champions that we will list after the trailer.
Overhauled Division Rivals
The most popular game mode in FUT has been reorganized with a new progression system! Here's a breakdown of its new setup:
Ranks, Stages and Checkpoints will be the pillars of this new ladder system. Ranks will reflect the progress you make and the rewards you will get in your Division while the Stages will show your position between the Ranks. Finally the Checkpoints will prevent you from losing progress in your Division in case the FUT gods are not on your side that day.
Weekly Rewards have been revamped so you can earn your rewards by winning a specific number of games. When the week ends your rewards will be based on your Rank and the Division you are on. You can read more on this by checking this Deep Dive article from EA Sports.
You will be able to earn additional rewards thanks to Season Milestones as Rivals will be directly linked with the 6-week long FUT Season. You will be able to earn up to 3 Milestone Rewards and it won't matter if you win or lose as you will still earn XP towards your Seasonal Rewards.
The Elite Division will be introduced in FUT 22 as a new tier above Division 1. In this division the progression changes to a Skill Rating system, same as FUT 21. Once a player enters this tier, it will remain there until the current Season ends.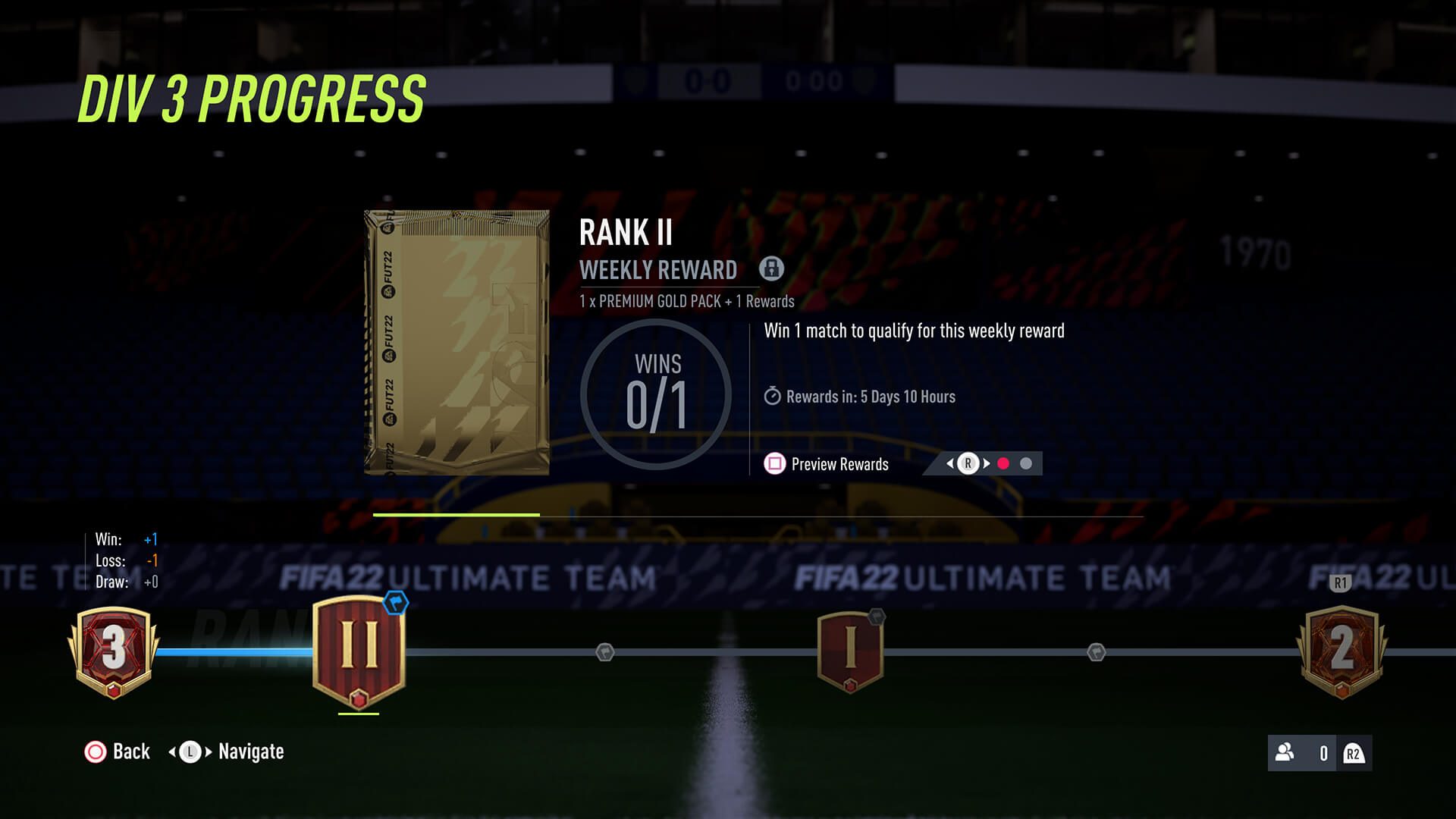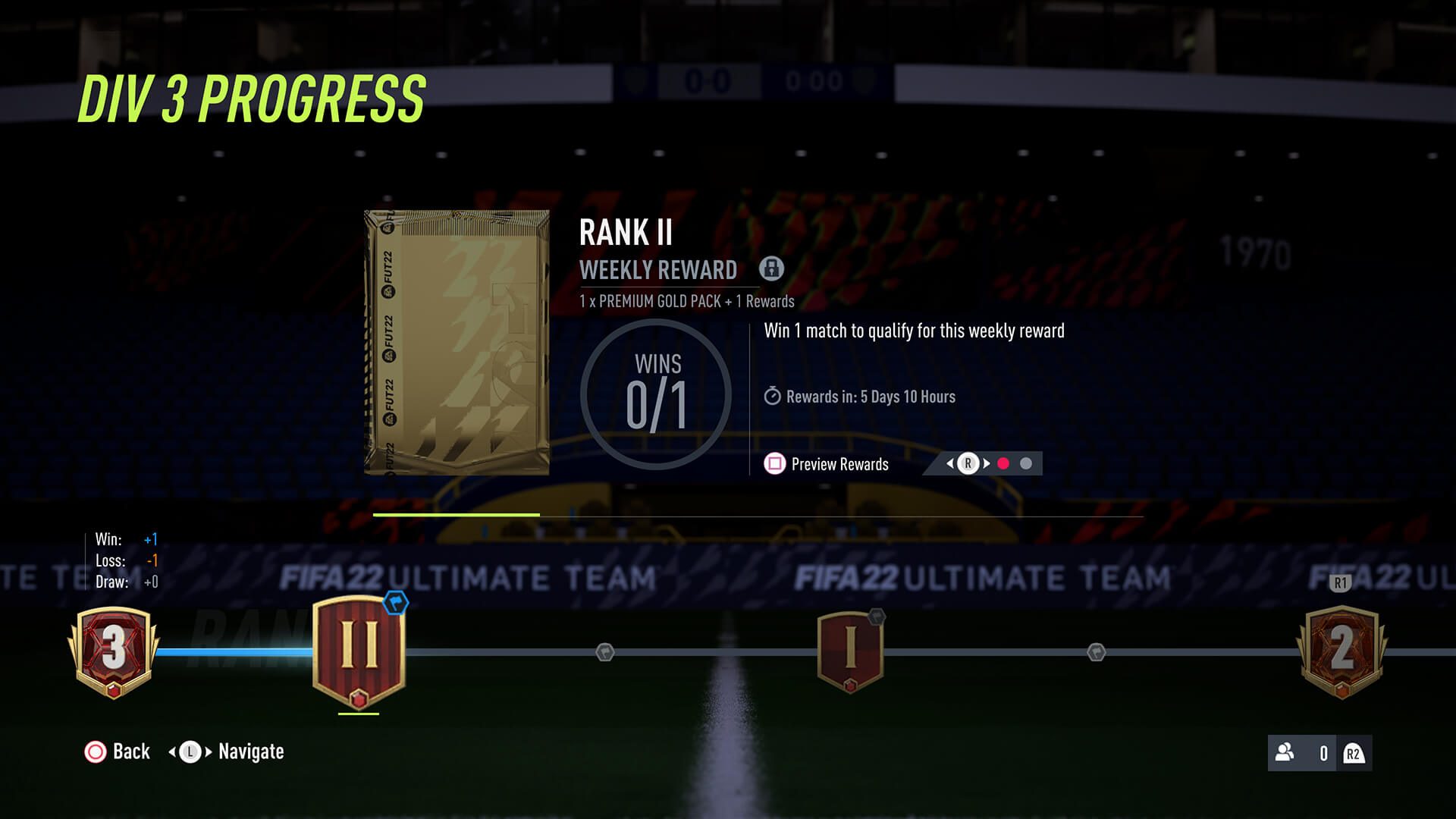 One important thing to point out is that this year all players start from Division 10! There will be no placement matches like in previous years.
FUT Champions New Structure
The new FUT Champions structure aims to reduce the number of weekly matches, provide new ways to earn rewards and improve accessibility. Here are all the implemented changes for FUT 22:
This year the progress system will be points based instead of wins. For example one win will award you 5 points and you will progress further.
Champions Play-Offs will be introduced this year as the first step of the overall FUT Champions competition. The Play-Offs will be open for the duration of the FUT Season (6 weeks) and players will be able to progress at their own leisure through a limited number of matches.
After earning enough points through the Play-Offs, you will gain a Finals Qualification Token and can enter the Champions Finals. The Finals will of course take place on weekends (

Friday to Sunday

) and you can enter the competition whenever you wish thanks to the aforementioned token.
In case you don't qualify for the Finals, you can always return to the Play-Offs after re-qualifying through Rivals.
There will be only 20 matches to play in the Finals instead of 30 (FUT21).
You can claim your rewards instantly after finishing all your games in the Finals. Otherwise your rewards will be granted at the end of the competition.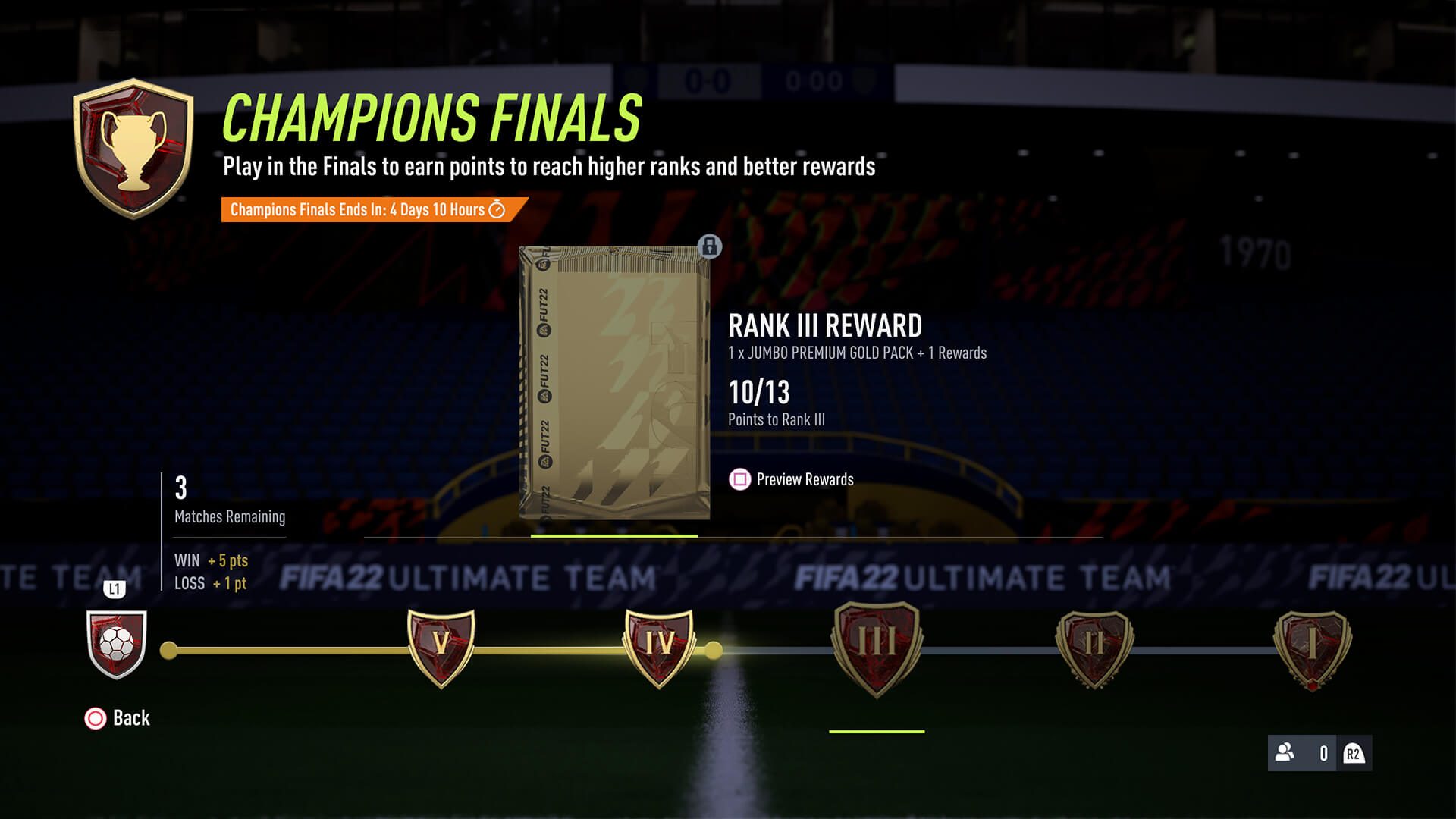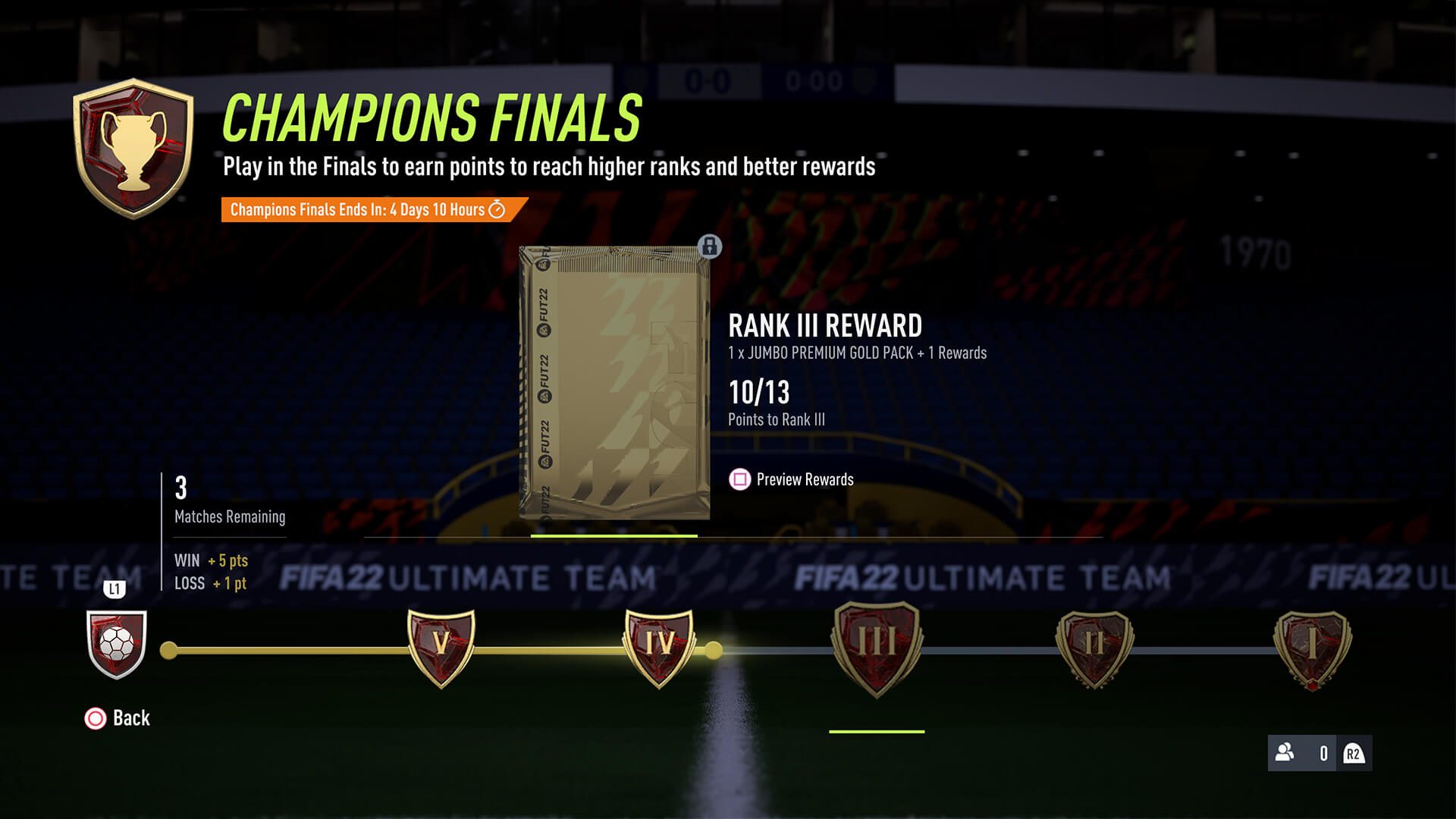 New Co-op Mode
In FIFA 22 Ultimate Team we will see the introduction of a new FUT Friendlies game mode known as Co-op Public Matchmaking. This new mode will allow you to team up with one of your friends and casually play against another pair of buddies using pre-made squads as you won't be able to use your own FUT squad.
You will also have the opportunity to test some of the best players in FUT 22 thanks to the the pre-made squads that will include special player items like TOTW or Ones To Watch.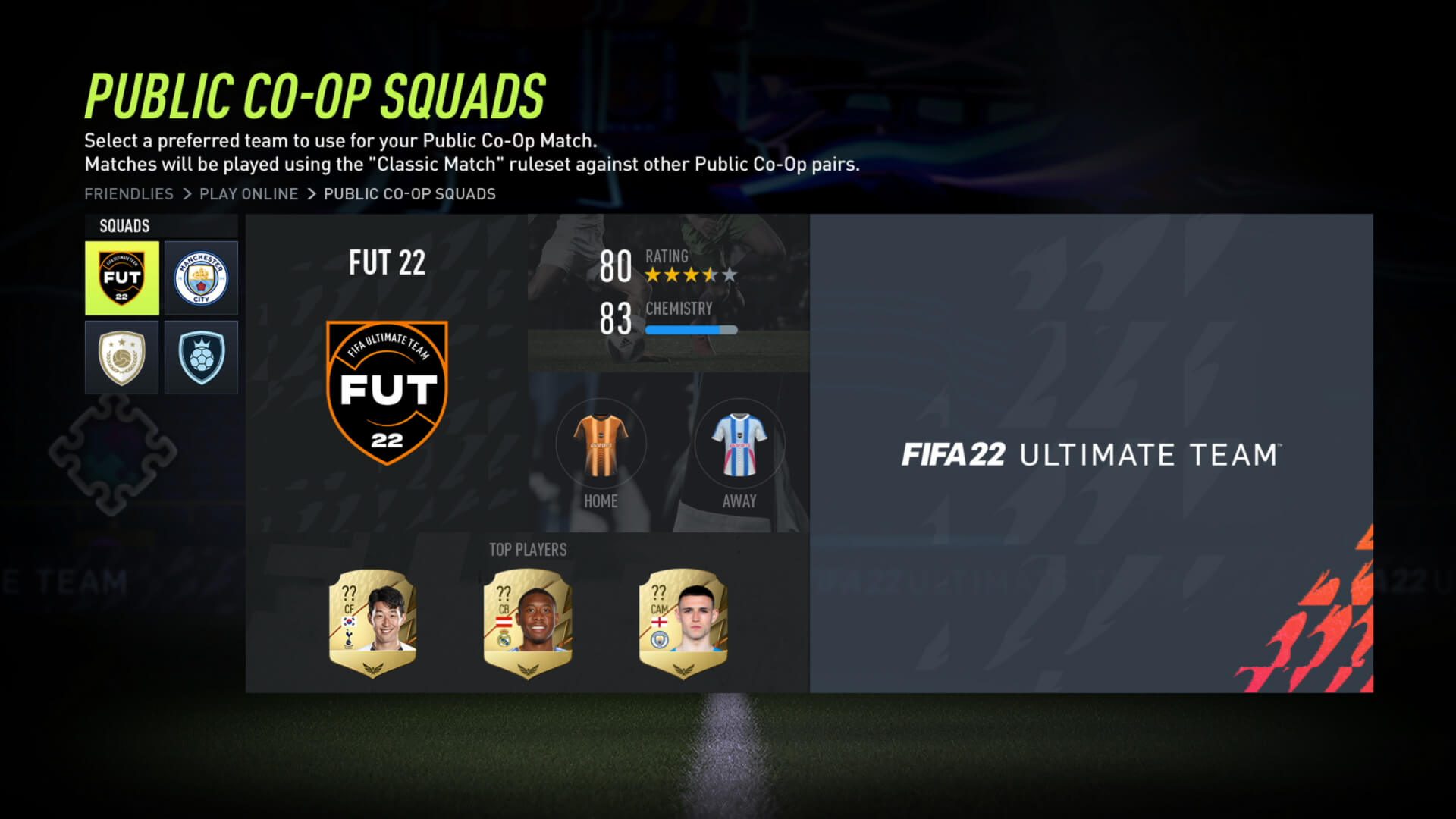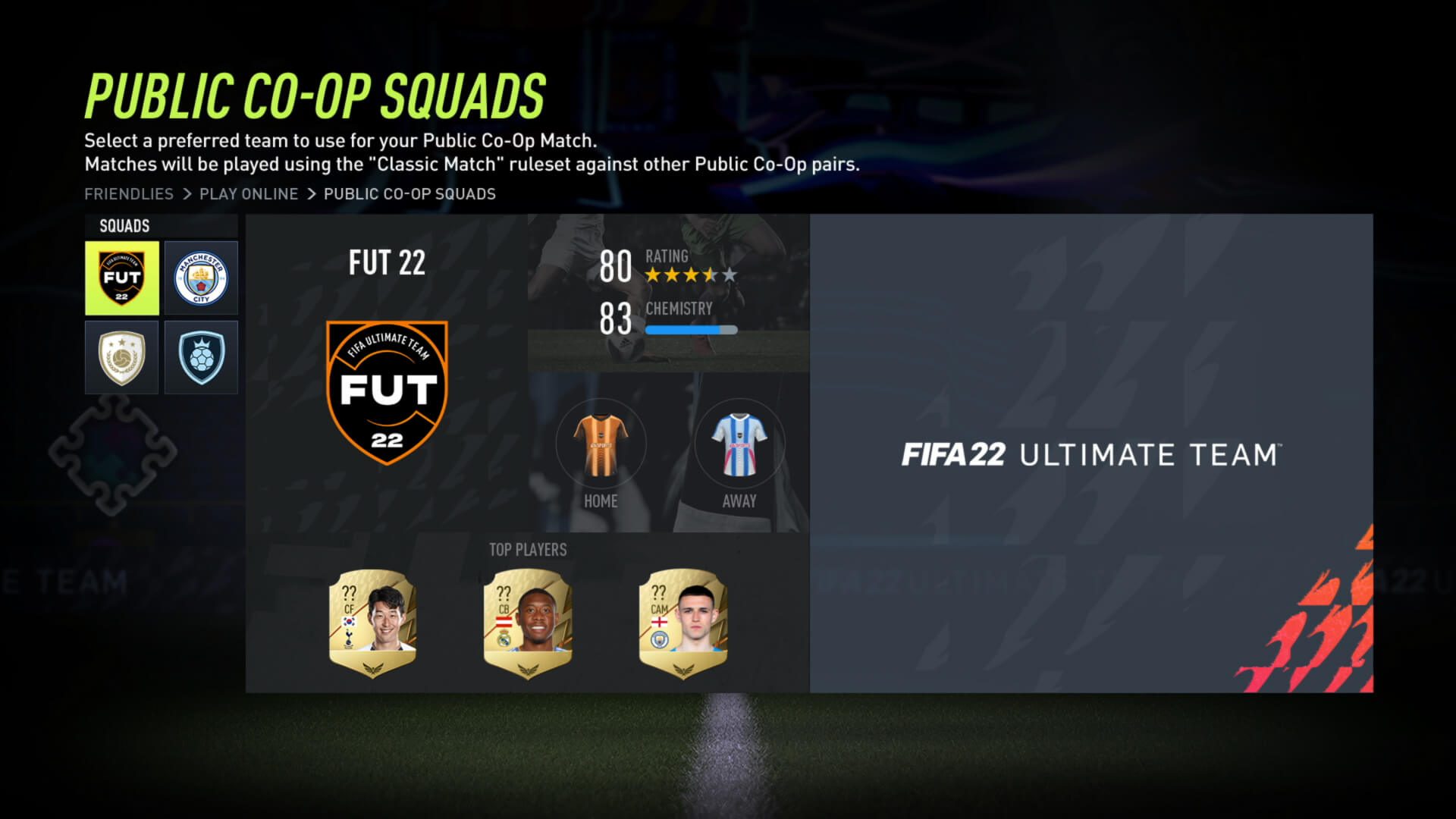 User Interface Update
FUT devs also took the time to make some minor updates to the FUT 22 menu implementing the following modifications:
Added new menu tabs: Home, Play & Club tabs will offer quicker access to the most important FUT features like Squad Building Challenges (SBCs) .
Win/Draw/Loss record is no longer displayed on top left. The records will be available on the Stadium tile.
Player Items will have a new back view displaying Key Attributes based on the player's position (Strikers, Midfielders, Defenders, & Keepers)
New search filters for stadium items. The new filters will help you find stadium objects based on their authenticity (real life leagues & clubs) and colors.
New #FIFA22 Ultimate Team Menu Update 👇

✅ Re-organized the main menu with quick access to more important features
✅ New Player Item view to show off Key Attributes
✅ New search filters for stadium items authenticity and colours pic.twitter.com/sSEbJQn8Oj

— FIFA Infinity (@FIFA_Infinity) August 10, 2021
More FUT Stadium Customization
After last year's introduction of the FUT Stadium feature, players demanded for more ways to enhance their stadiums in FUT 22 and EA Sports listened and delivered the next additions:
VIP Area – This particular part of your stadium will be filled with superfans displaying all types of banners, flags and an optional TIFO.
New Crowd Customization – This will include Crowd Cards, Two-Stick Banners and Crowd Flags.
XL TIFOs – A new type of TIFO that can be combined with smaller TIFOs.
Seasonal Themes – Cosmetic Packs (Kits, Stadium Themes, TIFOs, VIP Areas, Pitch Trophies, etc) that will be released on both FUT and VOLTA FOOTBALL each FUT Season.
New #FUT22 Stadium Customization 🏟️

There's no excuse for not including these in Career Mode as well @EASPORTSFIFA 🙄 pic.twitter.com/mPuB7Kzb8M

— FIFA Infinity (@FIFA_Infinity) August 10, 2021
FUT Heroes
Although already revealed, EA confirmed the full FUT Heroes roster today that will include 19 of football's most memorable players including the likes of Antonio Di Natale, Mario Gomez, David Ginola or Joe Cole. Their positions and stats are yet to be announced.
For more details on how these special items link in FUT 22 please check this article.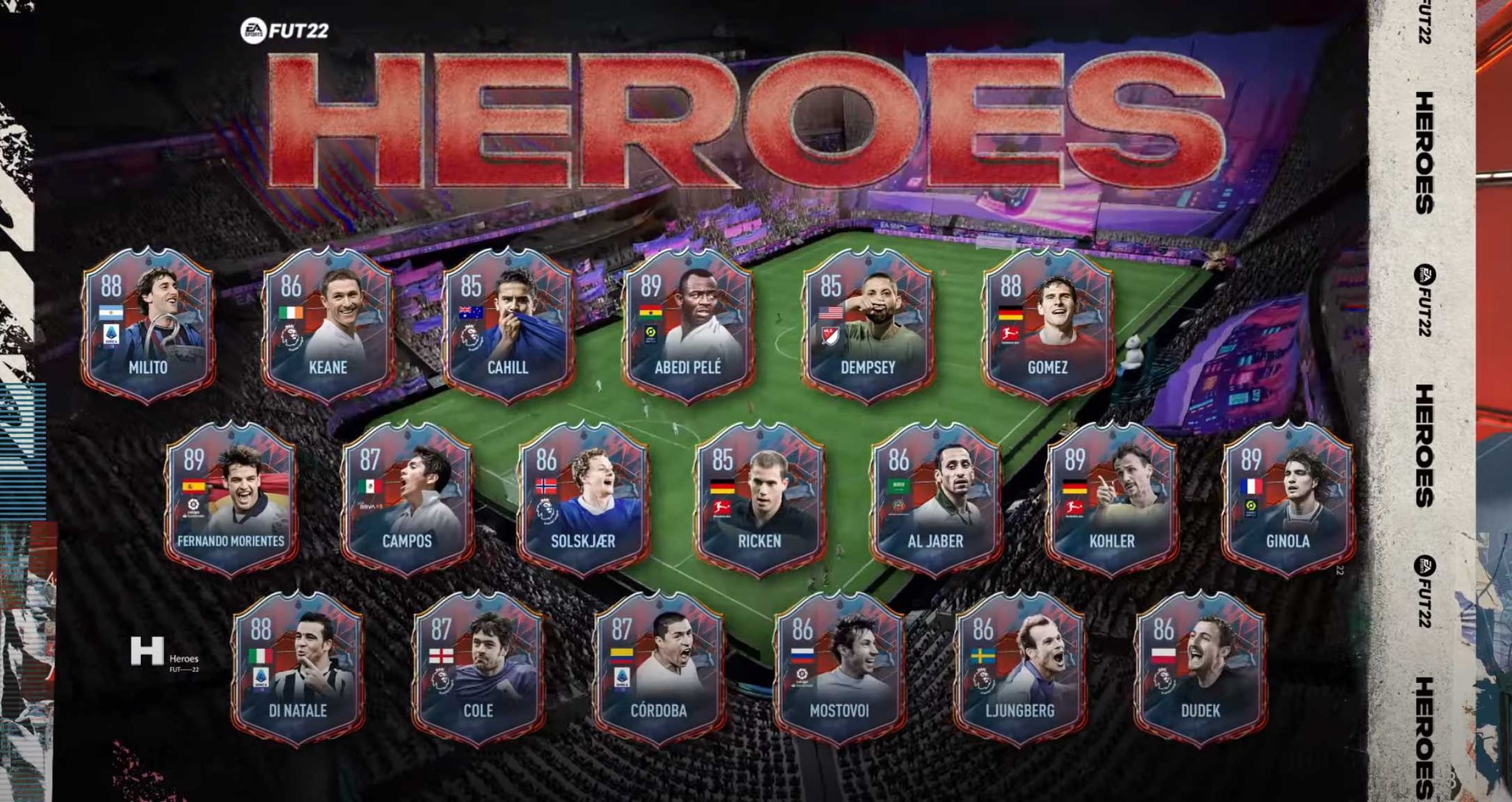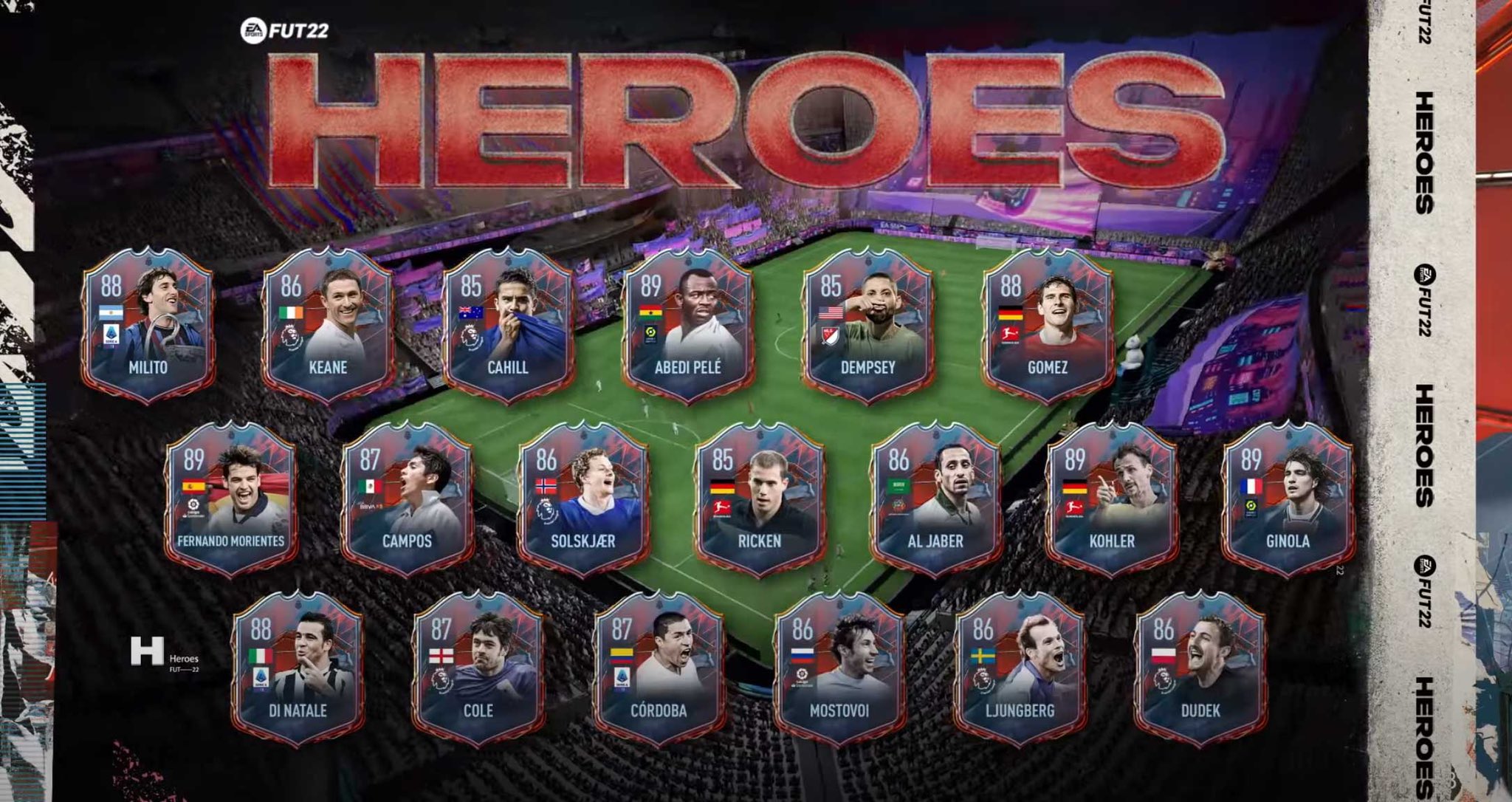 Celebrations, New Icons, Web App & More
Another neat feature we almost forgot to mention is the ability to change the camera focus when your opponent has scored a goal in order to avoid the celebration. The new Celebration Camera Focus will be set by default to "Opponent Celebrations" but you can change it to focus on your players, manager and fans reaction. Please note that changing this setting will affect every game mode in FIFA 22!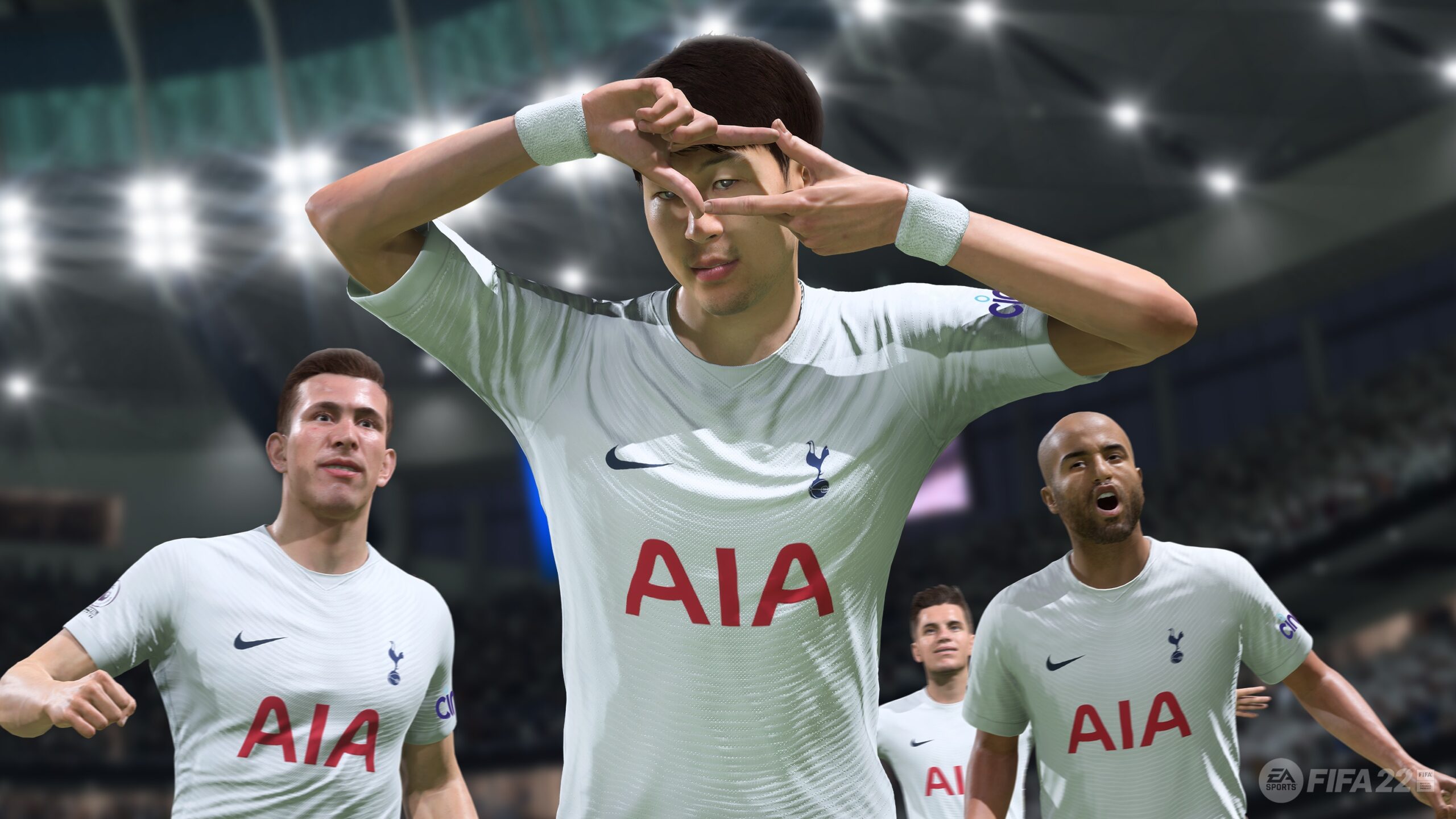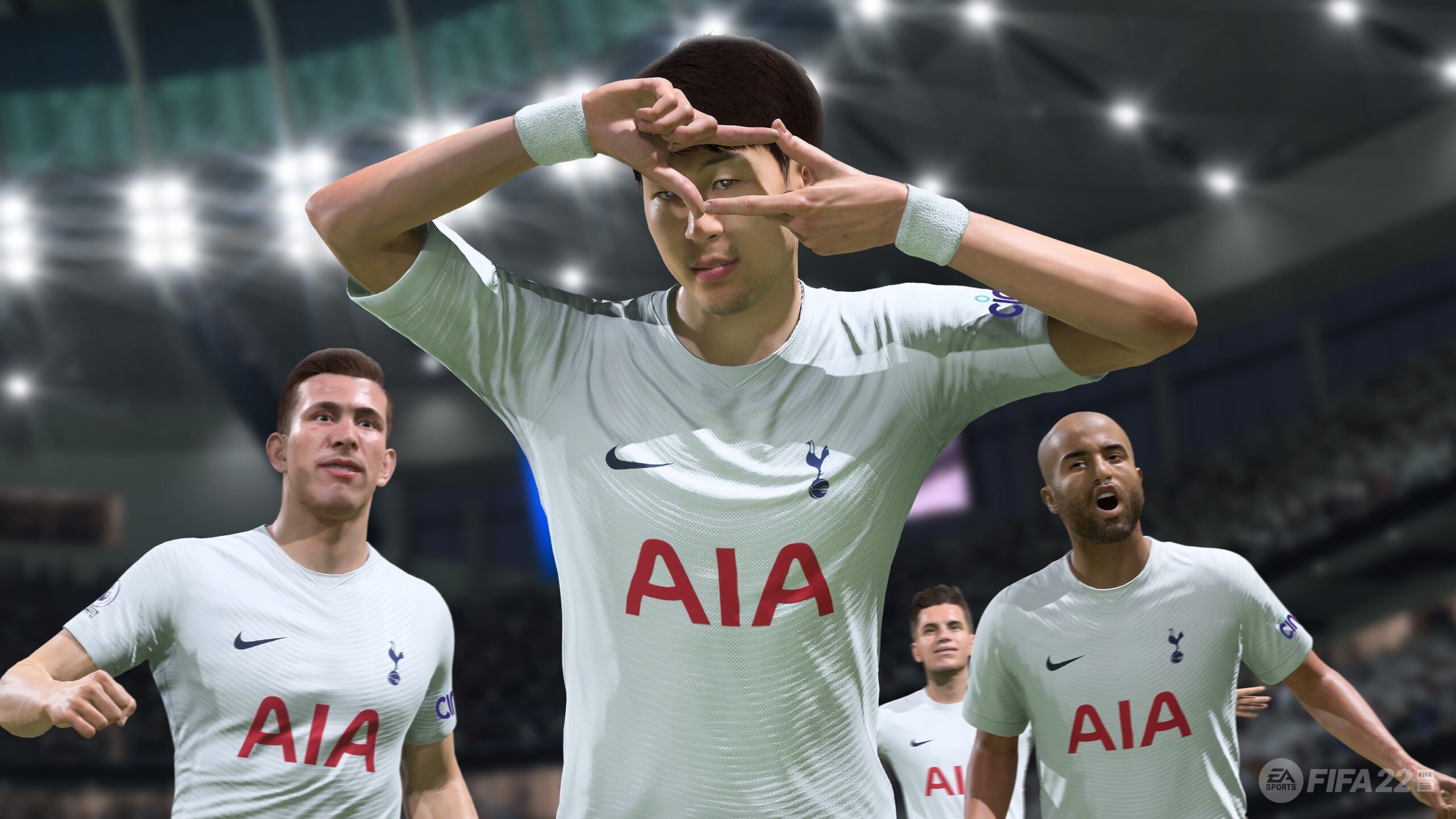 EA Sports devs also announced that in September we will see the reveal of player ratings in FIFA 22 and the release of the Web & Companion App for FUT 22. In the same month the new Icons will make their debut in the game. Some of the rumored names to join the Icons roster this year are Wesley Sneijder, Gabriel Batistuta or Iker Casillas.
FIFA 22 will be available worldwide on October 1st. For more FIFA 22 news please follow us on twitter.