FIFA 22 has been officially revealed and fans can already start pre-ordering the game on their favorite platform. Kylian Mbappé returns as a cover star for a second consecutive year and EA Sports announced big changes across all FIFA 22 game modes including Career Mode and Pro Clubs.
The EA Sports football simulator will be available in shops worldwide on October 1st. We know that most of you want to get their hands on the game as soon as possible but fret not as there are some ways to pre-order the game at a discount price! But first let's see what editions are available to pre-order and what benefits they bring.
On what platforms will FIFA 22 be available?
FIFA 22 will be available on PS4, PS5, Xbox One, Xbox Series X|S, and PC. However there will be two versions of the game, one dedicated to Gen4 and another one for Gen5. Of course the Next-Gen version of the game will be released on PS5 and Xbox Series X|S while the game will remain Current-Gen on PS4, Xbox One and PC.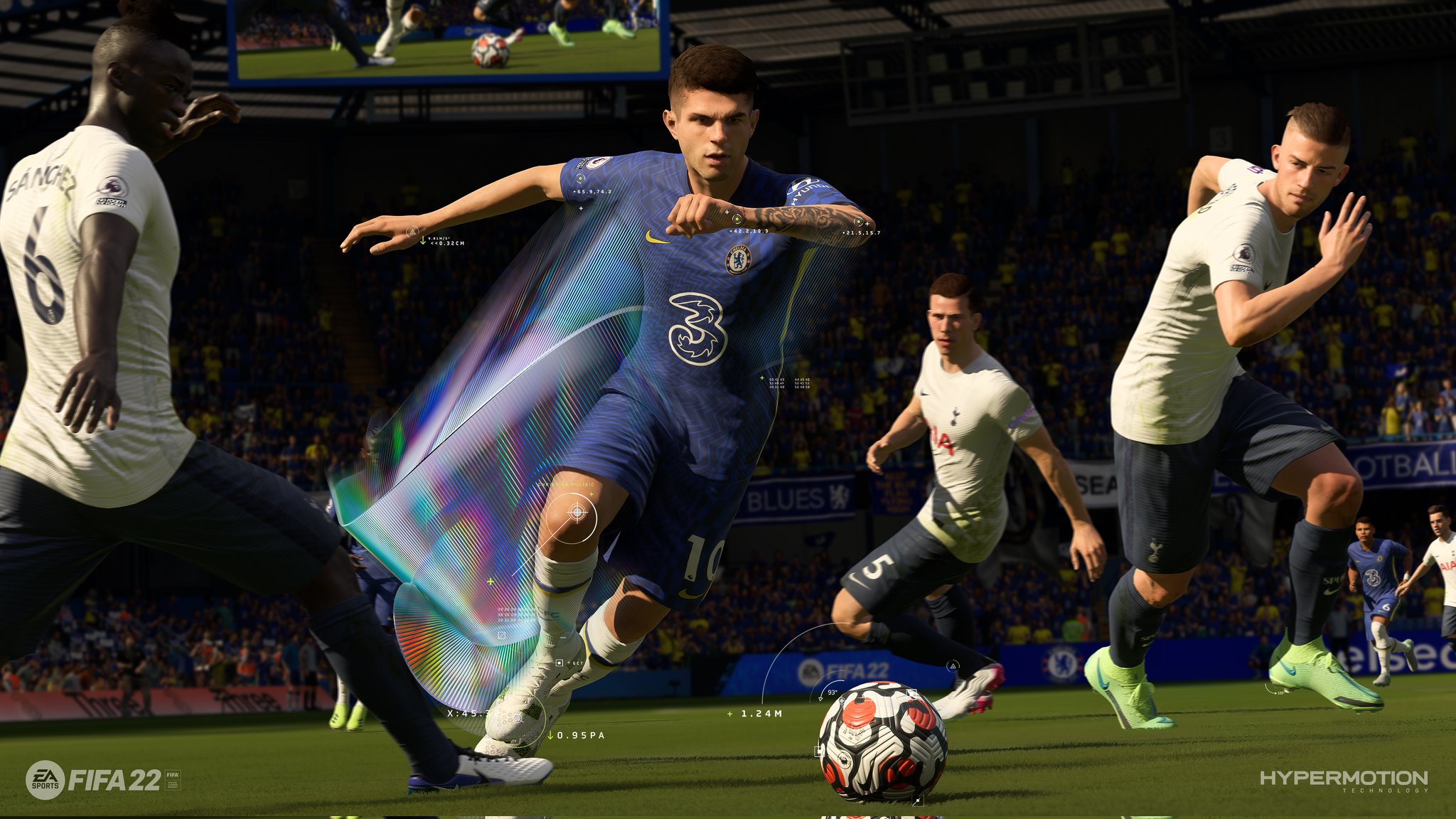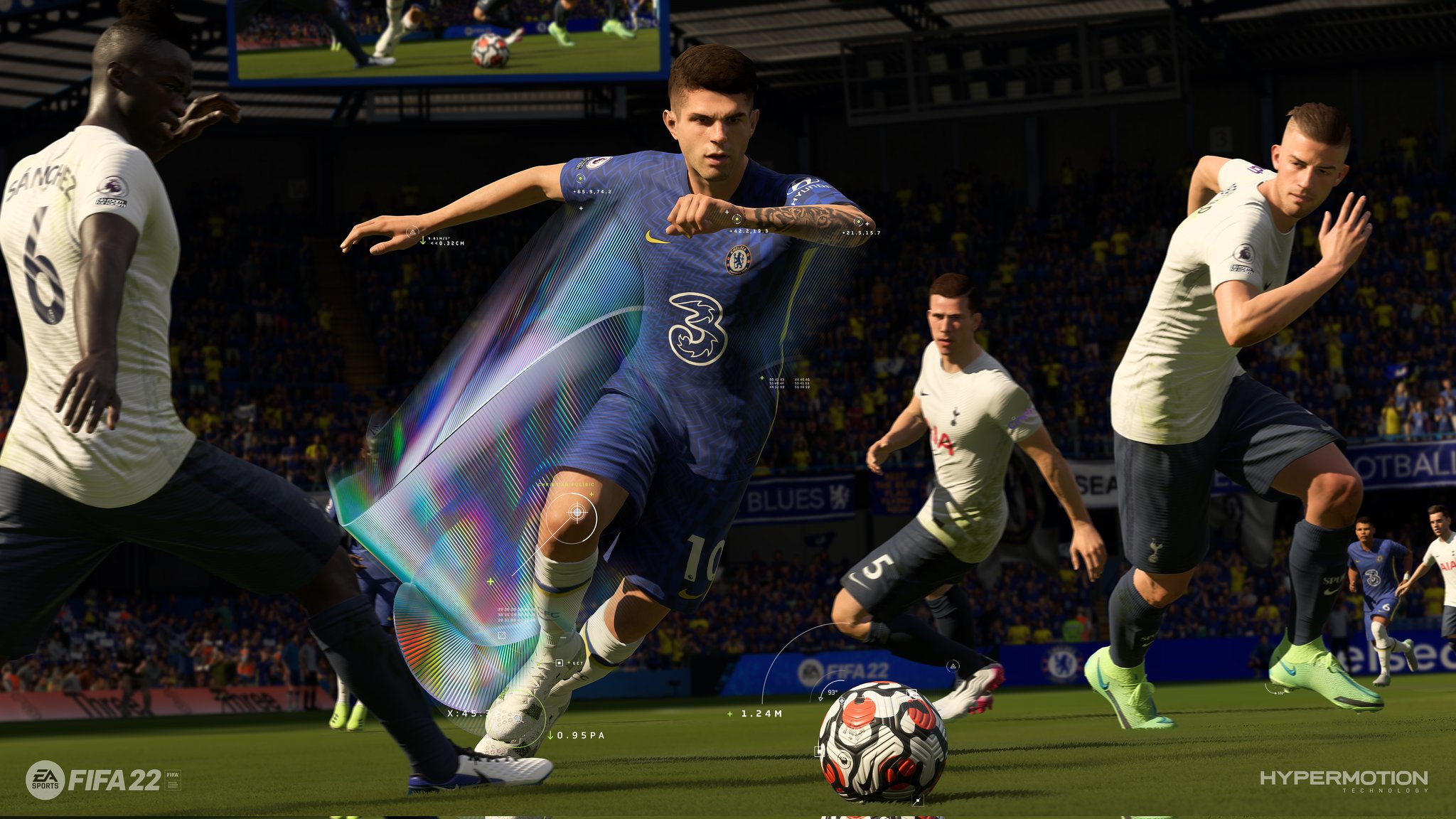 FIFA 22 Pre-Order Editions
This year there will be only two FIFA 22 editions available instead of the usual three that we used to get in recent years. You will be able to pre-order the Standard Edition or the Ultimate Edition with the following bonuses:
Standard Edition
TOTW 1 Player Item
Kylian Mbappe Loan Item
FUT Ambassador Loan Player Pick (Phil Foden, David Alaba or Heung-Min Son)

Career Mode Homegrown Talent
Ultimate Edition
Limited Time Offer Until August 11th– get a FUT Heroes Player item from December 1st!
Ones to Watch Player item
4 Days Early Access (September 27th)

4600 FIFA Points
Team of the Week 1 Player item
Kylian Mbappé Loan item
FUT Ambassador Loan Player Pick (Phil Foden, David Alaba or Heung-Min Son)
Career Mode Homegrown Talent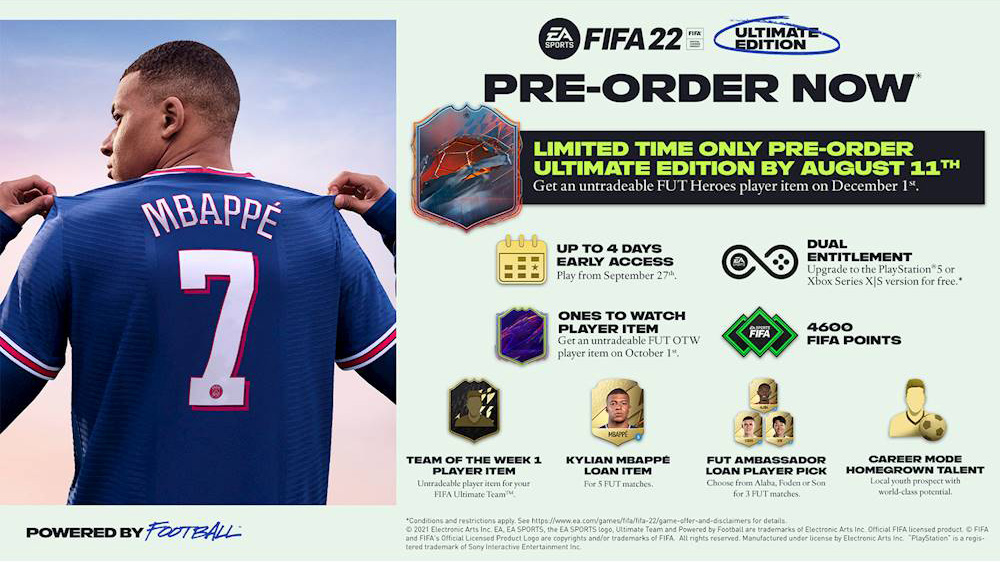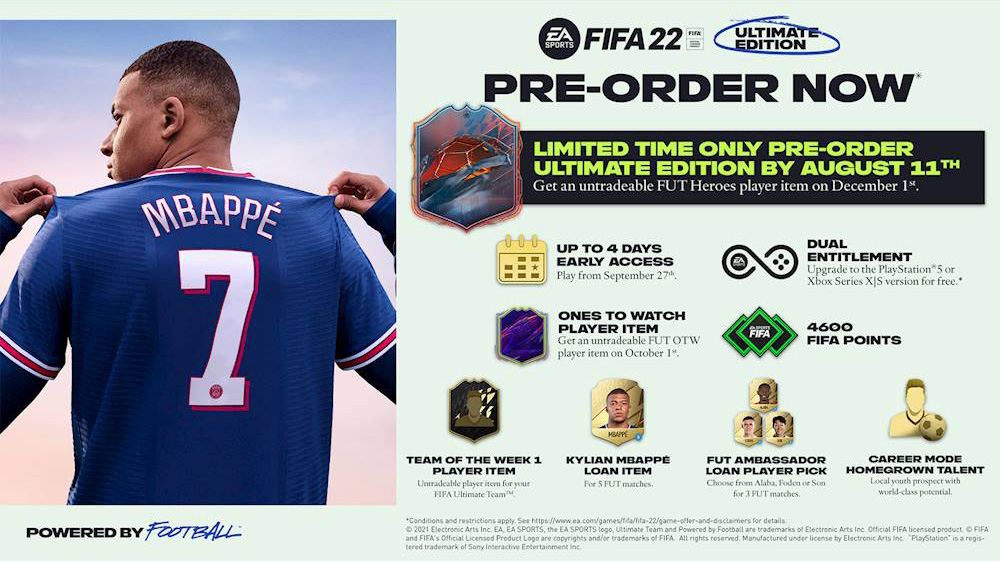 How much does FIFA 22 cost?
The prices vary based on the edition you pre-order, your location and the platform you play on. The next table should sort out all the doubts regarding the price of FIFA 22:
Platform
Standard
Ultimate
PS5 & Xbox Series X|S


£69,99

/ €79,99 / $69,99


£89,99

/ €99,99 / $99,99

PS4 & Xbox One

£59,99

/ €69,99 / $59,99


£89,99

/ €99,99 / $99,99
PC (Origin/Steam)

£49,99 / €

59,99 /

$

59,99

£69,99 / €

79,99 /

$

79,99
Google Stadia

€

9,99/month + TBC

€

9,99/month + TBC
Also thanks to the Dual Entitlement feature, Ultimate Edition owners can upgrade their FIFA 22 copy from PS4 to PS5, or Xbox One to Xbox Series X|S for free!
How do I get the FIFA 22 pre-order discounts?
You can pre-order the FIFA 22 Ultimate Edition with a 20% discount! You can get a 10% loyalty discount via the FIFA 21 in-game main menu by selecting the "Pre-Order FIFA 22" tile.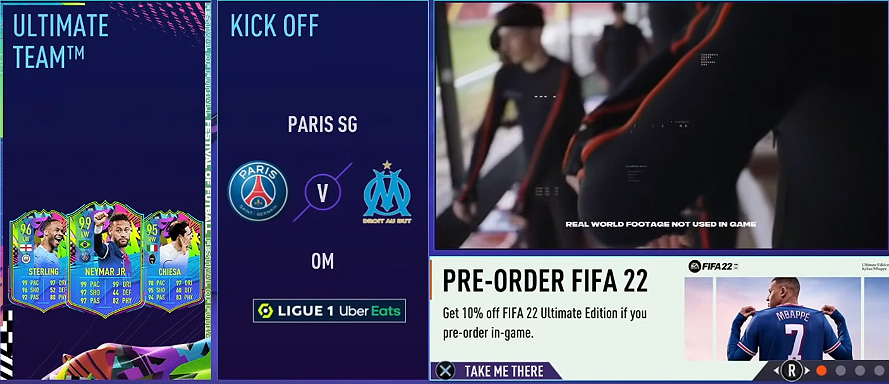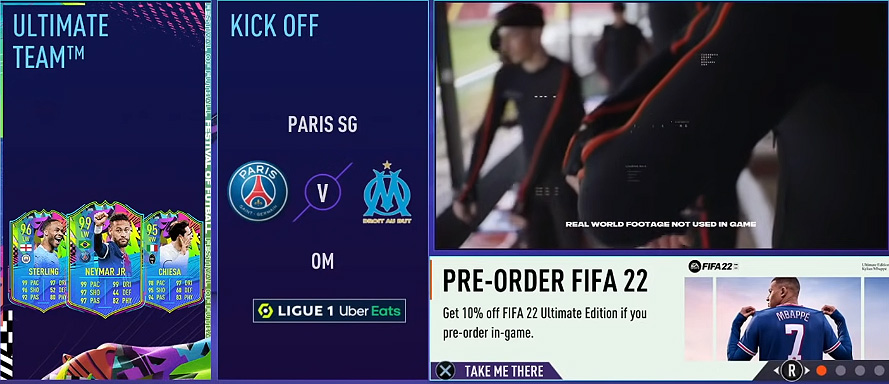 After that you can get an additional 10% discount thanks to EA Play. For a one month subscription of €3,99/$4,99 you can get the aforementioned discount plus early access to FIFA 22 on September 22nd that will include up to 10 hours of gameplay.
If you don't mind losing the FUT Hero limited offer that expires on August 11th, you can get the EA Play subscription after August 27th in order to avoid paying an extra monthly subscriptions to EA Play.
There are also some cheaper alternatives like pre-ordering the game directly from non-affiliated websites like CDKeys or buy discounted PSN/XB credits, but you have to do it at your own risk!
Cheapest way to get FIFA 22 (you can also do this without buying anything from CDKeys) from FIFA
There you have it, the complete guide on how to get your own FIFA 22 copy at a discount price. Don't forget to follow us on twitter for more FIFA 22 news and guides.