Those who participated in the FUT Birthday daily squad building challenges, can now login to their FUT account and claim their free untradable pack and SBC kit.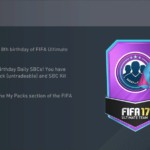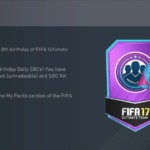 Also, the FUT Champions Monthly Rewards can be claimed as well but as of this month EA Sports announced a new reward system that you can view in the next infographic: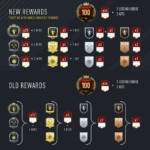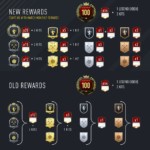 TOTW 30 is stacked with high rated in-forms making it the best TOTW that we had in FIFA 17 this season:
Starting XI
GK: Jan Oblak – Atlético de Madrid (Spain) – Slovenia
RB: Philipp Lahm – Bayern Munich (Germany) – Germany
LWB: Marcos Alonso – Chelsea (England) – Spain
CB: John Brooks – Hertha BSC (Germany) – USA
CAM: Mesut Ozil -Arsenal (England) – Germany
RM: Arjen Robben – Bayern Munich (Germany) – Holland
CDM: Andres Guardado – PSV (Holland) – Mexico
LM: Heung Min Son – Tottenham Hotspur (England) – South Korea
LW: Eden Hazard – Chelsea (England) – Belgium
ST: Edinson Cavani – Paris Saint-Germain (France) – Uruguay
ST: Morata – Real Madrid (Spain) – Spain
Substitutes
GK: Andrea Consigli – Sassuolo (Italy) – Italy
RB: Matias Aguirregaray – Estudiantes de La Plata (Argentina) – Uruguay
CAM: Paulo Dybala – Juventus (Italy) – Argentina
RM: Aaron Hunt – Hamburger SV (Germany) – Germany
CM: Jens Toornstra – Feyenoord (Holland) – Holland
ST: Mario Balotelli – OGC Nice (France) – Italy
ST: Bas Dost – Sporting CP (Portugal) – Holland
Reserves
LM: Emiliano Rigoni – Indepediente (Argentina) – Argentina
RM: Elias Hernandez – Leon (Mexico) – Mexico
CAM: Atomu Tanaka – HJK Helsinki (Finland) – Japan
CM: Valentin Vada – Girondins de Bordeaux (France) – Argentina
ST: Shinzo Koroki– Urawa Red diamonds (Japan) – Japan
These in-forms are available in packs from April 12th – April 19th! You can view this TOTW in more details on FUTHead or EASports.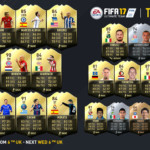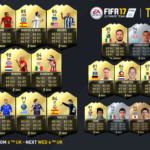 English Football League announced the best players of the year earlier this week with the following players receiving their awards and special items in FIFA 17 Ultimate Team:
Sky Bet Championship Player of the Season:
Anthony Knockaert
(Brighton & Hove Albion)
Sky Bet League One Player of the Season:
Billy Sharp
(Sheffield United)
Sky Bet League Two Player of the Season: John Marquis (Doncaster Rovers)

EFL Young Player of the Season: Ollie Watkins (Exeter City)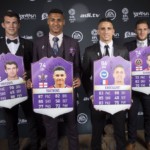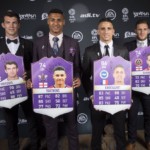 As far as it goes for Squad Building Challenges, this week EA Sports released two new league challenges, a new set of Marquee Matchups and an exclusive Xbox SBC:
– Legends League & Nation (Xbox Only)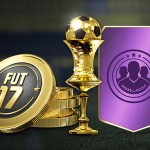 The FIFA 17 single player tournament of this week is "full of nations":
Full of Nations

Squad Requirements
11 Nationalities in the Starting XI with a min. of 75 chem.
Rewards
2000 Coins
Difficulty
Professional
Tournament Schedule
Begins: 14/04/2017 – Ends: 21/04/2017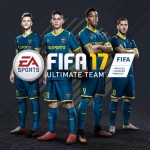 It's Easter in FIFA Mobile and the latest Seasonal Program highlights the act of finding until April 24th. Featuring special Pack offers and Live Events, find holiday-themed Player Items and different colored Egg & Basket Tokens to unlock in-game content.
Easter Player Items
There are four Easter-themed Master Player items to unlock. Find specific colored and Rainbow Easter Eggs to complete corresponding Plans and receive a random color Player Item. Obtain all four colors of a Player (Yellow, Red, Green, and Blue), then combine it with their corresponding Basket Tokens to unlock their Master Item.
The four featured Players are found in the Color Egg Trade-In Plans or randomly in specific-marked Packs. Find the necessary Eggs by playing specific Easter-themed Live Events and in specific-marked Packs.
Easter Legend
There's also a special Easter Legend Player Item that you can unlock by adding different colored Baskets to their Plan. Once unlocked, you can upgrade their stats by finding other Baskets and Spotted Colored Eggs. Be sure to check the Plans in-game for specific requirements to complete these and all other Easter-themed Plans.
Golden Eggs

During the Easter Program, it will be possible to find 1 of 10 extremely rare 'Golden Eggs' in place of a normal Basket Token from the Easter Player Plans. Each 'Golden Egg' contains an e-mail address on it used to redeem a custom-made 'Golden Egg Player Item'.
You will be able to pick any Player obtained through Packs in FIFA Mobile, which will be sent to you a custom 99-OVR 'Golden Egg' version of that Player. The player chosen will use their base position available in-game. If the Player has Items from Multiple positions, you will be able to pick one of those positions for your 'Golden Egg' version.
Once all 10 Golden Eggs have been found, in-game messaging will update to mention this and it will no longer be possible to get a Golden Egg.
Limit one (1) Golden Egg per person during the promotion period
Golden Egg Player Items are no auction and have no coin or monetary value
EA reserves the right to limit redemption of Golden Egg Tokens to the first 10 players that contact EA
Promotion is not open to EA employees (RFT, TFT, Contractors) or their families
All created items of the Golden Egg promotion are property of Electronic Arts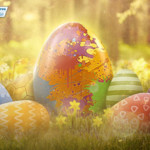 The latest TOTW dropped in FIFA Mobile as well with Heung Min Son leading it as top in-form player:
GK: Andrea Consigli – Sassuolo (Italy)

Consigli made six saves as Sassuolo held on to a 1-1 draw at Atalanta.

RB: Kieran Trippier – Tottenham Hotspur (England)

Trippier was solid in defense for Tottenham has they beat Watford 4-0 on Saturday.

CB: Jan-Arie van der Heijden – Feyenoord (The Netherlands)

In their match on Wednesday, van der Heijden had a goal and two assists for Feyenoord as they beat Go Ahead Eagles 8-0.

CB: Pepe – Real Madrid (Spain)

Pepe scored for Real Madrid as they were held to a 1-1 draw against cross-town rivals, Atletico Madrid.

RB: Philipp Lahm – Bayern München (Germany)

Lahm had an assist in Bayern's 4-1 over Borussia Dortmund on Saturday.

RM: Aaron Hunt – Hamburger SV (Germany)

On Saturday, Hunt scored both of Hamburg's goals as they beat Hoffenheim 2-1.

CM: Jens Toornstra – Feyenoord (The Netherlands)

Torrnstra had three goals' in Feyenoord's 8-0 win over Go Ahead Eagles on Wednesday.

CM: Shinji Kagawa – Borussia Dortmund (Germany)

On Tuesday, Kagawa had a goal and an assist in Dortmund's 3-0 win over Hamburg.

LM: Heung Ming Son – Tottenham Hotspur (England)

Son scored the winning goal in Tottenham's 1-3 come-from-behind win over Swansea on Wednesday. He followed that up on Saturday with a two-goal performance in their 4-0 over Watford.

ST: David Nugent – Derby County (England)

On Tuesday, Nugent had a hat-trick in Derby County's 4-2 win over Fulham.

RW: Quincy Promes – Spartak Moskva (Russia)

Promes' injury-time goal helped Spartak Moskva beat Orenburg 3-2 on Monday night. He would also have a goal and an assist in their 1-3 win over UFA on Sunday.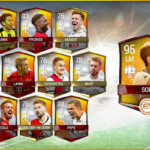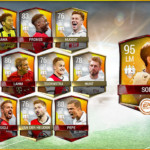 Redmond, Jonathan Viera, Schweinsteiger, Smolov and Zaha are the latest Impact Players in FIFA Mobile.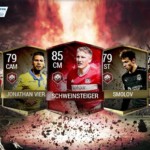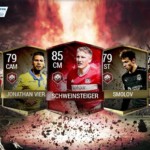 Since we haven't shared some good FIFA 17 articles and guides from the world-wide web lately, below you can find a few links that you may find either interesting or useful:
– The Average FIFA Player's Guide to Success – Stop Playing Like A Pro
– Custom Tactics: Build Up Organised vs Free Form – Research
– Profitable SBCs – The complete list
– Custom Tactics Explained, Table Edition
– 11 br11 Brilliant FIFA 17 bargains available for under £3m
– Premier League Player of the Month – March – Romelu Lukaku Interview
– 5 Reasons to Watch Season 2 Regional Finals – FIFA 17 Ultimate Team Championship Series
The third epsiode of EA's new FIFA youtube series called "The Pitch" is now available online featuring Mavric and Wolfy chatting with West Ham United midfielder Domingos Quina, FIFA pro player Lukasinhoand and Manchester City's FIFA player Kieran "Kez" Brown:
That's all we got for this week folks, thanks for checking us out and see you as usual next weeked.