Let's start this week's news roundup by presenting TOTW 19 which is one of the best TOTWs that we had this season featuring no less that seven gold IF strikers:
FIRST XI
GK: Stéphane Ruffier, AS Saint-Etienne – 83>85
LB: Filipe Luís, Atlético de Madrid – 82>83
LB: Charlie Daniels, Bournemouth – 71>74
LB(RB): Bram van Polen, PEC Zwolle – 71>74
RM: Carlos Sánchez, Monterrey – 76>78
RM(LB): Cristian Ansaldi, Genoa – 79>80
LM(CAM): Christian Eriksen, Tottenham Hotspur – 83>85
ST: Wayne Rooney, Manchester United – 86>87
ST: Sergio Agüero, Manchester City – 87>89
ST: Karim Benzema, Real Madrid – 86>89
ST: Luis Suárez, FC Barcelona – 90>95
SUBS
GK: Daniel Bentley, Southend United – 68>72
RB: Rubén Peña, CD Leganés – 65>72
CB: Serdar Aziz, Bursaspor – 74>74
CAM: Gary Harkins, Dundee FC – 67>72
ST: Gary Hooper, Sheffield Wednesday – 74>74
ST: Abel Hernández, Hull City – 74>74
ST: Steve Mounié, Nîmes Olympique – 63>64
RESERVES
GK: Samir Handanovič, Inter – 83>84
RB: Carvajal, Real Madrid – 81>82
ST: Antoine Griezmann, Atlético de Madrid – 83>85
ST: Kévin Gameiro, Sevilla FC – 79>82
ST: Paulo Dybala, Juventus – 78>81
These IFs are available in packs from 20th January – 27th January. You can view the team more detailed at FUTHead or FUTWiz.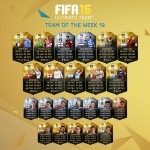 Three more Winter Transfers batches went live in FIFA 16 Ultimate Team this week with the likes of Ibarbo, Zarate and Charlie Austin joining their new clubs. The complete transfer lists can be viewed here.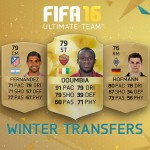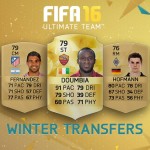 EA Sports are doing an excellent job this year by regularly updating the price ranges in FIFA 16 and you can check the latest updates at this page.
The Winter Upgrades are coming to FUT 16 and EA Sports wants your suggestions on who to upgrade by filling up this form. The team behind FUT will review the suggestions on January 27th and the upgrades will be revealed, most probably, early February.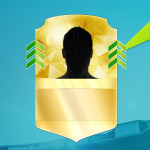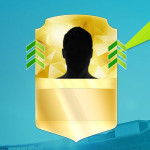 Even though TOTY players are out of packs, mobile players can still pack this Record-Breaking Messi who has the same stats as the TOTY card: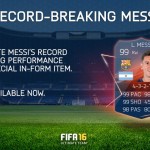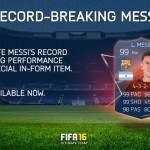 For this week's "Ones To Watch", in FIFA Mobile, we have Griezmann, Cech and Morata. If their teams win this weekend they will receive a boost in their stats!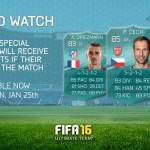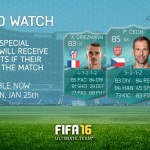 Ultimate Team features three tournaments this week, two for console/pc players and one for mobile players:
Nothing But The Best
Requirements: 18 Gold Players with 100 Chemistry
Rewards: OFFLINE – 3,500 COINS | ONLINE – 6,000 coins
Offline Difficulty: Professional
Borussen Derby

Requirements: 5 players from BVB and 5 player from B. Mönchengladbach in the Starting XI
Rewards: OFFLINE – 6,000 COINS
Offline Difficulty: Professional
Titan's Cup (Mobile)
Requirements: Min. Team Chemistry = 85 + Min. Team Star Rating = 4.50
Rewards: Two Gold Rare Players + Chance to win a RB Messi
Offline Difficulty: Semi-Pro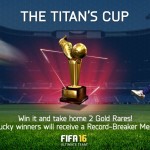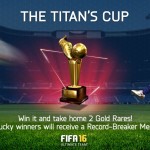 Anfield hosted the FIFA 16 – Liverpool F.C. Player Tournament this week where Jordan Henderson, Nathaniel Clyne, Jose Enrique, and Alberto Moreno competed for the famous Pro Player trophy. Who won? Well you'll have to see the video bellow:
Last but not least, the official GOTW 14 is out featuring some amazing goals from Lewandowski, Reus or Messi:
Thank you for checking this week's news and we'll see you next week with more news regarding FIFA 16.