Even if the demo was released we still have important news for you about the final and full version of FIFA 13:
The first thing you need to know is that the FIFA 13 Ultimate Team Web App will be available on 18th September! The returning players (players that played previous UT versions) will receive some extra packs and daily gifts!
In the next video FIFA 13 producer Matthew Lafreniere tells us what to expect from the EA SPORTS Football Club Catalogue:

And here line producer Nick Channon explains why the new Attacking Intelligence in FIFA 13 is a great improvement on last year's game:

Regarding the licenses we have some bad news and some good news. The bad news is that Camp Nou won't be in FIFA 13! The reason is that PES acquired the licenses for all 20 stadiums of La Liga so EA Sports can't use them in FIFA 13. The good news is that Napoli's President son,Luigi De Laurentiis confirmed via twitter that Napoli renewed the license with EA Sports and the team will be fully licensed in FIFA 13! The only problem is that the license was renewed after the game was packed and ready for delivery. So the full game will have Napoli unlincesed.But no fear because EA Sports already prepared a patch that will be available shortly after the full game gets released that will fix the license problem for Napoli! Also Torino FC is licensed and Cavani got a custom face as you can see in the next screens: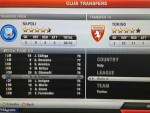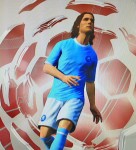 Thanks to FIFAMania for the news and screens!
If you watched the EA SPORTS Football Club Catalogue video above you would now that in FIFA 13 you will be able to unlock classic kits for some popular teams. Bellow we have 4 screens featuring the classic kits of PSG, Borussia Dortmund, Olympique Marseille and Germany:


Classic kits can be used in every mode except Ultimate Team!
If you want to know how the FIFA 13 TV Ad was made then check out the next clip:

And if you have some spare time go and check these articles:
– Xaor's Corner: Demo Impressions (FSB)
– Hands On: FIFA 13 (CapsuleComputer)
– Why FIFA 13 will be the best FIFA yet (OnlySP)
– FIFA 13 Wii U's touchscreen modes are for the hardcore – EA (ONM)
– FIFA 13 – don't expect innovation, do expect the deepest FIFA yet (OXM)
– FIFA 13 Demo Impressions (WhatCulture)
– Why Fifa 13 is Completely Different (MMGN)
That's all we've got for you today! Stay tuned for more FIFA 13 News!