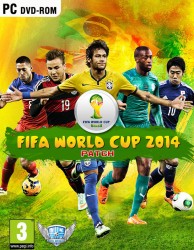 After many weeks of hard work we are proud to present you the most awaited mod of the season, the FIFA World Cup 2014 Patch for FIFA 14 PC! FIFA PC fans all over the world will now have the chance to feel the World Cup atmosphere in their own FIFA 14 game. You can pick one of the 207 licensed national teams and take it through the full World Cup qualifiers to the 2014 World Cup Final on Estádio do Maracanã. For all patch features, screens and download links please check down bellow:

FEATURES
207 National teams that you can use in friendly or custom tournament mode.Road To The World Cup Tournament:
Full UEFA Qualifying
Full Conmebol Qualifying
Concacaf Qualifying - 1st qualification rd is excluded, you start in the 2nd rd of qualifying.
AFC Qualifying - Starts at the 3rd rd of qualifying
OFC Qualifying - Starts at Final group Stage of qualifying
CAF Qualifying - Starts at 3rd rd which is the 10 team Playoffs
ALL Playoffs includedFINAL 32 World Cup Tournament
2015 AFC Asian Cup - Includes Full Qualification tournament
2016 Copa Centenario - Includes Full Caribbean and Copa Centroamericana which are qualifying tournaments for this cupNew Menu Graphics
New Intro
Licensed Kits For all 207 National Teams
Real Kit Numbers for all 32 World Cup Final Tournament teams + For other National Teams (Sweden, Romania, etc)
Almost 500 New Faces + 250 Real Tattoos
New Boots
Specific Adboards for all tournaments including city specific for WC stadiums.
Tournament specific stadium graphics for Copa Centenario and Asian Cup
Adidas World Cup Brazuca Ball Pack (Normal + Finale Versions)
Real Referees + Minifaces
New World Cup Wipes
New Ball Boy Textures
New Bench Player Textures
New Cameraman Textures
New Global Manager Textures
New Photographer Textures
New Steward Textures
New Cameras
Station Tool with many graphics available for fast switch like:
New Scoreboards & Popups (Realistic 2014 World Cup Scoreboard & Popups)
New Turfs
New Kit Wrinkels
26 New Stadiums:
All 12 World Cup 2014 Stadiums (Brazil)
Estádio da Luz (Portugal)
Home Depot Center (USA)
Stade de Suisse (Switzerland)
Narodowy Warsaw (Poland)
Olympiyskiy Kiev (Ukraine)
Hampden Park (Scotland)
Friends Arena (Sweden)
Parken Stdium (Denmark)
Estadio José Amalfitani (Argentina)
Nacional de Chile (Chile)
Olímpico Atahualpa (Ecuador)
Estadio Centenario (Uruguay)
Olimpico de la UCV (Venezuela)
Turk Telekom Arena (Turkey)
Patch available in the following languages: English, Russian, French, Portuguese, Spanish, German, Dutch, Italian, French & Polish
******************************Install Instructions******************************
1. Download and extract files to your pc.
2. Go to extracted folder named "FI World CUP Patch 2014"
3. Go to the extracted folder "Microsoft Text To Speech".
4. Double click and run file "01_msttsL" and "02_spchapi" in the "Microsoft Text To Speech" folder.
5. Install "FI World CUP Patch 2014.exe", make sure it install to your main "FIFA 14" folder, this should happen by default, but double check before you install.
6. Install "World Cup Mode 2014 Start Station.exe" to your main FIFA 14 folder, this should happen by default but double check just in case.
7. Start game from the "Start Station" icon on your desktop, this will bring up Origin or you can start Origin before clicking the icon.
8. Save a squad file once ingame
9. Play
Station Tool Instructions:
1. You can switch from "Road To World Cup" to "32 Finalists" while at the main menu, you do not need to restart the game for the tournaments to switch.
2. Always switch popups before you run FIFA, you cannot switch while the game is running.
You will find the 2016 Copa Centenario and 2015 Asian Cup under the "Road To World Cup" option in the switcher tool.

NOTES
The patch is compatible ONLY with the retail version of FIFA 14 PC!
You can install the patch over your FIFA 14 game without causing any issues! The patch doesn't interact with your main FIFA 14 files and database thanks to the Station Tool!
The AFC, CAF, and OFC qualifying is shortened due to the 133 team limit EA has on tournaments in FIFA 14.
UEFA qualifying Group I console code is not in FIFA 14 to exclude the last place teams from the points calculation.
Patch compatible with F.I.P.14!You MUST read Instructions file in order to make this mod work!

SCREENS
CREDITS
Database & Tournament Structure:
jschuck12001
Menu's & Graphics:
Damien
Monkey Dragon
Station Tool:
Monkey Dragon
Scoreboard:
Evolution & Monkey Dragon
Adboards:
Damien
Trophy's:
Damien
Reg Cat
Logos:
Damien
Evolution
Monkey Dragon
Stadiums:
william1991
scouser09
decoruiz
jschuck12001
jackslapd
darrek1988
Shawminator
tokke001
67tazmany/ImperioFIFA
marazeren
Kits:
Emiliano Videla
Reg Cat
Tremiki99
Shahab Shaterian
New_Maker/DiMPaK
ManUtdFan20/20Legend
devil_9
Mogolos
The Crew
ZuQ
Esteghal FC
Xvs80
THEARSENAL
Fatih Cesur
R.Boni
Pepis21
grazy0731
dinei
vantastic20
vishal
makispla
Celtian
Mr NDH
ZikaJeSrbin
WinCool
Adricmb
AleGN
Kit Numbers:
makispla
EA Sports
Banners and Flags:
Damien
EA SPORTS
Roster fixes and database updates:
Damien
Faces:
aNuKe
simo4u
DizzeeSpellz
FV. Bart
CoolerMaster
SieL23
Guarin_91
aeh1991
MR.98
TeneCee
Zyreq
KrisDzung276
son_of_god
Vojosrbin
xavialex
alex94
M4rsAttack
Wolverine
EgorPI
afwan11
cgmoon
wichinwoo
Verh
UTO
Vegasos
Sckrat-Rus
Karron97
AmaroWaadeMinifaces:
Reg CatTattoos:
Rob_Kenshin
killerito9
afwan11
UTO
Gloves
xuskan
goaliegloves
The Crew
WC Ball Pack:
sepak
willams9991
The Crew
Others:
Doctor+ Production - World Cup 2014 Console Textures and Files
decoruiz - World Cup Stadium Previews
xanberk - Kit Wrinkle Files
Language Files:
Brazilian Portuguese - decoruiz
Dutch - ixvitesse
French - FabianoPortugal
German & Japanese - sakare
Italian - Damien
Russian - Joao8
Polish - jarecny & Darrek
Portuguese - druyda
Spanish - river1987
Romanian - razvanultra55
Turkish - GS1905
------------------------------------------
Special thanks to:Scouser09 - Revolution Mod 14
Rinaldo - All FIFA Master Tools
Jenkey1002 - FIFA File Explorer
Great sites that contributed to this patch:
http://www.fifadome.com/
http://www.fifa-argentina.net/
http://www.fifapolonia.pl/
http://fifa-master.com/
http://jenkey1002.blogspot.it/
http://www.soccergaming.com/forums/s...d.php?t=187451
http://www.fifavoetbal.net/
http://www.soccergaming.com/forums/
http://www.fifarevolution.ru/
https://www.facebook.com/3dtasarimcierencanozkan
DOWNLOAD