Hey guys, my name is Dumitrel Miron aka Drexel Designs (@dumidrexel),
4 days ago, I shared my first concept of a new 'Career Mode Menu' on the Career Mode subreddit and it got a lot of constructive criticism, good feedback even from people of COPA90 and some big CM Youtubers and even almost 500 upvotes!
The final hours of work on this are around 10+ on Photoshop and 5+ on Sony Vegas to animate it (with the help of my friend Alex Tekkerosh).
New features:
- Introduction of
Fan Support Rating
and (the classic)
Board Rating
[Top Left]
Whenever you have a press conference, or after a game, your Board & Fan Support rating is changing. Results, connection with the fans through press conferences, style of play and many others are the factors of this feature. If you get a rating below 60 in the Fan Support category, the fans will slowly start to show less & less to your games, especially at home. If you get a rating below 55 in the Board Support, the board will start to monitor your games more closely, giving you an ultimatum before a potential sack.

- The comeback of the
FORM
in the main menu before the game starts
Previously in FIFA 09, you got to see the form in the last 5 games for the opponent team. A good indicator of how good your opponent is and if you should rotate or not.
- Introduction of
REAL MANAGERS
as your Career Mode Manager
A lot of players are frustrated that, for some years now, we get the same pre-made managers that we have to choose from.

In this case, you have Marco Rose (German manager, presently at RB Salzburg in real life), managing Chelsea FC. You can now choose from a variety of real life managers (with real names & icons) but also football icons (Ronaldinho, Beckham, Henry etc.). The manager's icon will be shown on the left of the status panel.

This can also help EA get money from Career Mode through micro-transictions. For example: you want R9 as your manager in your new career mode, you gotta pay in FIFA COINS to unlock him, or any clothes.
- In the main menu options, you now have
Youth Team
as an addition from the previous years
You can now relegate/promote your youth players to the U23/1st team. See who performs best in the U23 team in Premier League 2, who has the biggest potential and so on. You can not play games for the U23 teams, they are automatically simulated but you can see who performs best, change tactics to match the 1st team tactics and much more.
- Introduction of
Option To Buy / Obligation To Buy / Buy Back Clause
For the first time in the FIFA franchise, you can now loan in/out players using the "Loan + option to buy" option, but also "obligation" to buy (if you are low on money that season and want to pay the $ next season).

But, for me, the best new feature is the "Buy back clause". You can now sell your best potential players to get game time for a few years and if he performs good, you can activate the buy back clause, pay a fee that was pre-agreed prior to the sale, and get the player back (if he agrees to the terms aswell)
- The comeback of
Visual Sim
How many times have you simulated a game and you, being a Premier League top 6 manager, get beaten at home by Yeovil Town from League One. I did, many times.

Previously in FIFA 07-09 lets you make in-game team management changes (formations, players), but also watch how the team performs (similar to Football Manager). You can now also intervene in the game when your team is trailing and want to make an impact. The game will spawn you from the scoreline & time of the intervention, spawning you on a goal kick.
- Slight addons

a. Can change the UI color at any time

b. Drone footage video in the BG

Here is the animated video of the main menu: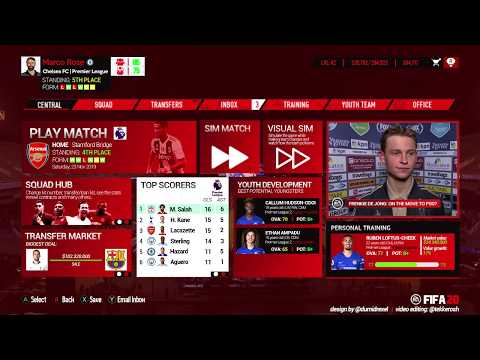 Music credit:
Asketa & Natan Chaim - Alone (feat. Kyle Reynolds) [No Copyright Sounds]
Drone video credit:
John Montaldo
I also did a START SCREEN Concept for FIFA 20, just because why not?
With the animation here: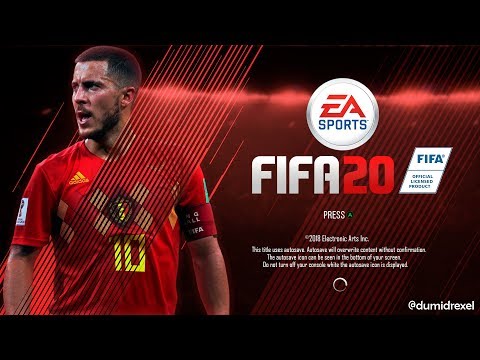 Created by DumiDrexel

Twitter: https://twitter.com/dumidrexel

Behance: https://www.behance.net/drexeldesigns

Shoutout to Tekkerosh for the animation of the whole menu concept:

Twitter: https://twitter.com/tekkerosh

YouTube: https://www.youtube.com/channel/UCJO...P-J3zZr_Ia8ptQ
Few hours later, and on a post from Twitter regarding my concept, a member of EA Support/Help replied with "

" if that even means something, you never know..
P.S: Please share it & spread it to the community (even YouTubers), use it in your videos (just credit me).