Just started FUT 23 and don't know what team to build? Then look no further as we have prepared a strong budget team that will cost you under 10.000 coins!
At the beginning many players will have issues building a competitive squad because of the new chemistry system. In FIFA 23 both the loyalty system and position links have been eliminated in order to focus on the individual player.
The chemistry between players will now be based on a system called "Chemistry Points" that allow players to associate with one another regardless of where they are on the field. Players also have preferred and alternate positions in FIFA 23 that have a huge impact on the new chemistry system.
Each player on the pitch will be able to gain up to 3 chemistry points that can come from the player's preferred position, having players from the same league/team/nation in the squad and the manager's league/nation. In total, the squad chemistry can reach up to a maximum of 33.
With that being said let's build our budget starter team in FIFA 23 Ultimate Team.
The Formation
The formation on which we will build our team is 4-3-3 (4), one of the most appreciated formations in FUT. The formations features the following positions: GK – RB – CB – CB – LB – CM – CAM – CM – RW – ST – LW.
The Players
Of course we will need to field 11 players in order to start a game and below you will discover our choices.
GK: Odisseas Vlachodimos (SL Benfica / Greece)
Between the posts we will have the Greek goalie, Odisseas Vlachodimos. Standing 190cm | 6'3 and with excellent attributes for his 81 overall rating, SL Benfica's goalkeeper is our #1. His card costs 650 coins.
RB: Alexander Bah (SL Benfica / Denmark)
On the right back position we find our second Benfica player, Alexander Bah. Danish fans will surely appreciate playing with their fellow countryman that has some impressive physical stats for his 78 overall rating. His card costs 700 coins.
Besides FIFA, Danish players can also enjoy football-themed games at onlinecasinosdk.com in their free time.
CB: Jurriën Timber (Ajax / Netherlands)
Next to Dumfries, we will find fellow countryman Jurriën Timber. Equipped with great pace, defending and physicality, the 80 rated center back is our first CB choice. His card costs 750 coins.
CB: Pepe (FC Porto / Portugal)
Our second center back choice is none other than FC Porto's defender, Pepe. Although he is 39 years old, the former Real Madrid player has some amazing attributes for his 81 rated card that would put many youngsters to shame. His card costs 750 coins.
LB: Grimaldo (SL Benfica / Spain)
On the left side of the defence we decided to go with another SL Benfica player, Grimaldo. The 82 rated Spaniard is one of the most underrated players in FIFA 23 and his stats are a testament. His card costs 700 coins.
CM: Teun Koopmeiners (Atalanta BC (Bergamo Calcio) / Netherlands)
Right above Dumfries and Timber, we will place Atalanta's central midfielder Teun Koopmeiners. The 80 rated Dutchman is one of the few central midfielders in-game to have almost all his attributes over 70! His card costs 550 coins.
CAM: Steven Berghuis (Ajax / Netherlands)
In the Central Advanced Midfielder position we will go with another Ajax player, Steven Berghuis. The 82 rated player has 80 pace, 82 dribbling, 82 shooting, 83 passing and 4 stars skill moves which makes him an ideal CAM. His card costs 800 coins.
CM: Mateus Uribe (FC Porto / Colombia)
The second CM in our team is FC Porto's Mateus Uribe. Just like Koopmeiners, the Colombian is part of the nearly 70+ attributes club as well but more defensive in-game. His card costs 700 coins.
RW: Rafa (SL Benfica / Portugal)
Moving on to the attackers line, on the right wing we have Rafa from SL Benfica. Despite his 82 overall rating, the pacy Portuguese player is the hidden gem of this squad. His card costs 750 coins.
ST: Donyell Malen (Borussia Dortmund / Netherlands)
Our main striker will be BVB's forward Donyell Malen. Although he is the lowest rated player in our squad with a 79 OVR, he is also of of the most prolific strikers in FIFA 23 thanks to his attributes and the double 4 stars skills moves and weak foot. His card costs 900 coins.
RW: Cody Gakpo (PSV / Netherlands)
Finally on the left wing we will find Cody Gakpo from PSV. The talented Dutch player is the highest rated in our team with an overall rating of 83 and he has the attributes to reflect that rating. His card costs 900 coins.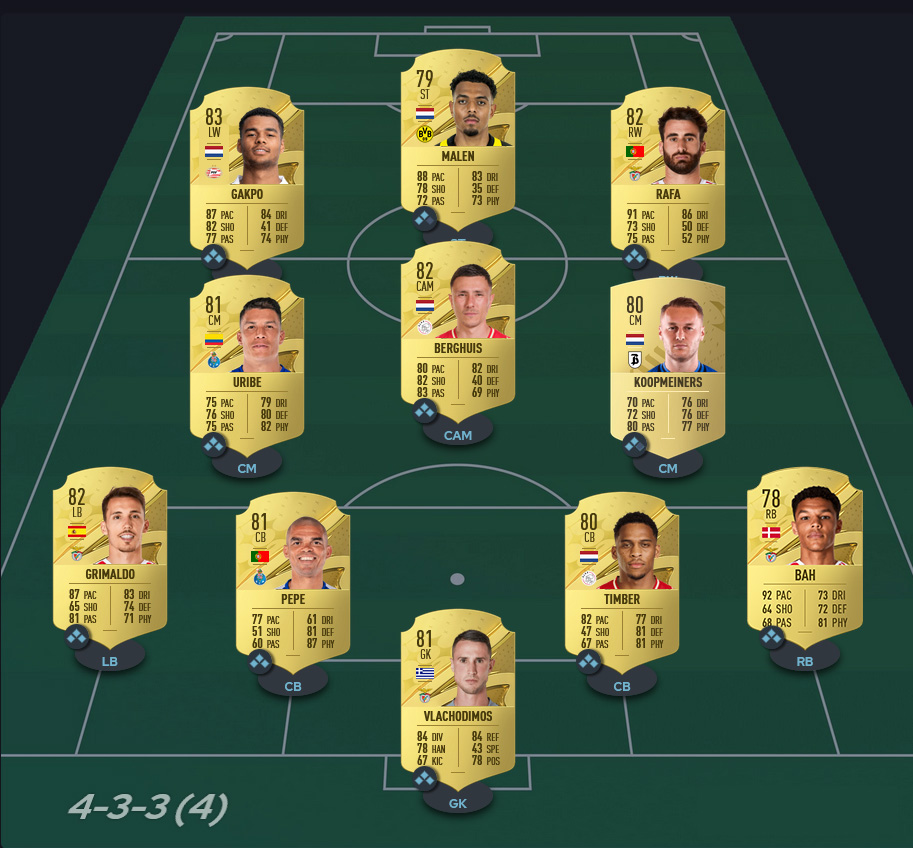 Once assembled together this is how the team should look like. We recommend adding a Dutch manager with Serie A as preferred league for the maximum of chemistry points. The total cost of this team is just 8.150 coins.
Also don't forget to apply the custom tactics from the video above in order to get the most out of this squad.