Form is temporary, class is permanent.
That pretty much sums up this promo. With the conclusion of Winter Wilcards, EA Sports unveiled a brand-new campaign in FUT called Centurions.
Already teased for a week via the pre-loading FUT screen, this new promo celebrates players that conquered the milestone of 100. The Centurions are players that managed 100+ caps and sometimes 100+ goals, assists or clean sheets during their career. That's why their special cards will come with a massive boots to their attributes and overall rating in FIFA 23 Ultimate Team.
There will be two teams released during this promo, and we will also see Centurions themed content available across Objectives, Squad Building Challenges and Moments. With that out of the way, let's discover which players made it in the first team!
Centurions Team 1
The first Centurions squad is headlined by non other than PSG's superstar, Neymar Jr. with a 91-rated card. Other players included are Jamie Vardy, Presnel Kimpembe or FUT favourite, Wissam Ben Yedder. Here's the full team:
CAM: Neymar Jr (Paris Saint-Germain) – 91 OVR
RB: Trent Alexander-Arnold (Liverpool) – 90 OVR
ST: Wissam Ben Yedder (AS Monaco) – 89 OVR
LB: Jordi Alba (Barcelona) – 88 OVR
ST: Jamie Vardy (Leicester City) – 88 OVR
RM: Joaquin (Real Betis) – 87 OVR
LW: Ante Rebic (AC Milan) – 87 OVR
CM: James Milner (Liverpool) – 87 OVR
CB: Presnel Kimpembe (Paris Saint-Germain) – 86 OVR
CB: Alessandro Bastoni (Inter Milan) – 86 OVR
CAM: Lorenzo Pellegrini (AS Roma) – 86 OVR
CAM: Florian Neuhaus (Borussia Monchengladbach) – 85 OVR
CDM: Maximillian Arnold (Wolfsburg) – 85 OVR
Some of the ratings are not as high as the community expected, so we hope EA will remediate with Team 2 that is expected to drop next Friday, January 13th when the first team gets removed from the packs.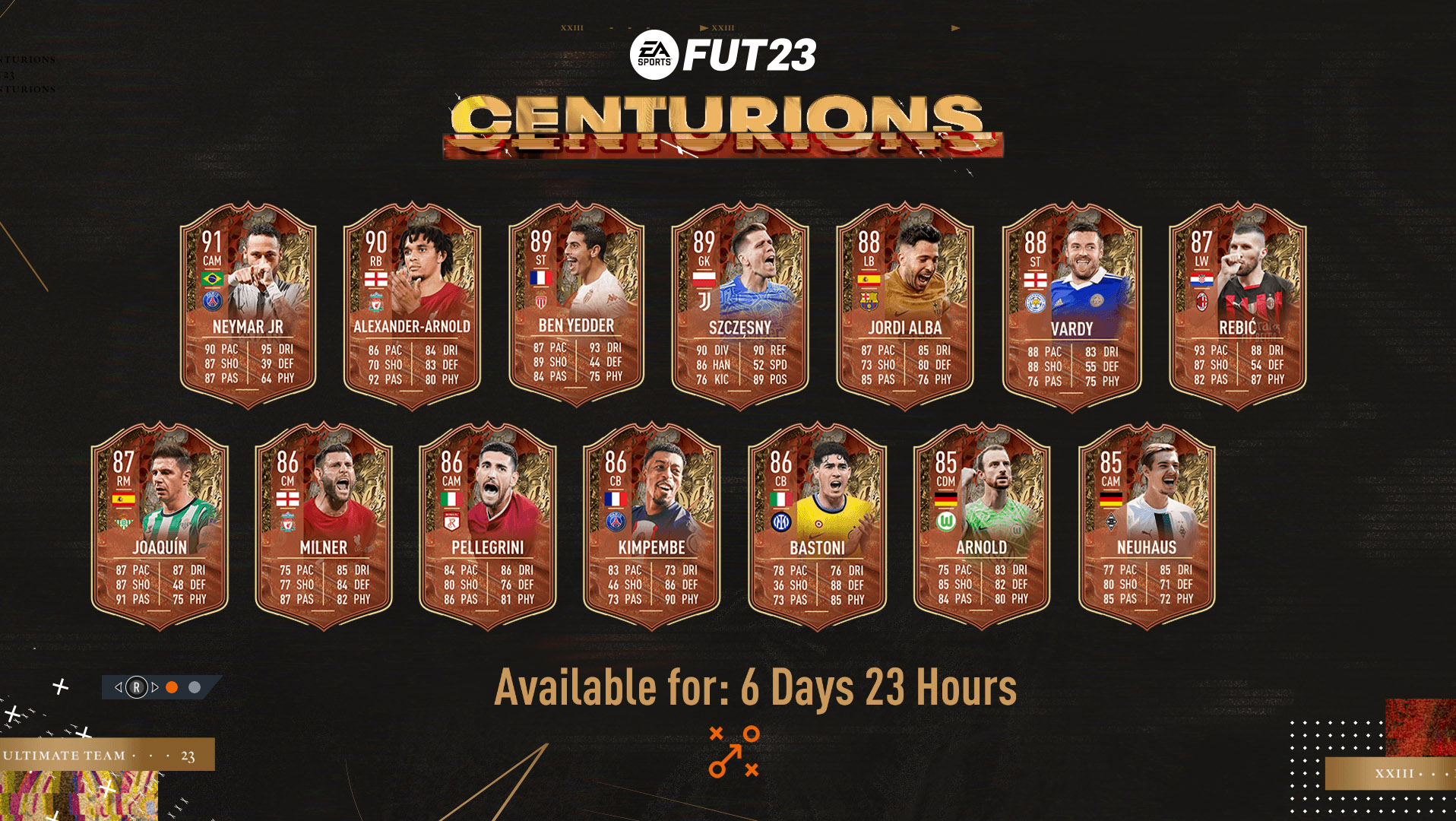 Also, it is important to mention that each team will have a Mini-Release scheduled, one for Sunday 8th January and the other one on Saturday 14th January.
Themed Objectives and Challenges
More Centurions are available to get unlocked via Objectives and Squad Building Challenges in FUT. One of them is RB Leipzig's goalie, Péter Gulácsi that you redeem by completing the next in-game tasks:
Score 8 goals using Bundesliga players in Squad Battles on min. Semi-Pro difficulty (or Rivals).
Assist 4 goals using Defenders in Squad Battles on min. Semi-Pro difficulty (or Rivals).
Score a Finesse goal in 3 separate matches in Squad Battles on min. Semi-Pro difficulty (or Rivals).
Win 6 matches in Squad Battles on min. Semi-Pro difficulty (or Rivals).
This Objective is set to expire on Friday, January 13th.
🟠 New FUT Centurions Player
🇭🇺 87 Péter Gulácsihttps://t.co/o8huEpUhfB pic.twitter.com/hU0gP5LqoH

— FIFAUTeam (@FIFAUTeam) January 6, 2023
Furthermore, in the Squad Building Challenges section of FUT you can unlock the following Centurions:
Mahrez Centurions SBC!

84, 86 & 87 Rated squads required#FIFA23 #FUT23 pic.twitter.com/DI7CXnk5Y8

— 𝙁𝙐𝙏𝙒𝙄𝙕 (@FUTWIZ) January 6, 2023
Stay tuned as we will update this post with new challenges as EA Sports releases them.
New FUT Hero
Something unexpected came with the FUT Centurions promo, a new FUT Hero! Former Spurs and one club man, Ledley King is the latest addition to the Heroes roster in Ultimate Team.
The 86-rated central back is now available in packs and players can get his loan version card from the FUT Moments Star Gallery.
Ledley King is now available in game!

Can get a loan version of him in the moments star gallery! #FUT23 pic.twitter.com/92g1Hl8b58

— 𝙁𝙐𝙏𝙒𝙄𝙕 (@FUTWIZ) January 6, 2023
Not a bad addition to the Centurions club.