Following the release of the Premier League TOTS, fans can now pack the best performers of the English Football League (EFL) in FIFA 23 Ultimate Team.
With every major TOTS release, there's always a minor one as well. In this particular case, we have this season's best players of the lower English league that include the Championship, League One and League Two.
While this is not one of the most anticipated TOTS squads of the campaign, EA Sports have delivered some outstanding cards, with Middlesbrough forward Chuba Akpom and Burnley's Josh Brownhill headlining the squad.
EFL TOTS Squad
The 12-man squad is primarily made of bronze and silver player items that received some insane boosts to their ratings and attributes to reflect their performances this season.
Here are the EFL players that received the shiny blue item in FUT 23:
GK: Lawrence Vigouroux – 91 OVR (Leyton Orient)
CB: Carl Piergianni – 88 OVR (Stevenage)
CB: Anel Ahmedhodžic – 89 OVR (Sheffield United)
LWB: Ryan Giles – 90 OVR (Middlesborough)
CM: Barry Bannan – 90 OVR (Sheffield Wednesday)
CM: Josh Brownhill – 94 OVR (Burnley)
LM: Sam Hoskins – 88 OVR (Northampton)
RM: Nathan Tella – 92 OVR (Burnley)
CAM: Chuba Akpom – 94 OVR (Middlesborough)
ST: Jonsson Clarke Harris – 89 OVR (Peterborough)
ST: Joao Pedro – 92 OVR (Watford)
ST: Viktor Gyökeres – 91 OVR(Coventry City)
It's no surprise to see two players from Burnley included in the squad after their promotion to the Premier League. However, a big surprise is that EA omitted to feature any players from Plymouth Argyle and Ipswich Town following their promotion in the Championship.
Playing and packing some of these players can be exciting if you get lucky. Finding a similar level of excitement can be difficult, however, you can check out this list of online casinos at https://auspokiesguide.com/ for more games. Whether you're a seasoned player or a newbie looking to try your luck, you're sure to find something that suits your tastes.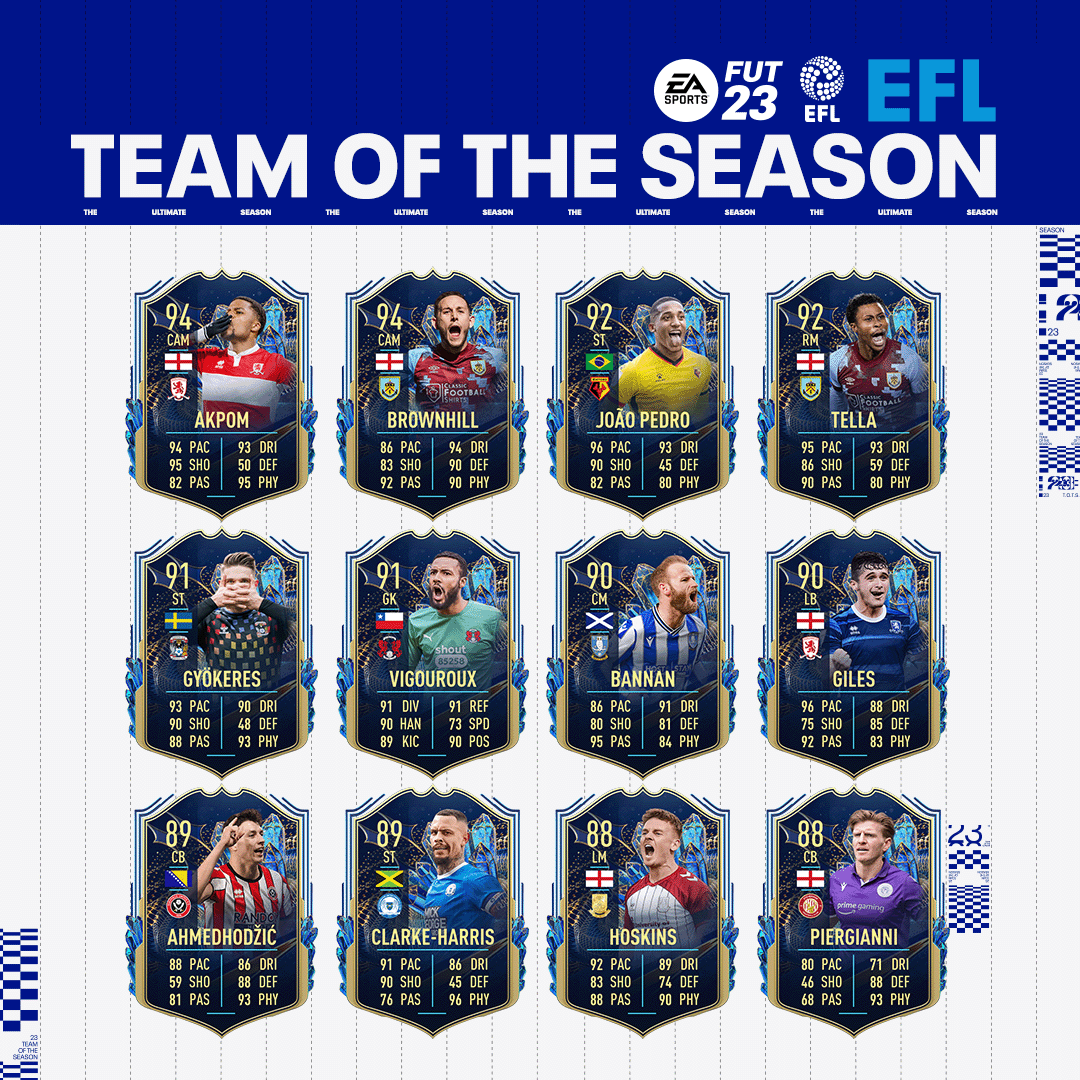 These cards will be available in packs until next Sunday, May 14th.
TOTS EFL Young Player of the Season SBC
That's not all, FUT players can unlock more EFL TOTS players thanks to the EFL Young Player of the Season Squad Building Challenge. Completing this Player Pick SBC will give the option to pick one of the next three EFL TOTS players:
CAM: Alex Scott – 90 OVR (Bristol City)
LB: Bali Mumba – 90 OVR (Plymouth Argyle)
RM: Junior Tchamadeu – 90 OVR (Colchester United)
Who are you taking from the EFL YPOTS pick?🤔 pic.twitter.com/iWkp7ibFT2

— FUTBIN (@FUTBIN) May 7, 2023
The payout for completing this cheap SBC is ridiculously good, as you will receive a 90-rated player for just 20,000 coins. Other online games give similar offers if you check this list of instant payout sites for the best Australian casinos. Such sites offer access to a variety of fun and the ability to withdraw funds quickly, so you can enjoy playing other games in the meantime.
EFL TOTS Moments Tahith Chong Objective
An additional EFL TOTS card can be unlocked via a Player Objective in FIFA 23. To get your hands on former Manchester United midfielder Tahith Chong, you will need to compete the next in-game tasks:
Midfield Leader: Score seven goals using midfielders in Squad Battles on min. Semi-Pro difficulty (or Rivals and FUT Champions).
Superb Vision: Assist three goals with through balls with players with at least 80 PAS in Squad Battles on min. Semi-Pro difficulty (or Rivals and FUT Champions).
Oranje: Score and assist using Dutch players in three separate Squad Battles matches on min Semi-Pro difficulty (or Rivals and FUT Champions).
Winning Feeling: Win six Squad Battles matches on min. Semi-Pro difficulty (or Rivals and FUT Champions), while having at least three Dutch players in your Starting XI.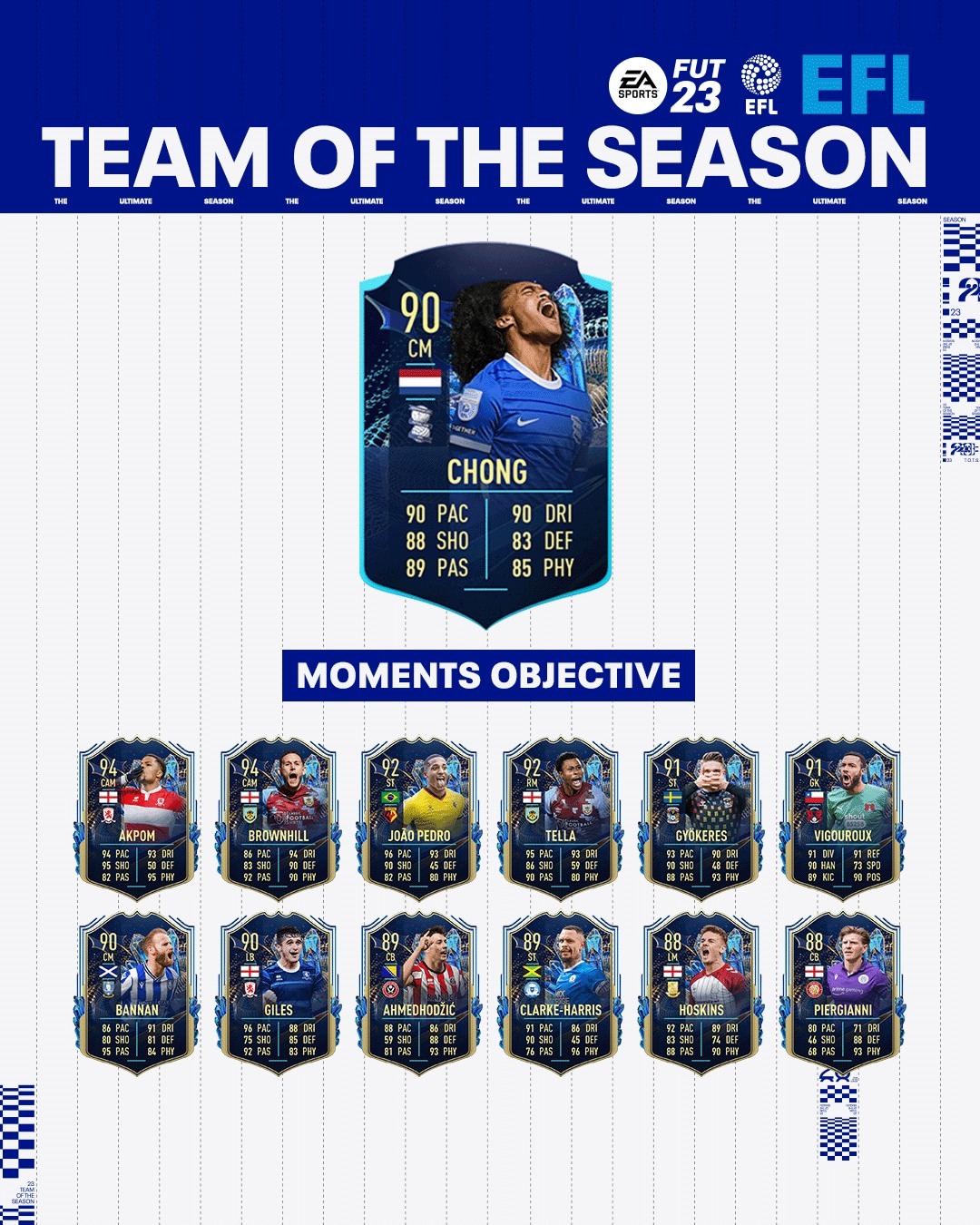 For an insane 90-rated card, this is a very easy objective that can be completed in just six games either online or offline.
The objective is set to expire next Sunday, May 14th.
TOTS Schedule
Thanks to the recent rewards update in FUT 23, we already know the full schedule release for the entire TOTS campaign. Here's when all League TOTS will drop in packs:
• Community – April 28th
• Eredivisie – April 28th
• Premier League – May 5th
• EFL – May 7th
• Bundesliga – May 12th
• Saudi League – May 14th
• La Liga – May 19th
• MLS – May 21st
• Ligue 1 – May 26th
• Super Lig – May 28th
• Serie A – June 2nd
• Liga Portugal – June 4th
• Ultimate – June 9th
Stay tuned for further updates on the TOTS promo by following us on Twitter.