So you have began a new FIFA 23 Career Mode save, and hopefully took the advice and selected one of our five best teams to choose in FIFA 23 Career Mode. Now it is time for the most exciting part of any save and that is, the transfer window.
However, regardless of what team you have opted to go with, you are going to bring in some talented youth into the club.
Every player needs to start at the bottom and make their way to superstar status. But who are those prospects that will become the next Lionel Messi or Cristiano Ronaldo? Here are some players you should be on the look-out for when playing Career Mode in FIFA 23.
1. Jonathan Burkardt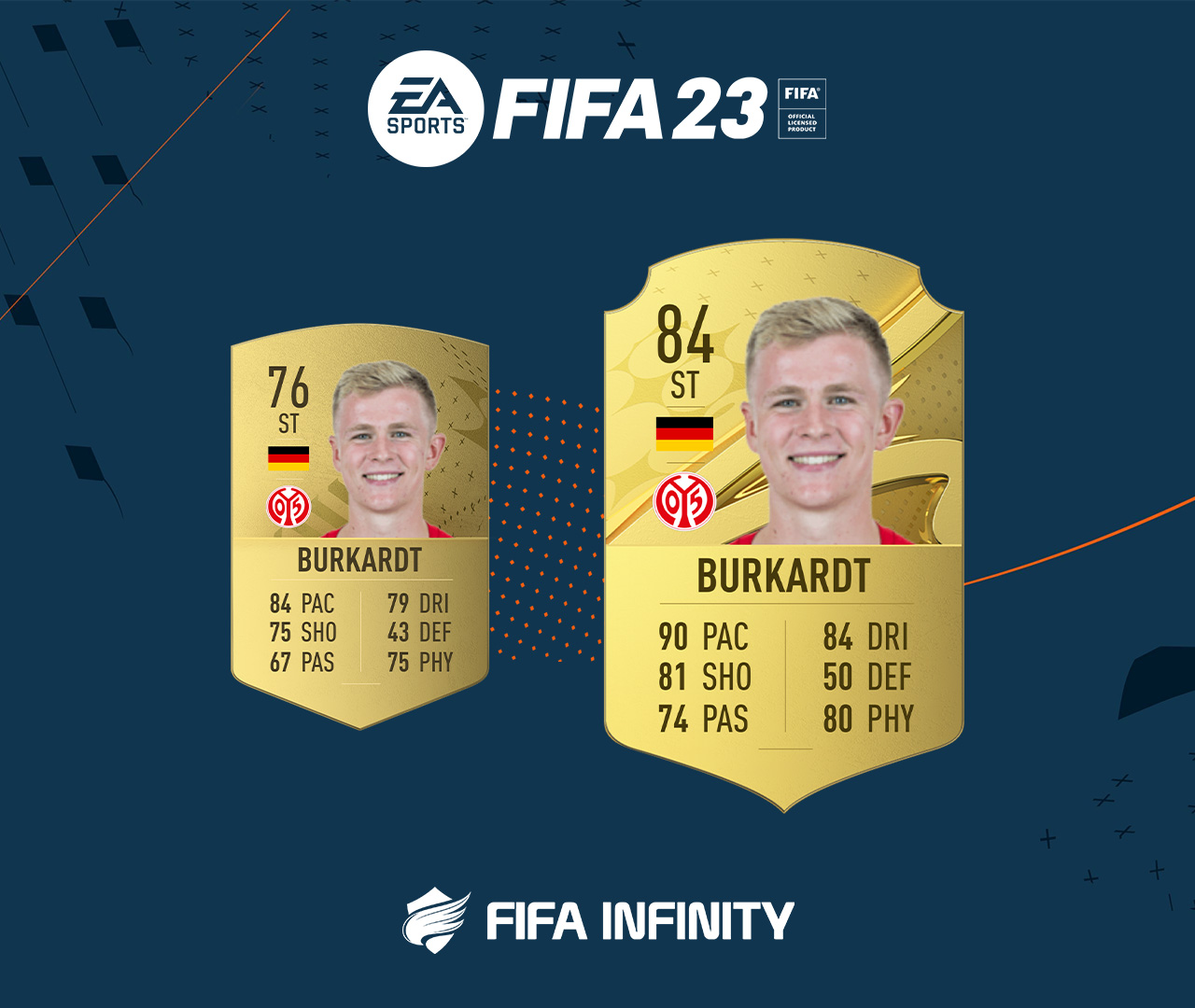 Overall: 76
Potential: 84
Age: 21
Position: ST
Country: Germany
Club: 1. FSV Mainz 05
Height: 181cm (5'11")
Work Rates: High/Med
Skill Moves/Weak Foot: 3 ⭐/3 ⭐
Real Face?: Yes
After impressing for Mainz's youth team and various German youth national teams, Burkardt has fought his way into becoming on the main pillars of Mainz first team. Starting with 86 Sprint Speed, 83 Dribbling, 79 Stamina, 78 Finishing and 75 Strength, Burkardt will be effective in any team, even right off the bat, but if given time to develop, he will easily become one of the most devastating complete strikers in the game.
He can also play RW and CF making him one of the few versatile under-21 strikers with good potential in FIFA 23. However, valued at £17M with £22k wage demands, Burkardt may be expensive for most small clubs.
2. Harvey Elliott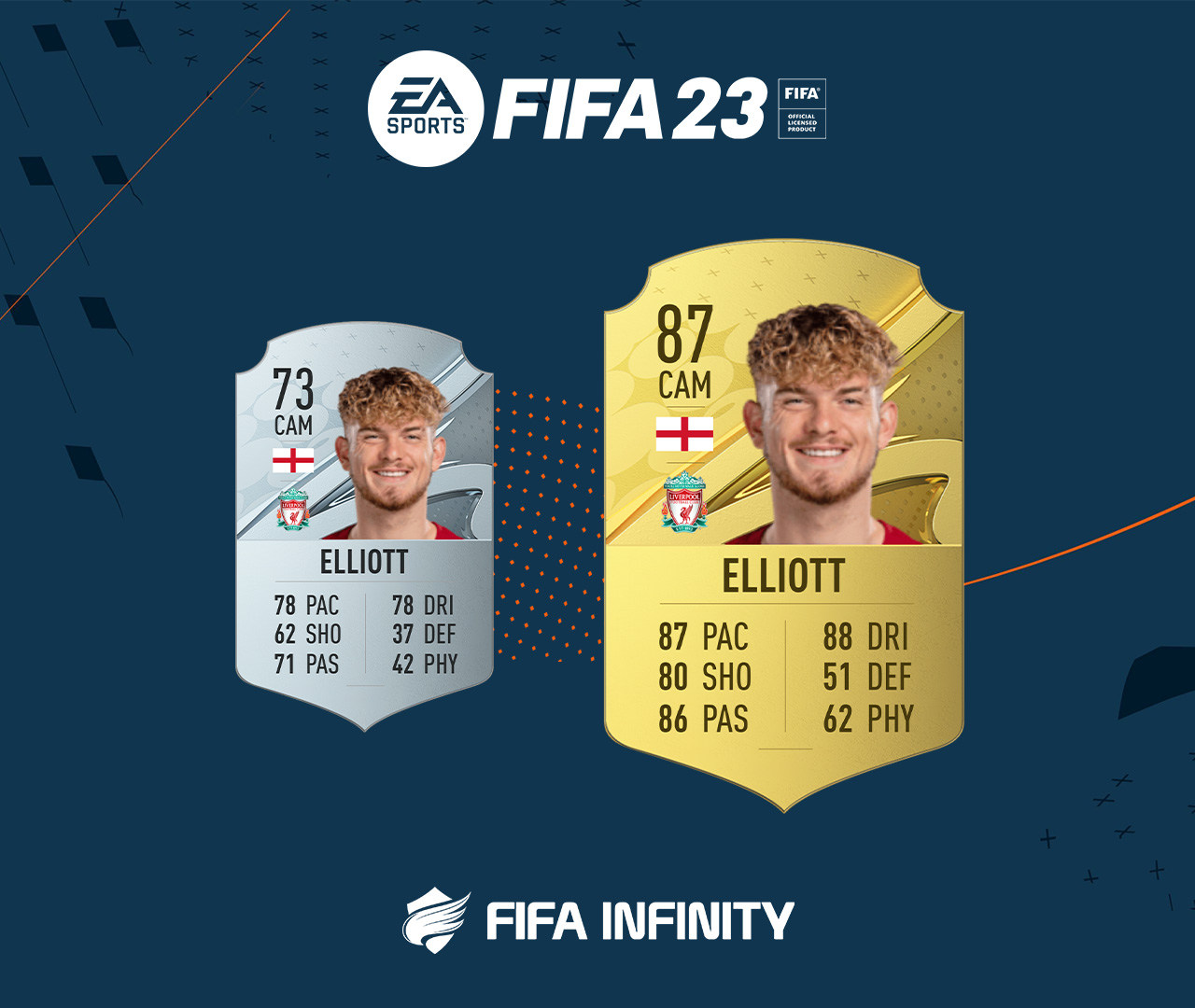 Overall: 73
Potential: 87
Age: 19
Position: CAM
Country: England

Club:Liverpool
Height: 170cm (5'7″)
Work Rates: Med/Med
Skill Moves/Weak Foot: 4 ⭐/4 ⭐
Real Face?: Yes
Harvey Elliott is Liverpool's future as well as its present, proving to Jurgen Klopp he can be trusted to assist solve the Reds' midfield crisis in real life. His small build mixed with 87 agility, 87 Balance and 82 Acceleration allows him to flourish in tight spaces and his 77 composure on the ball allows him to link up play in a smart manner between both defence and attack.
Elliott's major advantage is undoubtedly his versatility. While it is usual to see forwards playing across the front three, Elliott offers the unique ability to fill in at both Central Midfield and on the wings with a high degree of proficiency. Elliot also bolsters a number of traits, Flair, Finesse Shot and Outside Foot Shot which make him stand out from a crowd.
Valued at £7M, Elliott should be affordable for most clubs. And if that is expensive for your club, Liverpool are open to let him go on loan in the first transfer window.
3. Jacob Ramsey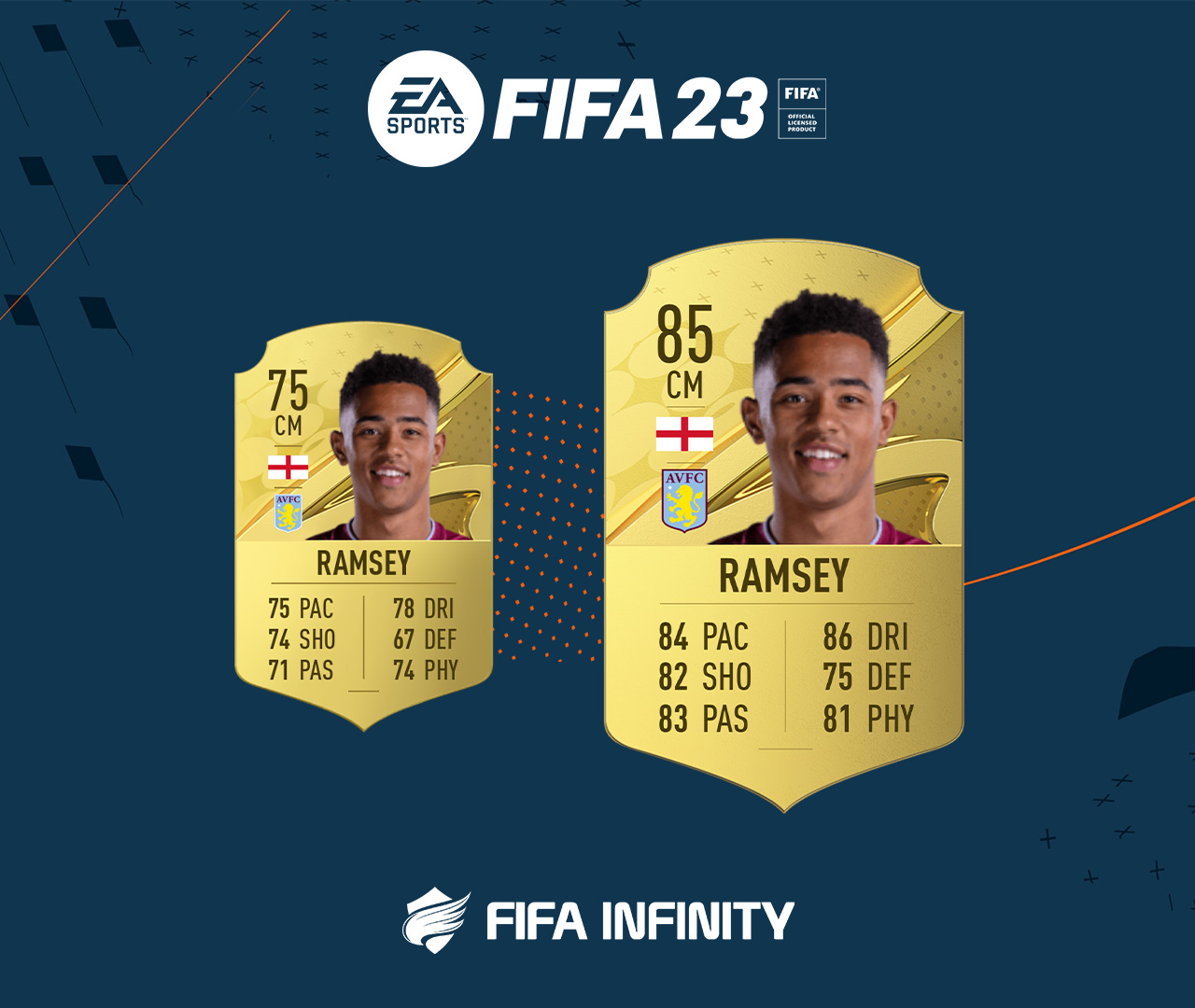 Overall: 75
Potential: 85
Age: 21
Position: CM
Country: England
Club: Aston Villa
Height: 180cm (5'11")
Work Rates: High/Med
Skill Moves/Weak Foot: 3 ⭐/4 ⭐
Real Face?: Yes
"People talk about stats a lot nowadays and I guess if you looked at mine you'd probably say they weren't great," these are the words of Aston Villa youngster, Jacob Ramsey. Despite the midfielder's frank assessment of his statistical performance last season, Ramsey has transformed from a useful squad player under Dean Smith into a prominent tusk of Steven Gerrard's first team. Now with an England call possibly lurking, the future's looking bright for the 21-year-old.
If you can manage to pry him away from Aston Villa's hands, you will have a midfield genius in your team. Ramsey already begins with good attributes all round and although never proven that he can play in all positions in real life, according to sofifa.com, he can excel in any position except GK in FIFA 23, with his Movement and Power attributes being in high 70s. The best part about Ramsey is that he grows all round. Given game time and good form, his attributes grow at an incredible rate. Shooting, passing, defending and dribbling are all at an incredibly high level after a few seasons.
Valued at £12.5M, Aston Villa are not willing to let him go for anything less.
4. Morato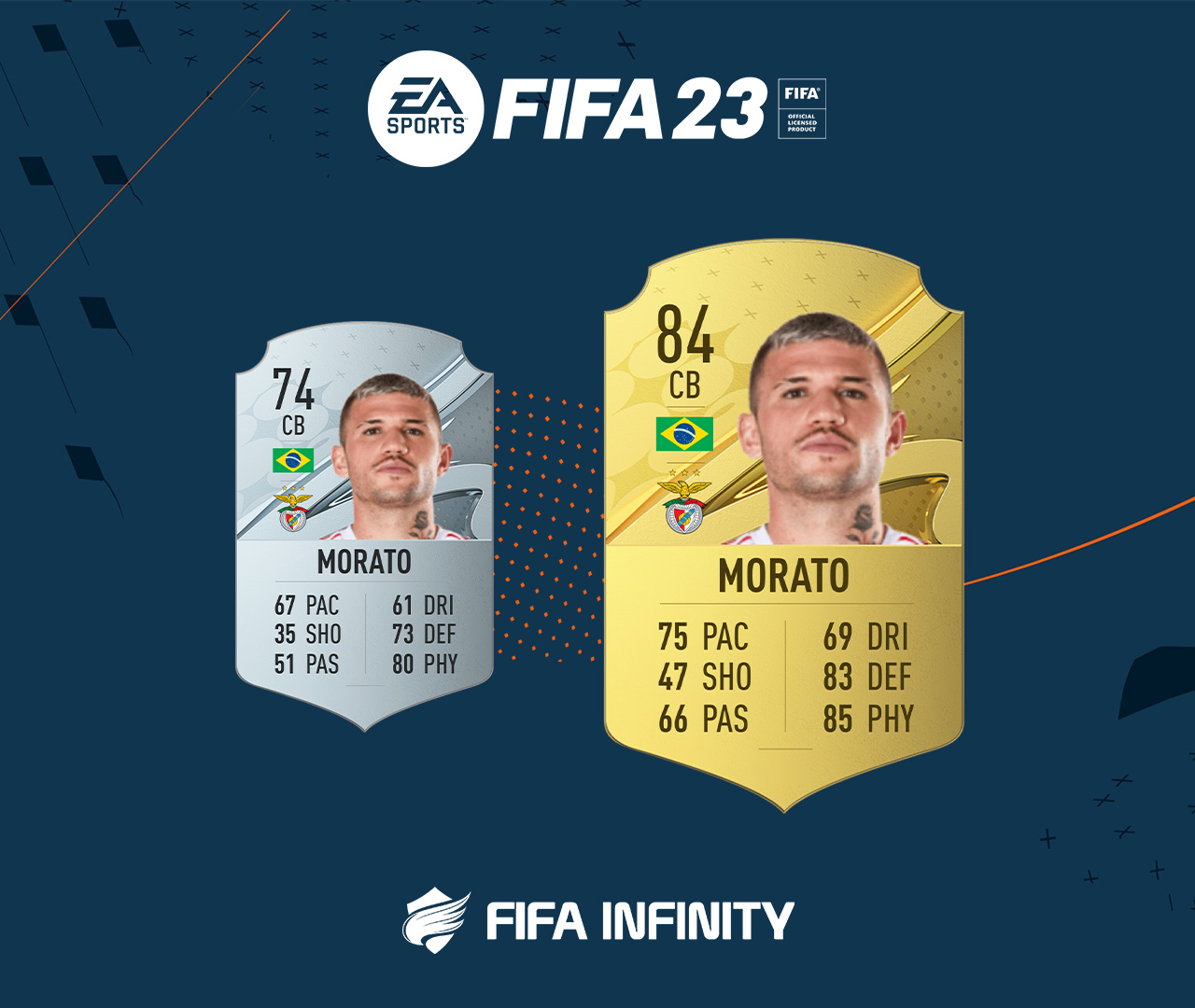 Overall: 74
Potential: 84
Age: 21
Position: CB
Country: Brazil
Club: SL Benfica
Height: 192cm (6'4″)
Work Rates: Med/Med
Skill Moves/Weak Foot: 2 ⭐/2 ⭐
Real Face?: No
Felipe Rodrigues da Silva, commonly known as Morato, is a Brazilian CB who presently plays for the Portuguese heavyweight side, Benfica. To put it simply, Morato is a BEAST. Standing at 6'4″ Tall with 88 Strength, 82 Aggression and 75 Composure make this center back outrageous and with 74 Heading, he is not too shabby in the air either.
With a 74 OVR, Morato's defensive attributes all fall between mid to high 70s. He is also one of the few left-footed center backs with good potential in FIFA 23 Career Mode. Therefore, if you are looking for a left center back who is very good at breaking down opposition plays due to his positional sense, defensive attributes, tactical intelligence, and ability to read the game, then Morato is definitely the man for you.
Valued at just £9M, he won't be difficult to sign initially, but if you are a small club, you may need to pay a pretty penny. However he's definitely worth it as you'll basically have a left-footed Jérôme Boateng in your side for the foreseeable future.
5. Milos Kerkez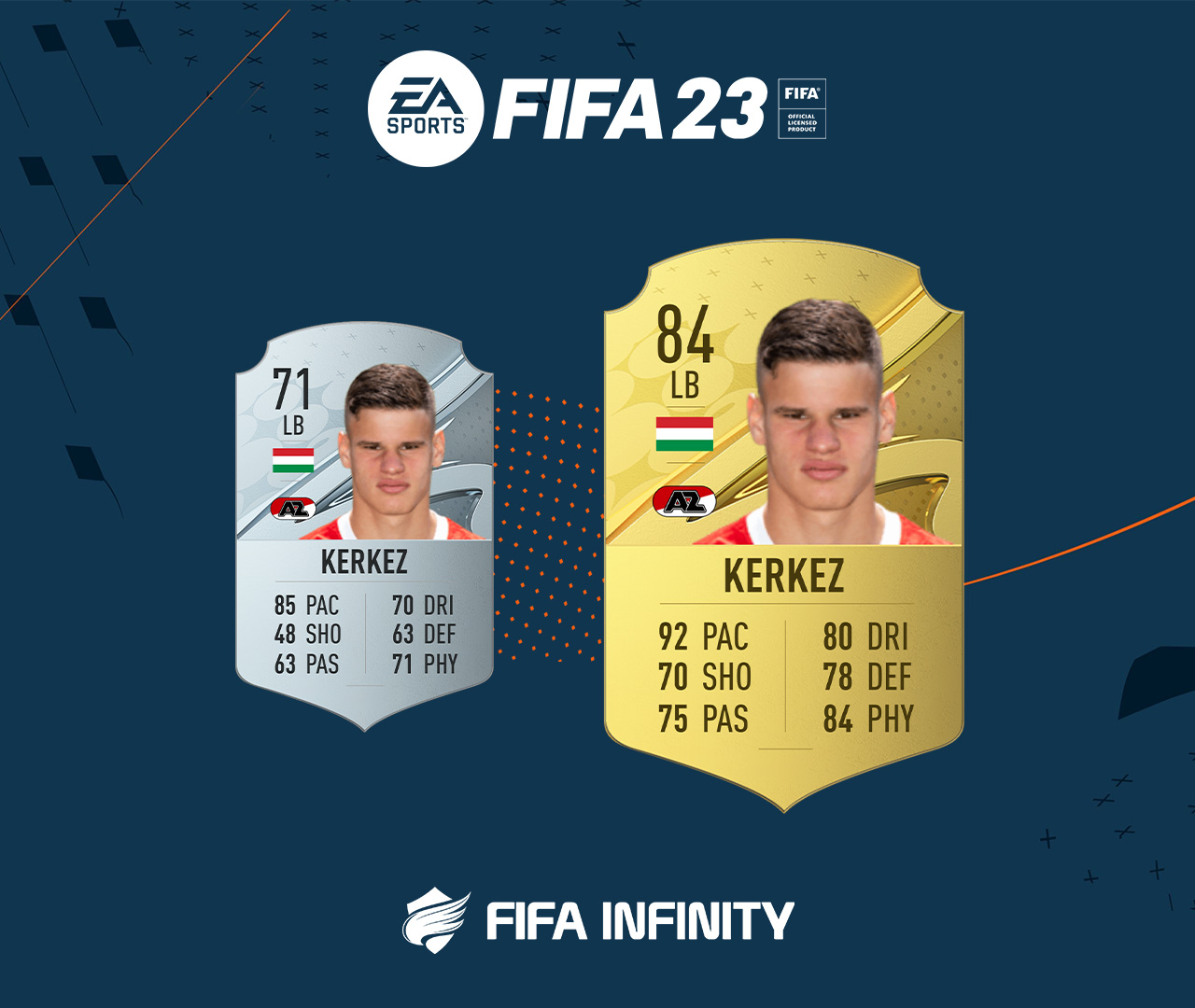 Overall: 71
Potential: 84
Age: 21
Position: LB
Country: Hungary
Club: AZ Alkmaar
Height: 176cm (5'9″)
Work Rates: High/High
Skill Moves/Weak Foot: 3 ⭐/3 ⭐
Real Face?: No
At just 21 years old, Milos Kerkez has already played in five different countries, broke the hearts of AC Milan supporters, and established himself as a cult favourite in the Netherlands with AZ Alkmaar. The Hungarian full back is easily one of the best promising full backs in FIFA 23 Career Mode because he unites defensive skills with pure offensive weapons like dribbling and dangerous crosses.
If you're keen on making the deal of your life by outwitting the opposition scouts and fostering the next great LB, look no further than AZ's Milos Kerkez. Don't be fooled by his initial rating of 71 as the young player boasts a potential of 84. Kerkez is both an attack and defensive minded full-back, with his attribute ratings allowing him to assault opposing defences relentlessly in each game. Powered by his 87 Stamina, the Hungarian wonderkid's 85 Acceleration, 82 Sprint Speed, 82 Agility, 71 Aggression, and 71 Crossing make him a menace as LB.
Valued at £4.2M, Kerkez comes cheap and is a complete bargain if you funds are available.
6. Giorgi Mamardashvili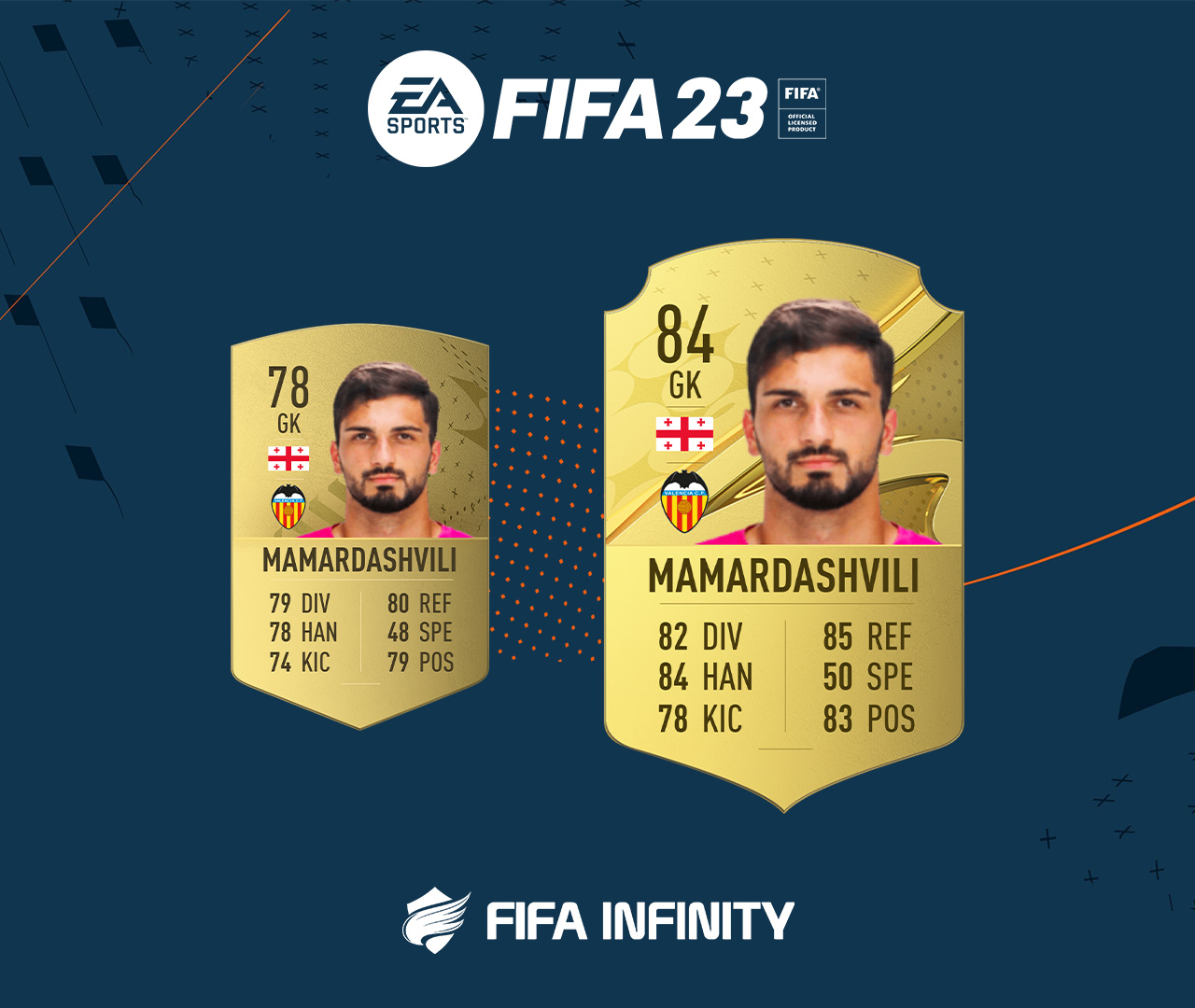 Overall: 78
Potential: 84
Age: 21
Position: GK
Country: Georgia
Club: Valencia CF
Height: 199cm (6'6″)
Work Rates: Med/Med
Skill Moves/Weak Foot: 1 ⭐/3 ⭐
Real Face?: No
The 21-year-old first joined LaLiga club, Valencia CF on loan in the summer of 2021, but his dazzling displays between the sticks for 'Los Ches' forced them to sign him permanently.
Standing 6'6'', Giorgi Mamardashvili managed to get into the upper echelons of FIFA 23's best wonderkid goalkeepers by virtue of his 78 overall rating and 84 potential. The Georgian goalkeeper already boasts some satisfactory attributes in key areas of his position. His 80 Reflexes, 79 Diving, 79 Positioning, and 78 Handling all display a fierce goalie in the making. His "Comes For Crosses" trait also means that Mamardashvili is the type of GK that doesn't simply allow opposition crosses to just go by him. He will try to intercept a cross even if he thinks he will get to the ball barely before his opponent.
Mamardashvili is the definition of quality doesn't come cheap. He is valued at £18.5M but Valencia will require at least £30M if not more in order to let him go.
7. Nico Williams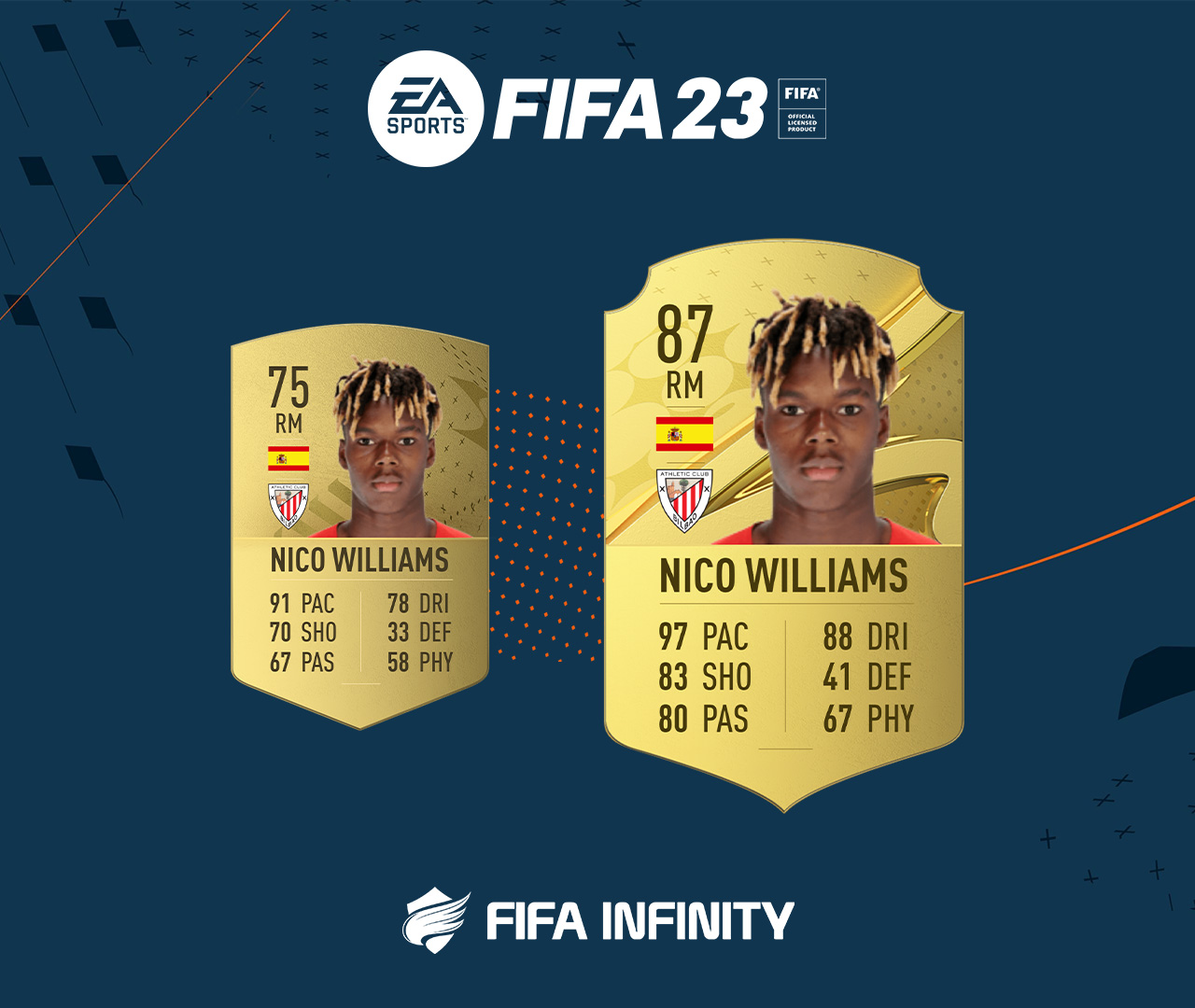 Overall: 75
Potential: 87
Age: 19
Position: RM
Country: Spain
Club: Athletic Bilbao
Height: 181cm (5'11")
Work Rates: Med/Med
Skill Moves/Weak Foot: 4 ⭐/5 ⭐
Real Face?: No
Since his debut, Williams has risen through the pecking order and continues to earn valuable playing experience. At 19-years-old, he is proving himself to be a top talent, with his manager playing him in 9 matches this season in LaLiga – games in which Williams scored thrice and assisted twice. This has earned him a +1 overall and +1 potential increase in FIFA 23.
You definitely can't go wrong with this player as he ticks all the right boxes. He has very sought-after qualities for any manager as he boasts both a five-star weak foot and four-star skill moves combined with an obscene amount of pace (92 Sprint Speed and 90 Acceleration). The talented midfielder can play on both flanks (RM and LM). Williams' attributes are exceptional for his 75 rating, with his 88 Agility and 80 Dribbling being some of the most eye-catching, but he is also equipped with a cool 75 Finishing coupled with Flair and Outside Foot Shot traits making him a threat upfront.
Valued at £13.5M, the Basque club are not willing to let him go for anything cheaper.
Finding the best young players in FIFA 23 Career Mode can be a time-consuming exercise, so what we have done is save you a bit of time by producing the above "can't go wrong" list for under 21 wonderkids for all key positions in the game.
FIFA 23 is available now on Playstation 5, Playstation 4, Xbox Series X | S, Xbox One and PC.