The FIFA Global Series, or FGS, has been a staple Esports season for the FIFA franchise for a few years now and the series keeps improving with every game cycle.
As expected, FIFA 22 brings yet another list of new changes and additions to the FGS and the recent Pitch Notes helped us uncover all the new stuff to be excited about!
Division Rivals Becomes the Headliner for Next-Gen
In two huge announcements, EA have confirmed that FGS is transitioning to the next-gen consoles, specifically the PlayStation5, for good and that PlayStation was chosen as the new partner to retain familiarity for their global FUT Champions Verified player base, the vast majority of whom are on PlayStation consoles.
Qualification for online tournaments will be handled through the combined PlayStation FUT Rivals rankings, but the Competitive game mode used in tournaments will only be available on newer generation hardware. This does imply that Xbox platforms are no longer first-choice or will ever be involved, from the looks of it.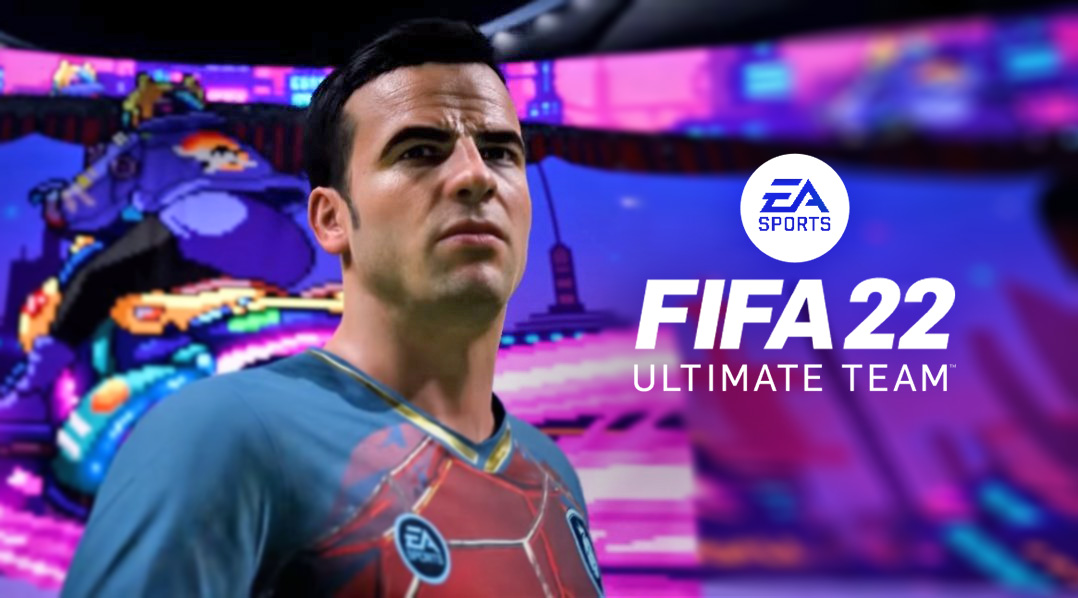 The other announcement was that FUT Division Rivals is set to take over as the official FGS entry competition. After a considerable amount of time on the FUT Champs system, FUT Division Rivals has undergone a makeover that has deemed it as the premier game mode of FIFA Esports qualifying in general.
Your FUT Divisions Rivals Elite Tier Skill Rating at the end of each FUT Division Rivals season is what determines your eligibility for online competitions like the FGS Open and FGS Qualifiers. Prospective esports players can register and get started on Division Rivals! Friendly note, though, FUT Division Rivals as well as matches in the Competitive Game Mode will all use the new Competitive Settings.
A New Global Series Ecosystem
For the first time as a mainstream feature, FGS will now have a Solo and a Duo Global Series tournament system. Players will be pitted against each other in a newly designed team-based 2v2 format for both the FUT Champions Cups. As for the Road to the FIFAe World Cup™, the format will remain as the classic 1v1 event.
Mark your 📆

Here's the #FGS22 season schedule 🙌

More details ➡️ https://t.co/0AuIfaAXTw pic.twitter.com/ng2sxxmZah

— EA FIFA esports (@EAFIFAesports) October 5, 2021
The 2v2 format will see some old and some new events in the name of:
The FGS Open – 16 Regional Qualifiers
The FGS Team of the Year Cup – 32 team tournament and
The FGS Team of the Season Cup – 24 team bracket style event
Culminating in the FIFAe Club World Cup.
But more on all this later!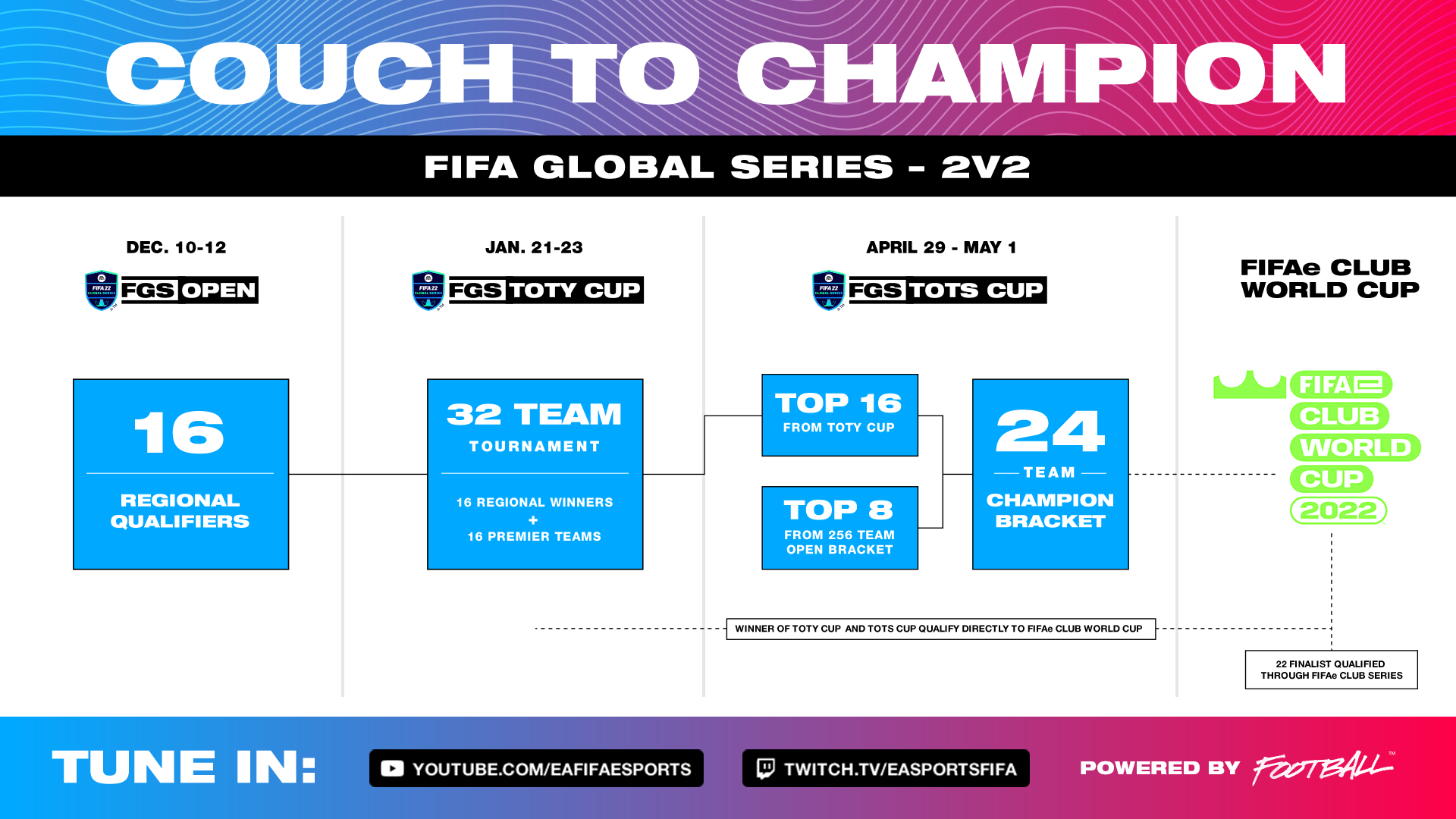 As for the 1v1 system, FUT Division Rivals will be the premier series to kick things off, followed by FGS Qualifiers and Play-offs, involving 128 players for the latter, before it all ends with the FIFAe World Cup 2022. There will also be various league events interspersed throughout the year.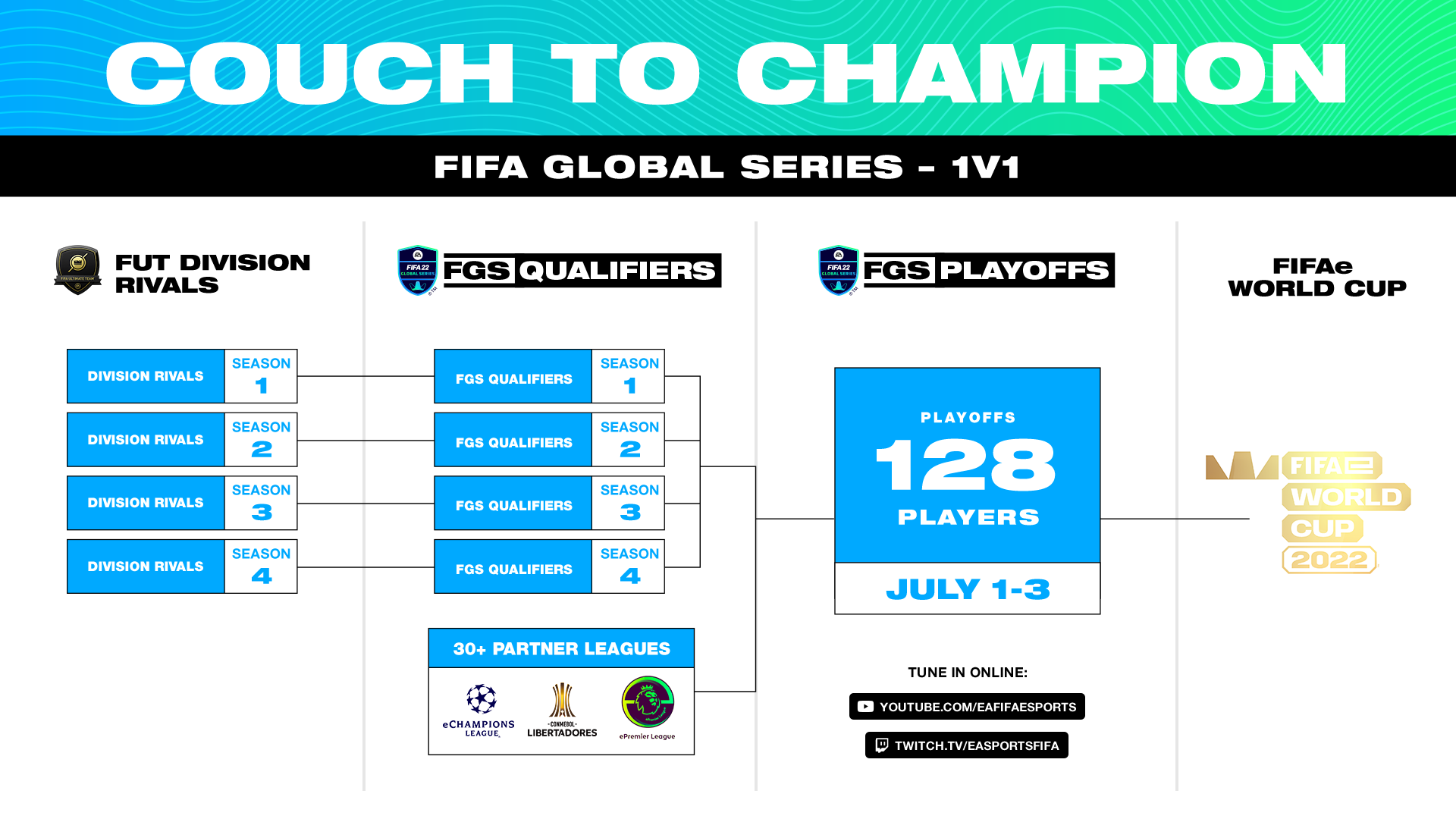 New Countries and More FGS Rewards!
As an immensely welcoming gesture, the FIFA Global Series now has 16 new country members that are eligible to participate in the season with the list of new countries as follows:
Bosnia & Herzegovina
Cyprus
Dominican Republic
El Salvador
Georgia
Ghana
Honduras
Kazakhstan
Kenya
Latvia
Lebanon
Mongolia
Nigeria
Panama
Serbia
Trinidad & Tobago
FGS Swaps is a revolutionary feature introduced in FUT with its Live Viewership Rewards system doing wonders for the esports viewer base and overall fan following. FGS Swap Tokens have been confirmed to make a return for FIFA 22 but that's not all. According to EA, Tokens are not the only reward items on offer for FIFA 22, thanks to the FUT Club Customisation options.
FGS Swaps are here. Watch events, earn tokens and redeem them for packs! Earn 4 tokens and get a 100k pack 🔥

The first eligible event is the FGS 22 Challenge on Thurs Oct 21. pic.twitter.com/sOj6wfKhLZ

— Murad (@FUTradster) October 18, 2021
Starting this season, viewers can earn up to 5 rewards for each eligible event. Out of the five, only one of them will be an FGS Swap Token with the other 4 being a selection of FIFA 22 Global Series cosmetic items that you can use to modify your FUT club. To earn these tokens you will have to link your Twitch and EA accounts on ea.com/twitchlinking and watch 60 minutes of an eligible FIFA 22 Global Series Event.
The first eligible event will be on October 21st with FGS22 Challenge.
Love this. Hopefully its easy to get 4 tokens pic.twitter.com/C6613srTz2

— bateson87  (@bateson87) October 18, 2021
To quote EA, "Unlike last year, this season there will be a single release of FGS Swaps Tokens and their corresponding SBCs that will remain live throughout the FUT 22 cycle." The FGS Swap Rewards have been confirmed as follows:
| | | |
| --- | --- | --- |
| SBC (Repeatable) | Token Requirements | Rewards (Untradeable) |
| A | 1 Token | Premium Gold Pack |
| B | 2 Tokens | Premium Gold Players Pack |
| C | 3 Tokens | Prime Gold Players Pack |
| D | 4 Tokens | Jumbo Rare Players Pack |
| E | 5 Tokens | Ultimate Pack |
If you'd like to get involved in everything FIFA esports, head to the official website and register starting October 4th. Don't miss out on FGS Swaps Tokens and other rewards by keeping an eye on EA's official Twitter, Twitch, and YouTube channels. The new competitive season has only just begun!