There is just something about signing a young teenager or an unproven talent that is yet to make it big. Watching them grow and shine right under your training has got to be the best feelings you can get in Career Mode. But what happens when you've signed all your favourite wonderkids? What happens when you've made multiple saves and used up all the wonderkids FIFA 21 has to offer? That's where our humble Youth Academy enters the picture.
The academy has often been an overlooked feature in the past FIFA titles with most Career Mode players going for the big-name signings. Even the popular YouTubers, excluding Cutzy and Sparring DK who make content based on Youth Academy players. This year, however, FIFA 21 already sets up your Youth Academy when you take over a club, making you notice it at least. So, what can you do to make your Youth Academy the star attraction of your club? Find out more by reading our guide below!
Youth Staff/Scouts
Youth scouts are your loyal employees who set out on a quest every season to bring you the brightest talents across the world and give you a chance to sign them for your club. But not all of them are on the level you expect. That is because, for you to have world-class talents in your shortlist, you need world-class scouts. A scout's rating can be judged from the 2 ratings they have; Judgment and Experience Star Ratings.
Judgement rating refers to the quality of players your scout will find. A scout with a 1-star judgement will not be able to find any player above a 70-75 OVR potential and a current rating of more than 40 OVR. A 5-star judgement scout though will be able to land the cream of the crop and give you the chance to sign multiple wonderkids in a single season. You might still get a quality signing with a lower-rated scout but the chances are low.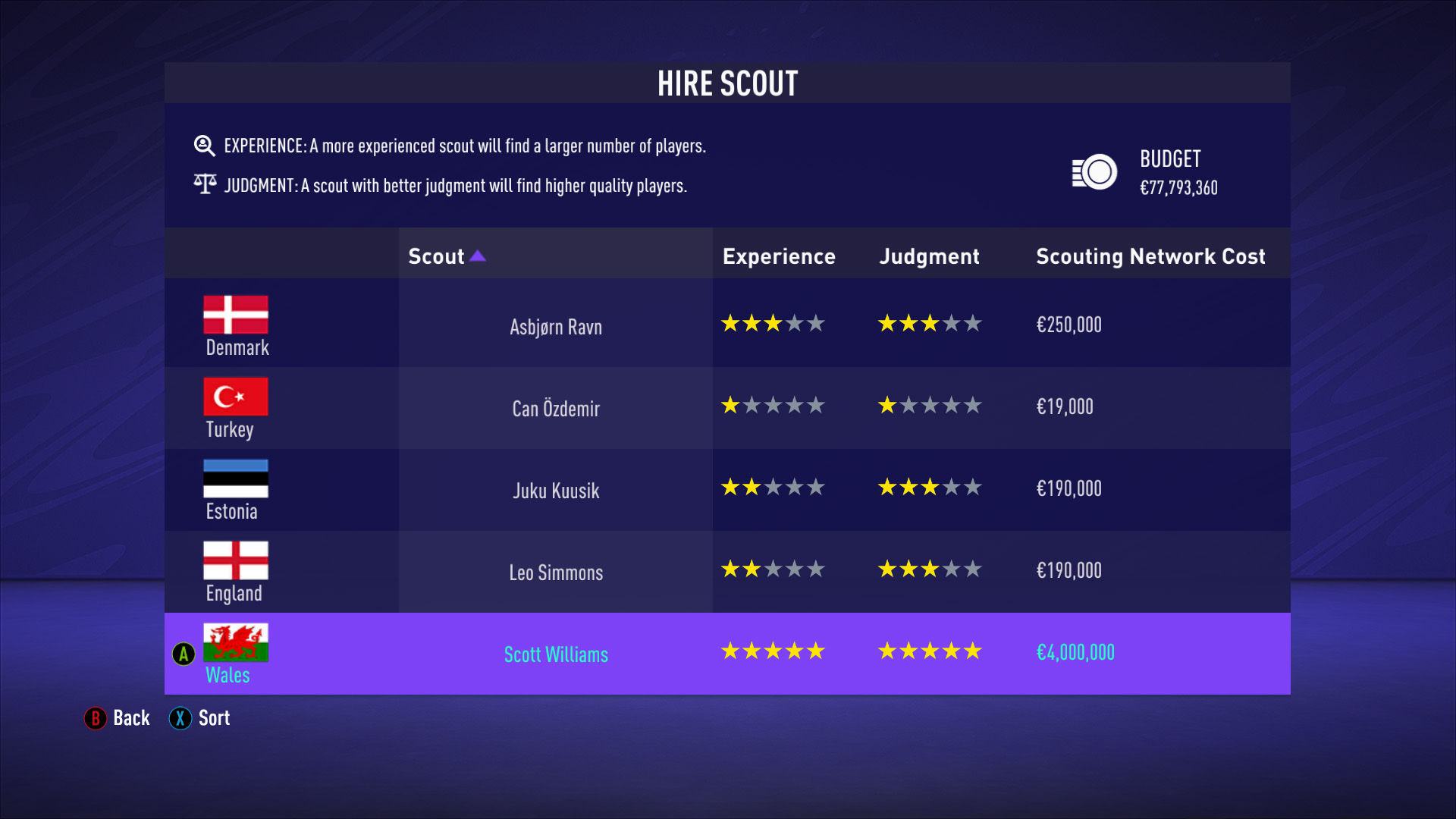 Experience level simply means the number of players your scout will find during his scouting period. A scout with 1-star experience may find only 2-3 players per month while a 5-star scout will bring you up to 10 players a month. It is also important to remember that a higher-level scout can cost millions to hire while a basic 1-star scout in experience and judgement can be hired for less than $100,000. Keep an eye on your budget!
Scouting Network
The next part after hiring your scouts is to send them to countries to search for local talent. EA Sports has added a dozen more countries to scout in FIFA 21 and you have a large talent pool to explore. You can send your scout to any of the available countries and select the duration of the scouting campaign; 3, 6 or 9 months long. Not just that, you can also instruct your scouts to look for a particular type of players. Maybe you only want to scout goalkeepers. Perhaps, you need strong and sturdy players. Or maybe you want to find the next footballing genius. Or you could go plain and simple and select Any. Once you're happy with your assignment, send them away and expect their scout reports every month until the assignment ends.
Take a look at the players you see in the list and sign the ones you feel will be a good fit for your system based on their expected playing positions, approximate stats and whether they have a promising future. If you'd like to scout the players further, you can take a look at them again after some time. Make sure you check the shortlist often as keeping a player on hold for too long can mean you losing them to another team.
Youth Academy
The moment you sign a youth talent, they are moved into your Youth Academy where you can view their overall, playing positions as well height, weak foot and skill moves rating. The last part is a new addition to FIFA 21. What's even better is that you can now start developing your academy players without having to promote them to the senior team! Using the Development Plans feature, you can help the youth players shape their abilities the way you want and make them ready for first-team action. You will receive monthly emails regarding the progress of your academy players. Beware that you may see a rise or decline in the potential OVR of the players and the longer they stay in the academy, the clearer their potential gets. But don't keep them there for too long. Youth players can get angry for being stuck in the academy for a long time, especially older youth players. You have to promote them or risk losing them as you will have to terminate their contracts.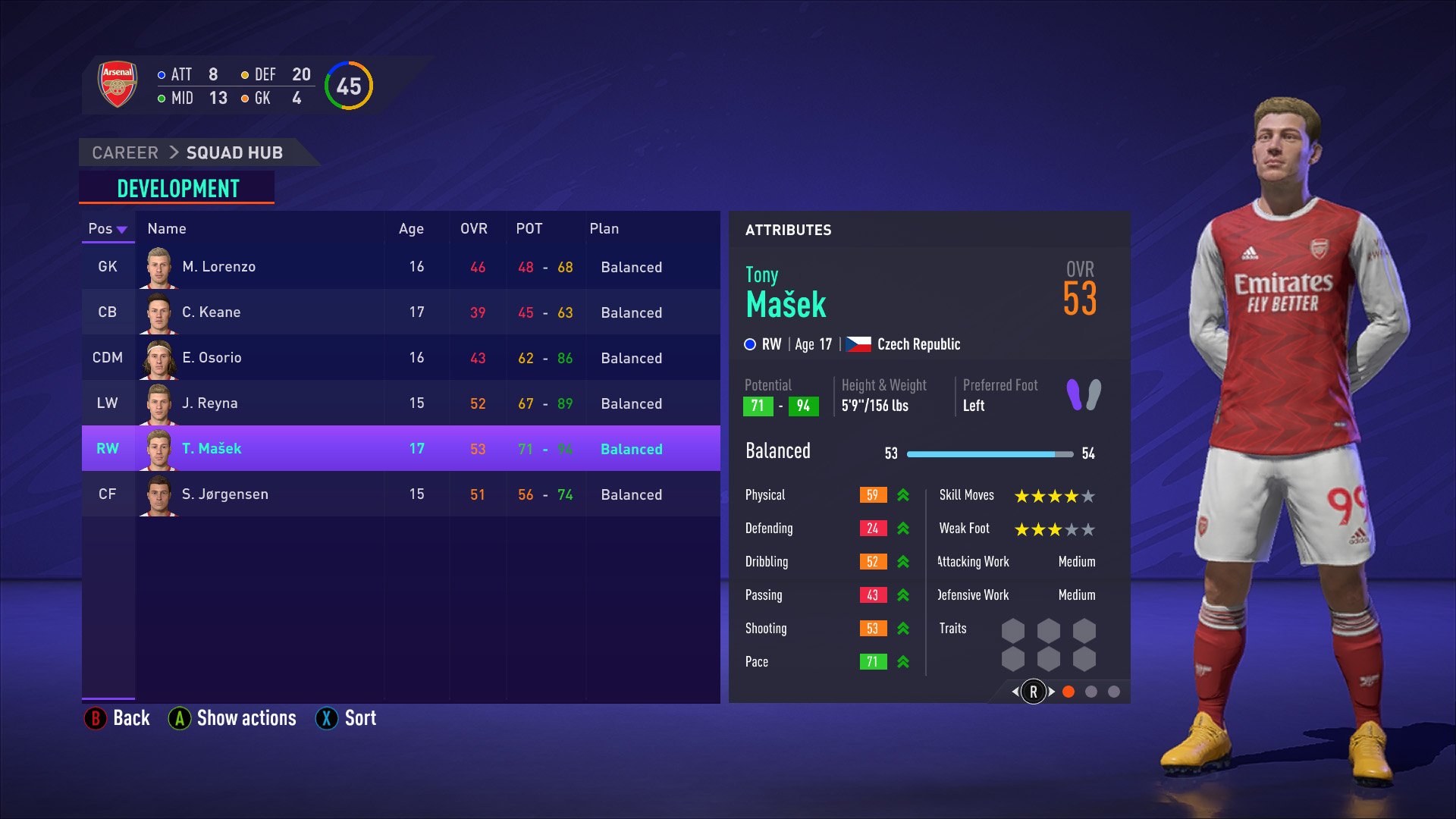 That is pretty much it when it comes to the Youth Academy. It is a very simple yet powerful resource and if used right, can offer your squad the perfect blend between the raw talent of the youth and experience of the older players that you have signed for your team. So, good luck and we hope that you can build your very own La Masia! Happy scouting!