Many FIFA 21 career mode players seldom venture into less popular leagues to explore football talent's assortment. For most, as long as their teams feature big football names such as Cristiano Ronaldo and Robert Lewandoski, the rest barely matter.
However, you will be surprised by the depth of talent that players from countries where football isn't the national sport, one example is Canada. The nation of maple syrup is surprisingly producing lots of talented football players and their current generation can aspire for some great performances in the future.
In this article we will take a closer look at the top-rated young Canadian footballers in FIFA 21 that can finally qualify Canada to the next World Cup, an unreachable feat since 1986.
Alphonso Davies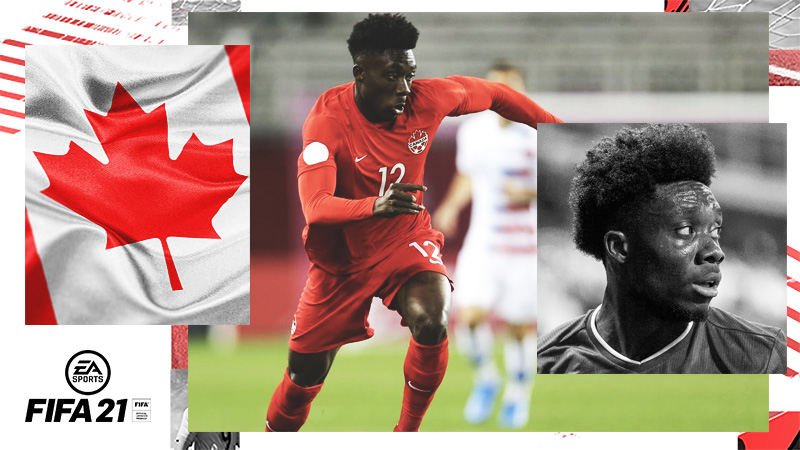 The first player on our list is none other than, Alphonso Davies. He is currently the highest-rated Canadian footballer in FIFA 21 with an Overall Rating (OVR) of 81 and a stunning Potential (POT) of 89 that makes him the superstar of his national team. Davies made his international career breakthrough when he featured in an impressive Bayern Munchen side that won six domestic and international titles, including the most coveted UEFA Champions league and Club Football World Cup for the 2019/2020 season.
The 20-year-old is a 4-star left foot left back (LB) who has unrivaled pace in FIFA 21, and his 183 cm height gives him an agile advantage over other players. His 96 acceleration and balance rate coupled with an 83 dribbling skill rate makes him one of the best overlapping defenders in the world. If you are looking to buy him in Career Mode, Alphonso is worth €53M and has a wage of €40k.
With such a huge market value, it wouldn't come as a surprise if Davis signs a sponsorship deal with one of the Canadian casino sites at bestcasinositescanada.com. Many football stars have had similar deals, including Brazil's Neymar and Sweden's Zlatan Ibrahimovic.
Jonathan David
Jonathan David is another brilliant talent on our list today. At just 21 years, Jonathan is already the main striker for his national team after bagging 11 goals in 12 matches. The youngster made his debut in professional football for K.A.A. Gent in Jupiler Pro League and currently plays for LOSC Lille after transferring to the French team for a record-breaking of €30 million, making him the most expensive Canadian transfer ever.
The 180 cm striker (ST) has a five-star right foot which makes him deadly in front of goal and is currently valued at €23.5M and has a wage of €28.5K in FIFA 21 Career Mode. However, his main attributes lie in his pace (83) and stamina (83) which gets him swiftly past defenders. Jonathan's 77 OVR and 86 POT makes him the second highly rated Canadian player after Alphonso Davies.
Stephen Eustáquio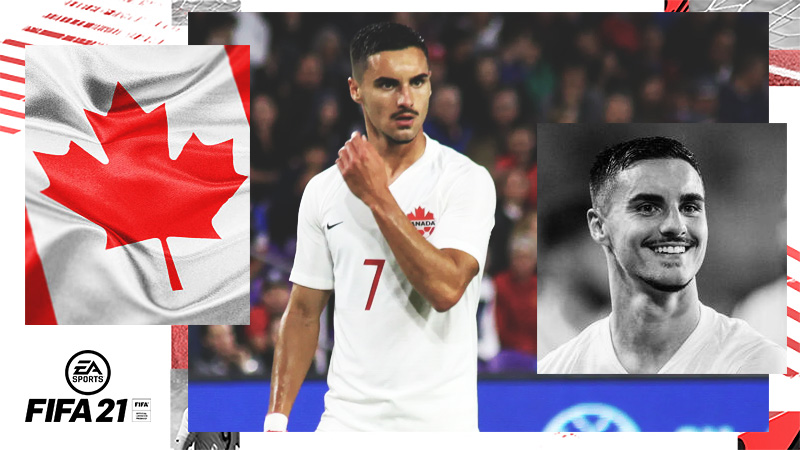 The next player on our list is the 24-years old Stephen Eustáquio. Born in Canada but with Portuguese origins, he spent most of his professional career in Portugal and played for teams such as Torrensee, Leixoes or Chaves, and currently is currently in the roster of Paços de Ferreira. Although he represented Portugal at U21 level, in 2019 he chose to represent Canada at senior level and made his debut for 'Les Rouges' in a match against USA.
In FIFA 21 the central defending midfielder (CDM) has an overall rating of 72 and a potential of 82. The right footed player also diplays some very good attributes in-game like 81 stamina, 76 agility, 76 jumping or 76 standing tackle. His quick passing rating of 76 and 75 vision makes him an all-rounded CDM which is ideal for any team in Career Mode that is looking for a box-to-box midfielder.
Jayden Nelson
Jayden Millar is an 18-year-old Canadian wonderkid currently playing for Toronto FC. Apart from featuring in Toronto FC's junior and reserve teams, Jayden has grown through the National's team ranks playing for the Under-15s in 2017 and Under-17s in 2019. He also represent his country at senior level managing 3 matches and 1 goal already.
His main attributes in FIFA 21 are his pace, agility and dribbling making Jayden a constant threat for defenders. For a player his age the 62 rating in-game is very decent but he has room for improvement thanks to his 77 potential. Furthermore, the young Canadian winger has a 4-star weak foot and 4 star skill moves. You can easily get Jayden in your team for only €900.000 which is a bargain in our opinion and a great prospect for RTG saves.
Liam Millar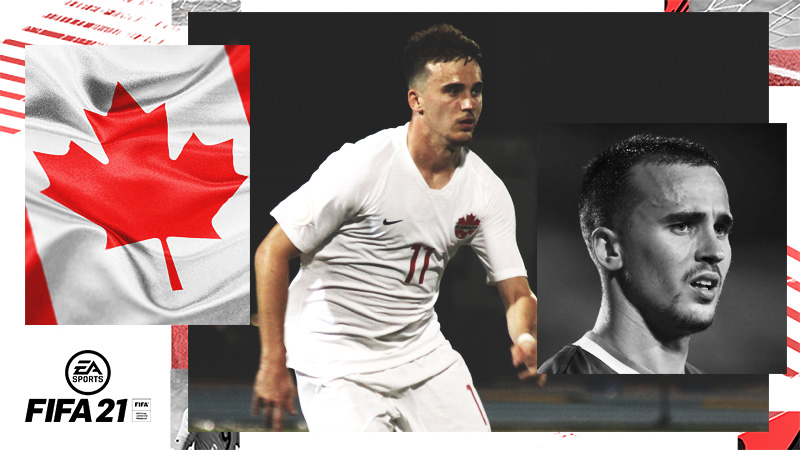 Our list continues with Liam Millar that has made huge strides in his career as he is currently contracted to the current English Premier League champions, Liverpool, but plays for Charlton FC on loan in League One. He has played for Brahamton Youth SC and North Mississauga SC before moving abroad to Fulham academy and later Liverpool academy. The 21-years old left winger made his professional debut for the Scousers on February 4, 2020 in the FA Cup.
For Canada he has already managed 8 caps and has yet to score his first goal for his country. In FIFA 21 he has an overall rating of 65 and a decent potential of 76 that can go higher thanks to the Dynamic Potential feature in Career Mode. He is currently worth €1.6M which is a great buy for mid-table team.
Zachary Brault-Guillard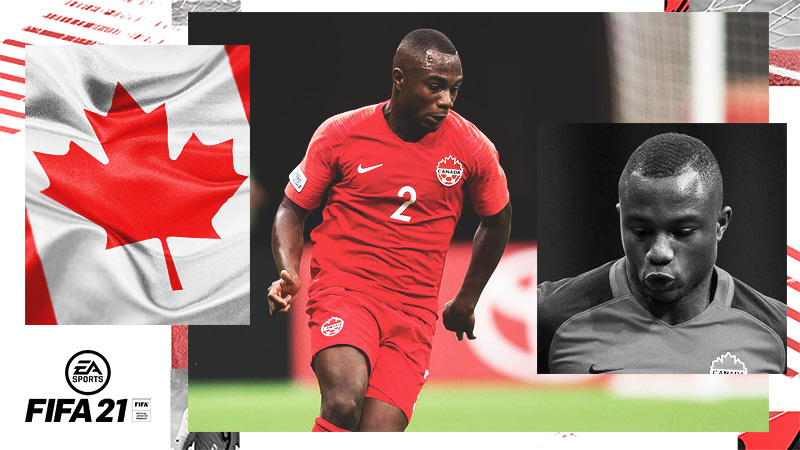 Zachary Brault-Guillard is another upcoming Canadian football talent currently playing for CF Montréal in the MLS. The right-back (RB) started his pro career with the French outfit side, Lyon, in 2011 and has grown through the academy's ranks to be a regular senior starter for the second team before transferring to CF Montreal in 2019.
He has made nine appearances for the Canadian national side, 3 for the Under-20 side, 2 in under-23, and 4 for the senior national team. His main attributes in FIFA 21 lie in his stamina (80), acceleration (84), sprint speed (86) and balance (84). He is the ideal guy to cover you from opponents' counterattacks. The 21-years old has an 68 overall rating in FIFA 21 with a potential of 76.
Dayne St. Clair
The last player on our list is the 23-years old Dayne St. Clair. The young Canadian goalkeeper made his professional breakthrough in 2014 when he joined Vaughan Azzuri and signed for the MLS side Minnesota United in 2019. Although he is yet to make an appearance for his national team, St. Clair is currently the highest rated prospect to replace Milan Borjan between Canada's posts once he retires. He is currently 68 rated in FIFA 21 and has a potential of 78!
As is evident, the Canadian football squad has its future well secured with a wealth of young talents. The above list is only but a fraction of many youth players competing for a national squad position. Why not try out these amazing talents or even take them to World Cup glory by managing Canada in Career Mode?