FIFA 20 surely changed up the nature of the FUT game mode in their latest release. Compared to older FIFA Ultimate Team versions, we are seeing a much larger number of special cards in everyone's teams, mainly because there's so many on the market that they are all becoming incredibly cheap! Players were already at an unbelievably cheap point before the Team Of The Season So Far arrived, and now that the transfer market is chock full of super-high rated players, and they're more commonly found in packs than they ever were. Packs are one of FIFA's biggest lures as they have a similar feel to luck based games like the ones you can find on casinobettingking.com.
The new FUT market has so many TOTSSF players that some of them can even be bought for the low price of 30,000 FIFA coins! In fact, we have managed to come up with a full TOTSSF Squad for under 500k, which is a very fair price for the players which you will see below;
STARTING XI: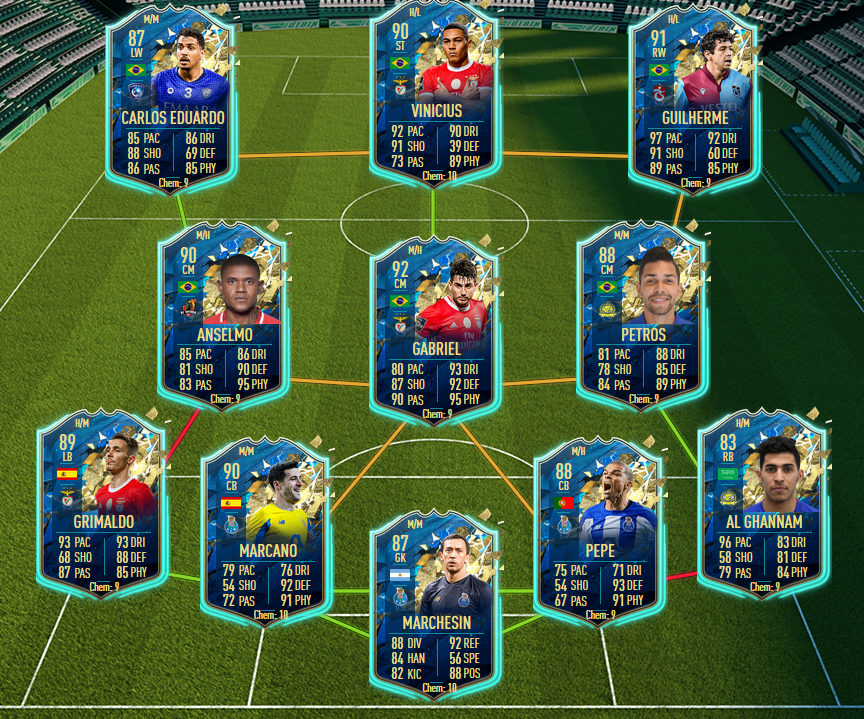 The squad is also available on FUTBin.
With a standard 4-3-3 formation, an incredible 89 rating and 100 chemistry, this team is extremely powerful in every part of the pitch, whether it's defence, midfield or attack.
Starting off in the GK spot we have Agustín Marchesín, FC Porto's talented goalie who had a great season filled with plenty of brilliant saves and an overall great form. This shows in his TOTSSF card which shows he's got 92 Reflexes, 88 Diving and 88 positioning. These stats make him a very solid keeper who you can most certainly rely on.
In front of the keeper we have a very solid back four, consisting of FC Porto's two main centre backs, Pepe and Marcano who were both given 91 physical and over 90 defending, after having a great season in the Portugese league.
We can also see Benfica's Grimaldo (89) in the left back position and Al Nassr's Al Ghannam (83) as right back. Both full backs have great overall stats and will be a crucial link for the team.
In the middle of the pitch we have three great central mids.
Starting in RCM we have Al Nassr's Petros (88), who has a killer card with a great overall rating in every aspect. Although, mostly his 89 physical, 88 dribbling and 85 defending are what makes his card so attractive.
In LCM, we have Al Waheda's 90 rated Anselmo, who doesn't have a stat below 80. He's got 85 pace, 90 defending and a remarkable 95 physical, making it very hard for opponents to get past him. Between the two, the central link is Benfica's 92 rated Gabriel.
The central player in this formation is one of the most important, hence why he's the highest rated player in the team. He has an unbelievable 4/6 stats over 90. He's got 80 pace (his lowest stat), 87 shooting, 90 passing, 93 dribbling, 92 defending and 95 physical. His card will make your mouth water and your opponents' anxiety rise.
Finally, we have the front three, the team's most crucial players. If the wingers and striker aren't good, you won't score goals and therefore won't win, and nowadays you're going to need a solid attack as you're most certainly going to come across some very strong defence forces.
Starting off in right wing, we have Trabzonspor's Guilherme (91), who had a great season in the Super Lig. He has a card which gives the player all you ever wish for in a winger and more. For example, with that 97 pace attribute he will be able to outrun almost any player in the game, along with 92 dribbling, 91 shooting and 89 passing. What else can you ask for?
In left wing, we have Al Hilal's 87 rated Carlos Eduardo, who's got all stats above 85 (except defending), and finally in the center forward position as striker, we have Benfica's 90 rated Vinicius, an all out beast of a forward. 89 physical, 90 dribbling, 91 shooting, 92 pace – good luck to any defence who comes against this monster of a player.
If you have 500k to spare, this team is a no-brainer. Never have we had such high rated players for such low prices in any FIFA ultimate team before. Now you can feel what a top rated team on FUT feels like for just half a million coins, which is the cheapest price we have ever seen for a full TOTSSF team. Will you try it out?