Electronic Arts have banned popular streamer and FIFA pro player Kurt "Kurt0411" Fenech from playing their games and accessing their services because of abusive behavior. The ban comes after months of feuding between both parties after Kurt violated their code of conduct with repetitive "abusive and threatening behavior". Kurt has been an outspoke critic of EA and FIFA and claims that they are out to get him because of his views.
Kurt's first ban for abusive behavior took place in 2018 and after two months, he was back in the game. At the time he insisted that the ban had nothing to do with "personal attacks" against other players, but everything to do with his complaints about the game. He didn't change his behavior and was banned again in March 2019. This time he was given a "Final Warning" for frequent infringement of EA's code of conduct. There was no apology from Kurt and he insisted that he's just a passionate player who says what's on his mind.
Last November he was banned again after he was caught on camera telling an opponent they are a "son of a b**ch" who "can't beat me, even on this piece of trash game. F*** you, EA." He then spat at the EA logo on his scarf. This time he was banned from all 2019 FIFA competitions.
This is the VOD that Kurt got banned for, I am all for freedom of speech but this is disgusting behaviour. How are you going to spit on the logo of a company that you want to be a professional esports athlete for. I know I am going to get stick for this but he deserves the ban. pic.twitter.com/oJmlifBFLU

— DrJarba (@JarbaFifa) November 1, 2019

After the ban, many Twitter accounts of EA staff were hacked in what EA called a "targeted attack". Apart from the hacks, there were also social media attacks on EA staff, which were supported by Kurt. The hacked accounts posted fake announcements that Kurt's ban had been lifted, as well as comments that FIFA wouldn't "go anywhere" as an esport without him. The accounts and tweets have since been deleted. Even after the ban, Kurt continued to make disparaging comments about EA, calling them "rats". His argument was that everyone playing online uses abusive language, and the only difference between him and the other players is that he's in front of a camera.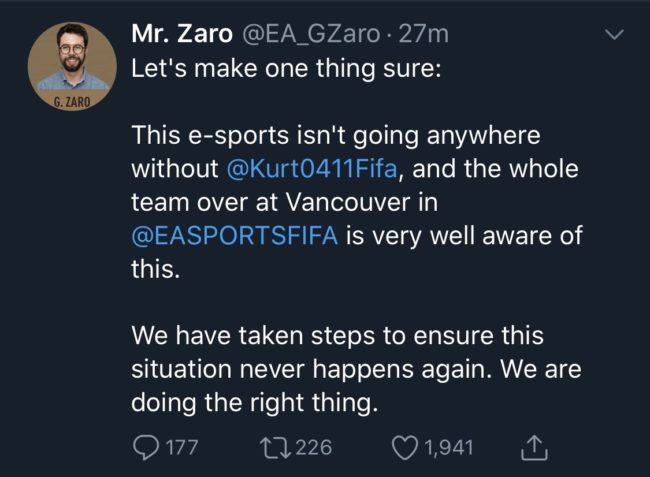 Since then EA has released a statement saying, "In November 2019, after a series of Code of Conduct violations as part of the EA SPORTS FIFA Global Series in which he threatened employees and other players, Kurt0411 was banned from competing or attending any EA SPORTS FIFA 20 Global Series events or future competitions. Since that time, Kurt has continued to post abusive and threatening messages and videos about EA employees and competitive players on social media and he has encouraged others to do the same. His messages have crossed a line of decency into very personal attacks and breach our Terms of Service. We will not tolerate threatening behavior. As a result, today Kurt0411's EA account will be banned from playing our games and accessing our services due to these serious and repeated violations."
Not to be outdone, Kurt has released his own statement saying, "End of the day I have never said anything I shouldn't have. This is just deeper than anyone thinks," he tweeted. "They didn't want me competing at events cos they were scared I'd win them, now I'm the 2nd biggest streamer of their games and they're scared I'll overtake their golden boy (Castro1021)."
So far the gaming world is divided. Some are applauding EA for taking action against an abusive player who's ignored repeated warnings. Others support him in his battle against a corporate bully.