The biggest mid-season content update in FIFA 20 Ultimate Team is now live!
This weekend FUT 20 will be flooded with brand new content like Winter Refresh Team, ICON Moments, upgrades for the 50 most improved players, new Upgradeable League Objective Player Rewards, additional League SBC player rewards, new dedicated SBCs, and more!
Winter Refresh Team
For the first time ever in FUT history, this year we will have the Winter Refresh Team in packs. This special team features players with permanent upgrades designed to help and improve your club by filling either a position gap, aiding team building, adding depth, accessibility or new options within their league or nation in FUT.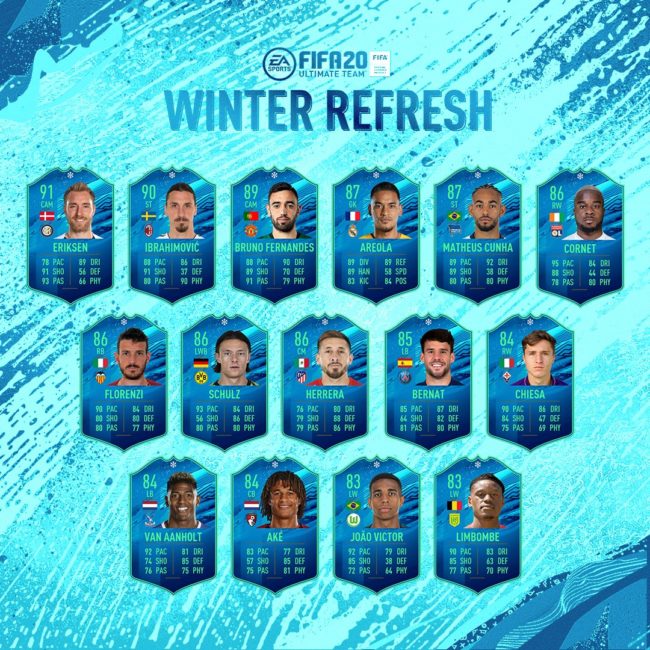 The Winter Refresh team will be in packs until next Friday, February 21st.
FUT 20 ICON Moments
A new item version for all 89 ICONs is now available in-game! This Moments version represents the special moment that made these players the ICONs that we all know.
The ICON Moment item will be the highest-rated version of an ICON in FUT 20! Below you can view the rating of each ICON Moments:
The Top 50 Most Improved Player Upgrades
This year the Winter Upgrades will be applied to the best 50 most improved players that will reflect their outstanding form in the first half of the season
Only new base player items found in packs will have updated ratings, but certain existing in-form items will have their ratings automatically updated if an upgraded player's new OVR rating stats equal or surpass his existing first in-form's rating. These upgrades will not apply to Scream or Future Stars items.
Here are the top 50 most improved players: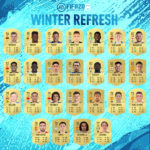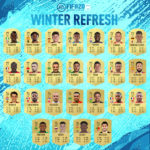 New FUT Player Additions

Over 100 players will be added to FUT over the course of Winter Refresh! Here is the complete list of the new players added to the FUT 20 database:
Weak Foot and Skill Moves Upgrades
Moreover, a number of players got their skill moves and weak foot upgraded. These changes have already been applied automatically to the respective upgraded player items.
The full list of upgrades can be seen here (Skill Moves) or here (Weak Foot).
League Squad Building Challenges Update
Just like last year, with the Winter Refresh event kicked off, every League SBC will be updated with one new addition of Player Pick reward granted for completing the SBC. The first League SBC with a new player reward is Serie A, with others to follow in season.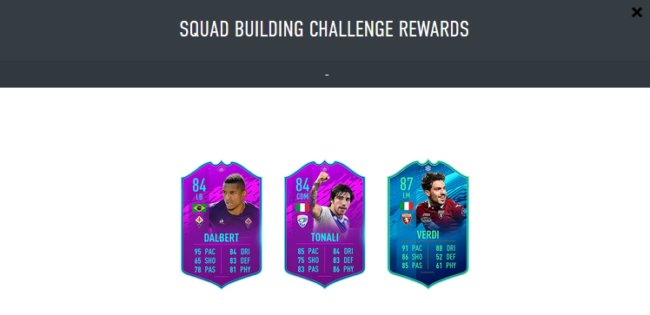 League Objectives Player Update
During Winter Refresh every League Objective Player will be updated with a new upgraded version to work towards. You must use your original League Player Item in order to obtain the next upgraded version! The first LOP upgrade available is Serie A's Matteo Politano.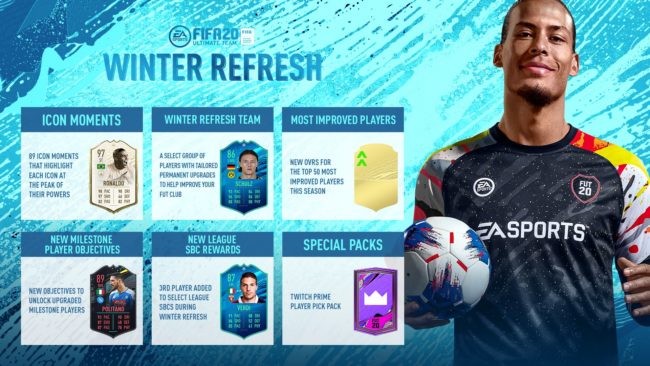 For more updates on this event please follow us on twitter or facebook!