The modern world of online gaming is a popular one, and almost everyone knows someone who is an avid gamer in one of the many available genres. Of course in this post we will be talking about FIFA video-game series, more specifically their most popular game made, Ultimate Team.
However, as is the case with any online gaming brand, there are some question marks over whether or not FIFA is a good way to spend time. Some people question whether or not FIFA is reducing social skills – especially among younger people who might be playing it. Others have criticized the phenomenon of "FIFA packs" or "FIFA points", which have been described by some commentators as examples of gambling. This article will explore whether FIFA packs really are akin to gambling – and whether the wider concerns about the concept of packs and "loot" are overblown.
What are FIFA packs?
Put simply, FIFA packs are products that allow players to get a variety of digital assets to create a better team or playing environment. They can be purchased using FIFA points, which have real-world financial value and can be purchased using actual currencies. Also used as a reward for playing particularly well, FIFA packs allow you to get players – and if you're fortunate enough with the contents of your pack, then you may be able to improve your squad with high rated players or trade them off for players that suits your team better.
It's not just FIFA that provides options like this, though. They fall into a category often described as "loot boxes", or "loot crates" – which are noted throughout the industry. Loot boxes have been in trouble with the law in some countries around the world. In Belgium, for example, it has been noted that loot boxes aren't compliant with rules around gambling and as a result EA Sports removed the packs from their FUT Store and stopped selling FIFA Points.
In South Korea, loot boxes such as FIFA packs have to come with an explanation that states clearly and honestly how probable it is that you'll get a specified reward if you buy it. Following these recent laws, EA Sports actually added, with the release of FIFA 19, the probabilty percentege for each pack they sell and this can be visible in-game.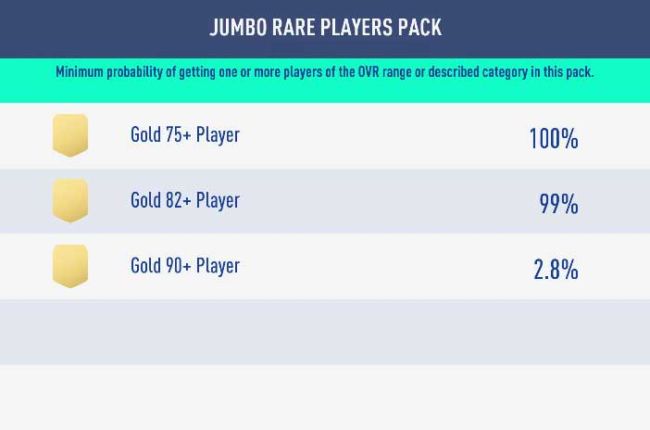 In the US, meanwhile, it was announced recently that the Washington state legislature would debate a proposal to give the local Gambling Commission the power to look into loot boxes – while over in Minnesota, lawmakers proposed banning cash-loot box exchanges for those under the age of 18. While there has been little concerted action, it's clear that FIFA packs and other loot boxes are considered by many to be a form of gambling.
Not gambling?
On the face of it at least, FIFA packs contain some simplistic hallmarks of gambling. A FIFA player will pay a certain amount of cash to access the pack, and they won't necessarily know the exact details of what's inside that pack until they've paid – meaning that they are spending money in a risky way rather than completing a straight-up exchange of cash for a specified value.
However, there are some serious distinctions to be made between FIFA packs and "real" gambling. The main one is that you're not at risk of losing out with a FIFA pack: you'll always receive something as a result of buying, even if its exact contents are not known in advance. Unlike Pennsylvania online casinos or other gambling websites, playing FIFA and purchasing a pack is more of a way to enhance your game rather than a gamble.
Advantages of FIFA packs
Given that it's clearly somewhat difficult to describe FIFA packs as gambling products, then, it's worth looking more broadly at what they can offer. These packs shouldn't be dismissed out of hand: in fact, they offer a variety of benefits, including – as outlined above – cards giving you better players for your team. However, there are other advantages too, like the so-called club items, which include strips for your players to wear, logos for team cohesion, fitness cards, chemistry styles, managers, and more.
To some, FIFA packs and their industry-wide cousins loot crates are simply gambles in which you pay cash for an unspecified outcome. While there is certainly an element of risk involved, unlike with actual gambling, there's no chance of losing out as a result of buying a FIFA pack – which makes it more of a purchase than a gamble. It's best conceptualized as a useful pot luck tool that can be used to gain access to top benefits – such as high rated players – which enhance your FIFA-playing experience.