It has been a busy week so expect a long FIFA 17 news post!
The Movember event has kicked off this week in FIFA 17 Ultimate Team and for the entire month of November you will be able to pack some unique player items, take part in special squad building challenges and open special pack promos. More details on this event can be found here.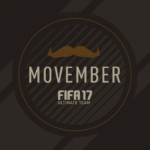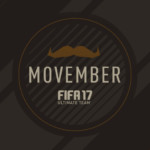 The FUT Champions Monthly Rewards and FUT Champions Weekend League received the following updates this week:
FUT Champions Monthly Rewards
TOP 100 – Top 100, Elite & Gold Champions Kits + Ultimate Champions Pack (44 Gold TOTW IFs)
ELITE – Elite & Gold Champions Kits + Premium Champions Pack (11 Gold TOTW IFs)
GOLD – Gold Champions Kit + Gold Champions Pack (3 Gold TOTW IFs)
SILVER – Silver Champions Pack (1 Silver TOTW IF)
BRONZE – Bronze Champions Pack (1 Bronze TOTW IF)
* Champions Packs features untradable TOTW IFs from the month they were earned in.
* The monthly rewards for October will be distributed before the end of November.
FUT Champions Weekend League
– Weekend League (WL) has been extended! It now starts Fridays at 7AM GMT and ends Mondays at 7AM GMT.
– Placing Gold 3 and above in a WL will automatically qualify you for the next WL.
– Lowered win requirements for Gold 2 and above.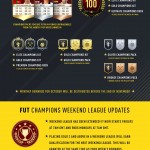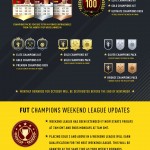 If you're a fan of "The Journey" mode, you will have to check out the next infographic released by EA Sports showing Alex Hunter's first month of Premier League in numbers: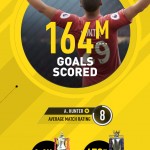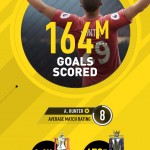 Also, The Journey will soon be available in 5 new languages, Italian, French, German, Spanish and Mexican Spanish with the next FIFA 17 title update that will probably be released by December.
Robben and Alexis Sanchez are leading this week's FIFA 17 TOTW:
Starting XI
GK: Tom Heaton – Burnley (England) – England
CB: Leonardo Bonucci – Juventus (Italy) – Italy
LB: Marcelo – Real Madrid (Spain) – Brazil
CB: Niklas Süle – TSG 1899 Hoffenheim (Germany) – Germany
CB: Iván Ramis – SD Eibar (Spain) – Spain
CM: Ilkay Gündoğan – Manchester City (England) – Germany
CM: Giacomo Bonaventura – Milan (Italy) – Italy
LW: Coutinho – Liverpool (England) – Brazil
RW: Arjen Robben – FC Bayern München (Germany) – Holland
ST: Alexis Sánchez – Arsenal (England) – Chile
ST: Robin van Persie – Fenerbahçe (Holland) – Turkey
Substitutes
GK: Baptiste Reynet – Dijon Football (France) – France
RB: Enrique Pérez – Monarcas Morelia (Mexico) – Mexico
LM: Ricardo Lopes – Jeonbuk Hyundai Motors (Korea) – Brazil
CM: Wylan Cyprien – OGC Nice (France) – France
ST: Glenn Murray – Brighton & Hove Albion (England) – England
ST: Ande Dona Ndoh – Chamois Niortais FC (France) – Cameroon
ST: Stefan Kutschke – Dynamo Dresden (Germany) – Germany
Reserves
GK: Rui Silva – Nacional (Portugal) – Portugal
ST: Ciro Immobile – Lazio (Italy) – Italy
ST: Omar Al Soma – Al Ahli (Syria) – Saudi Arabia
ST: Zé Luis – Spartak Moskva (Russia) – Cape Verde Islands
ST: Jaime Ayoví – Godoy Cruz (Argentina) – Ecuador
These in-forms are available in packs from November 2nd – November 9th! You can view this TOTW in more details at FUTHead or FUTWiz.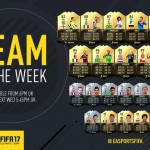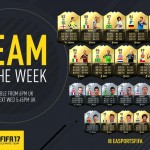 The first FUT 17 Man Of The Match card has been released this week featuring Aduriz: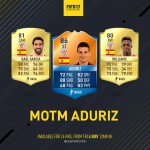 In packs you can also find Award Winner Daryl Horgan after he was named PFAI Player of the Year: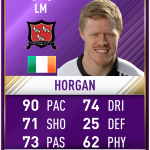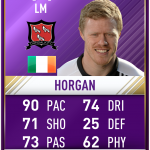 Three new live Squad Building Challenges are available for you to unlock in FIFA 17 Ultimate Team this week: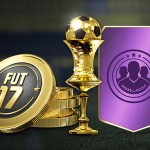 This week's featured FUT 17 tournament will give you the chance to put at good use your silver players:
Silver Challenge

Squad Requirements
18 Silver Players
Rewards
OFFLINE: 1,500 Coins
Difficulty
Professional
Tournament Schedule
Begins: 04/11/2016 – Ends: 11/11/2016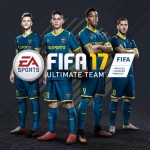 FIFA Mobile fans will have the chance to enjoy a new feature starting this weekend called Impact Players, similar to FIFA 17's Ones To Watch.
This program highlights a group of players and based on their performance in their weekend fixture, can see an increase in their overall player rating.
All players featured for the particular week can increase up to 10 OVR points for every interception, shot or key pass they do. Each successful interception, shot, or key pass increases their rating one point up to 10 points. Meaning if you have a 74-OVR rated Impact Player and they have a strong match on the weekend, their Impact Player Item can increase to an 84-OVR.
These player boosts are permanent but only apply to the match for the weekend they are available for. Be sure to check the back of the player item to see which match applies. Again, Impact Player ratings can only increase 10 overall points.
Impact Players will usually get updated on Monday night (after 18:00 PT, 2:00 am UK). For this weekend the Impact Players are Giuliano, Derdiyok, Bradley, Mina and Roldan.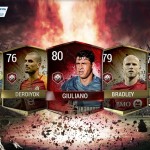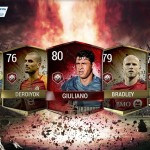 Starting this week we will also cover the FIFA Mobile TOTW! Please keep in mind that the usual FIFA 17 TOTW and FIFA Mobile TOTW are slightly different in terms of players, ratings and card types.
This is what TOTW 8 brings in FIFA Mobile:
Gold In Forms
CB: Iván Ramis – SD Eibar (Spain) – 78 OVR

Ramis scored the tying goal as SD Eibar went on to beat Villarreal 2-1.

RB: Enrique Pérez – Monarcas Morelia (Mexico) – 73 OVR

Pérez scored the winning goal in Morelia's 2-1 victory over Necaxa.

LM: Ricardo Lopes – Jeonbuk Hyundai Motors (K League) – 73 OVR

Ricardo Lopes had a hat-trick in Jeonbuk Motors 0-5 win over Jeonnam Dragons

CM: Wylan Cyprien – OGC Nice (France) – 71 OVR

Cyprien scored the first and fourth goals as Nice beat Nantes 4-1

CDM: Amir Abrashi – SC Freiburg (Germany) – 70 OVR

Abrashi scored his club's third goal in their 1-3 win over Werder Bremen.

CAM: Franck Berrier – KV Oostende (Belgium) – 71 OVR

Berrier had two goals in KV Oostende's 3-1 win over Standard Liege

ST: Glenn Murray – Brighton & Hove Albion (England) – 74 OVR

Murray had a hat-trick as Brighton & Hove Albion defeated Norwich City 5-0.

ST: Omar Al Somah – Al Ahli (Saudi Arabia) – 79 OVR

Al Somah scored all four of Al Ahli's goals as they beat Al Khaleej 4-1.
Elite In Forms
CM: İlkay Gündoğan – Manchester City (England) – 84 OVR

Gündoğan scored twice and had an assist as Manchester City beat West Bromwich Albion 0-4.

ST: Robin van Persie – Fenerbahçe (Turkey) – 81 OVR

van Persie had two goals and an assist as Fenerbahçe comfortably beat Karabükspor 5-0.
Master Elite In Form
RW: Arjen Robben – Bayern München (Germany) – 87 OVR

Robben had a goal and two assists in Bayern Munich's 1-3 victory over Augsburg.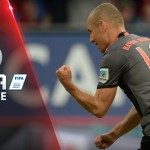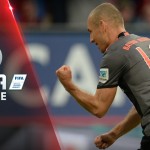 Moreover, FIFA Mobile released the first MOTM item this week featuring Kun Aguero.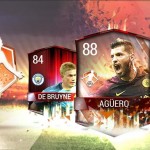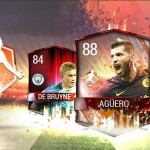 You can now help decide which of the following seven players should receive the Premier League POTM award for October:
Tom Heaton (Burnley)
Joe Allen (Stoke City)
N'Golo Kante (Chelsea)
Eden Hazard (Chelsea)
Ikay Gundogan (Manchester City)
Diego Costa (Chelsea)
Philippe Coutinho (Liverpool)
You can vote for your favourite here.
The winner will be revealed on November 18th and his special POTM item will be availble to unlock in FUT 17 via the PL POTM squad building challenge.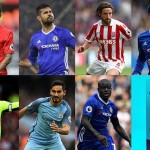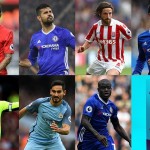 Browsing the web this week, we stumbled upon these great FIFA 17 related articles and guides:
– FIFA 17: We spoke to Sam Sargeant, the worst rated player on the game
– This Is How Much Money EA Makes on Extra Content
– FIFA 17: 10 Things You Didn't Know You Could Do
– KCBH98's 41212(2) Formation Guide
– The real potential of the Bronze Packing Method.
– 4-3-2-1 Guide – Pep Guardiola's success and how to use his tactics to win in FUT/Seasons
– Full In-depth Guide for 4-1-2-1-2(2).
– THE FALSE 9 (433-5) FORMATION GUIDE – DOMINATE PLAY
– Do You Hate Stadiums With Annoying Shadows? This Could Help.
– 'FIFA 17' Glitch, Guide: Fail-Proof Way On How To Score With Penalty Kick
One last thing we have for you is the first FIFA 17 Player Tournament of the season featuring four Juventus players, Andrea Barzagli and Daniele Rugani against Claudio Marchisio and Medhi Benatia:
Thanks for checking the news and we'll see you next week as usual with more FIFA 17 news!
This post has been brought to you by the number one Australian casino following the advice from the experts.