Welcome back to a new roundup post of FIFA 16 news where we will share with you the latest updates about FIFA 16.
First news we have for you is the release of TOTW #29 in FUT 16 featuring in-forms of Eriksen, Layun or J.Rodriguez:
 STARTING XI
GK: Roy Carroll, Notts County – 69>74
LB: Miguel Layún, FC Porto – 78>82
CB: Ciaran Clark, Aston Villa – 77>80
LB: Álvaro Pereira, Getafe CF – 76>80
CM(CDM): Blaise Matuidi, Paris Saint-Germain – 84>86
CM: Marcelo Brozović, Inter – 78>80
RM: Riyad Mahrez, Leicester City – 76>82
CAM: James Rodríguez, Real Madrid – 87>88
CAM: Christian Eriksen, Tottenham Hotspur – 83>86
ST: Cenk Tosun, Beşiktaş – 77>80
ST: Nicolai Jørgensen, FC København – 75>80
SUBS
GK: Luca Mazzoni, Ternana – 69>74
CB: Georgios Tzavellas, PAOK FC – 72>74
RB: Gabriel Mercado, River Plate – 73>74
CM: Dele Alli, Tottenham Hotspur – 72>77
CAM: Tom Rogić, Celtic – 67>74
RM(LM): Billy Bodin, Bristol Rovers – 60>64
ST(RM): Natalio, UE Llagostera – 68>74
RESERVES
RM: Susaeta, Real Oviedo – 65>74
CAM: Hiroshi Kiyotake, Hannover 96 – 77>80
CM(CAM): Stéphane Sessègnon, West Bromwich Albion – 77>80
LM(RW): Kamil Grosicki, Stade Rennais – 75>80
ST: Dario Lezcano, FC Ingolstadt 04 – 68>74
These IFs are available in packs from 30th March – 6th April. You can view the team more detailed at FUTHead or FUTWiz.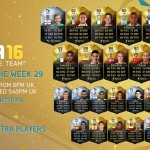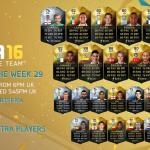 Real Madrid players have twice the chance of getting packed until tomorrow in FUT 16 thanks to their victory in the " El Clasico ".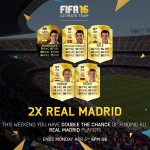 If you're looking to make some coins be sure to play in the latest FUT 16 tournament called "East or West" as there are increasing rewards every time you win it:
East or West

Requirements: 18 Players from Liga NOS (Portugal) + RPL (Russia)
Rewards Offline
1st Win: 1,500 Coins
2nd Win: 3,000 Coins
3rd Win: 4,000 Coins
4th,5th,6th Win: Repeats
Rewards Online
1st Win: 4,000 Coins
2nd Win: 6,000 Coins
3rd Win: 9,000 Coins
4th,5th,6th Win: Repeats
Offline Difficulty: Professional
Here are a few interesting links related to FIFA 16 that you may like:
– FUT Web App for FIFA 16 Ultimate Team Trading Methods FREE GUIDE
– FIFA 16 Career Mode: MLS Wonderkid XI
– Just won Div 1 offline – Some opinions, tips and tricks (with examples)!
– Learning to Dominate: 4312 Guide
– The Ultimate FIFA 16 v Pro Evo 16 Graphics Battle
– [Guide] How to Defend and Attack in Fifa16
– A basic guide to player prices, fluctuations and supply & demand.
Italian legend, Alessandro Del Piero, was challenged by a popular Italian youtuber at a FIFA 16 Ultimate Team match and bellow you can see how the game went:

The newest FIFA 16 GOTW compilation from EA Sports is in this week's news post as well featuring some insane finishes from Sturridge or Payet:
And that's all for this week, thanks for checking the news guys!