Our weekly news update is here. Check out the latest FIFA 13 news:
EA released a few days ago the new Christmas TV Commercial for FIFA 13 featuring Messi and…Santa Claus:

We have some great FIFA 13 articles for you this week with reviews of the new FIFA 13 Wii U and lots more:
– FIFA Soccer 13 Scores On Wii U, Despite Some Quirks (GHTV)
– Wait, There Is Soccer This Year? (TotalPS)
– FIFA Soccer 13 Review (PixlBit)
– FIFA Soccer 13 (Wii U) Review (WGTC)
– FIFA Soccer 13 Wii U Review (GameSpot)
– Styles' UT Formation Strengths & Weaknesses Q+A (EA Forums)

– Ultimate Team players to buy and sell (FIFAAddiction)
– Top 5 Best Goalkeepers in FIFA 13 (FIFANOW)
– The Most Expensive FIFA 13 Ultimate Team Players (FIFAUTeam)
Next we have the Ultimate Team 13 TOTW12
FIRST XI
GK: Roman Weidenfeller, Borussia Dortmund – 82>84>85
CB: Daniel Agger, Liverpool – 83>84
CB: Lopo, Getafe CF – 77 >79
CB: Martin Stranzl, Borussia M'gladbach – 76>78
CDM: Joey Barton, Marseille – 76>78
CM: Claudio Marchisio, Juventus – 84>85
RM: Marko Arnautovic, Werder Bremen – 76>79
CM: Axel Witsel, Zenit St. Petersburg – 81>82
CAM: Michu, Swansea City – 75>78
ST: Bafetimbi Gomis, Olympique Lyon – 81>82
ST: Jermain Defoe, Spurs – 81>82
SUBS
GK: Cirilo Saucedo, Tijuana – 73>74
CB: Omar Gonzalez, L.A. Galaxy – 71>73
RM: Maicon, Sao Paulo – 74>74
CAM: Deni Alar, SK Rapid Wien – 67>71
ST: Davide Succi, Cesena – 70>74
ST: Jelle Vossen, KRC Genk – 74>74
RW: Alberto Paloschi, Chievo Verona – 74>74
Joey Barton has switched from CM to CDM
Marko Arnautovic has switched from ST to RM
Maicon has switched from CAM to RM
Alberto Paloschi has switched from ST to RW
Deni Alar has switched from ST to CAM
Jelle Vossen has switched from CF to ST

…and the FIFA Superstars SOTW13: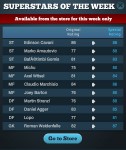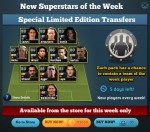 In the end we have the new GOTW Round 8 from EA Sports:

One last thing to add is that as you know in the past couple of days Ultimate Team has been down for different issues. There were rumors that Ultimate Team 13 was actually hacked and took two full days for the EA Sports dev team to fix the problem. Initially they disabled the auctions and later off put FUT13 in maintanance for 48 hours. Yesterday night FUT finally came back online and everything is back to normal.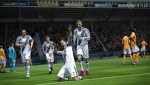 That's all lads! See you next week with another news post!