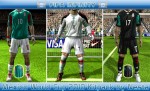 We have a kitpack up for download today made by our team member Nesta! He prepared the Mexico National Team kitpack for the World Cup 2010 in South Africa!
The kitpack contains the Home,Away & Goalkepper kits as of course the minikits!
We will return soon with a new kitpack so stay tuned!